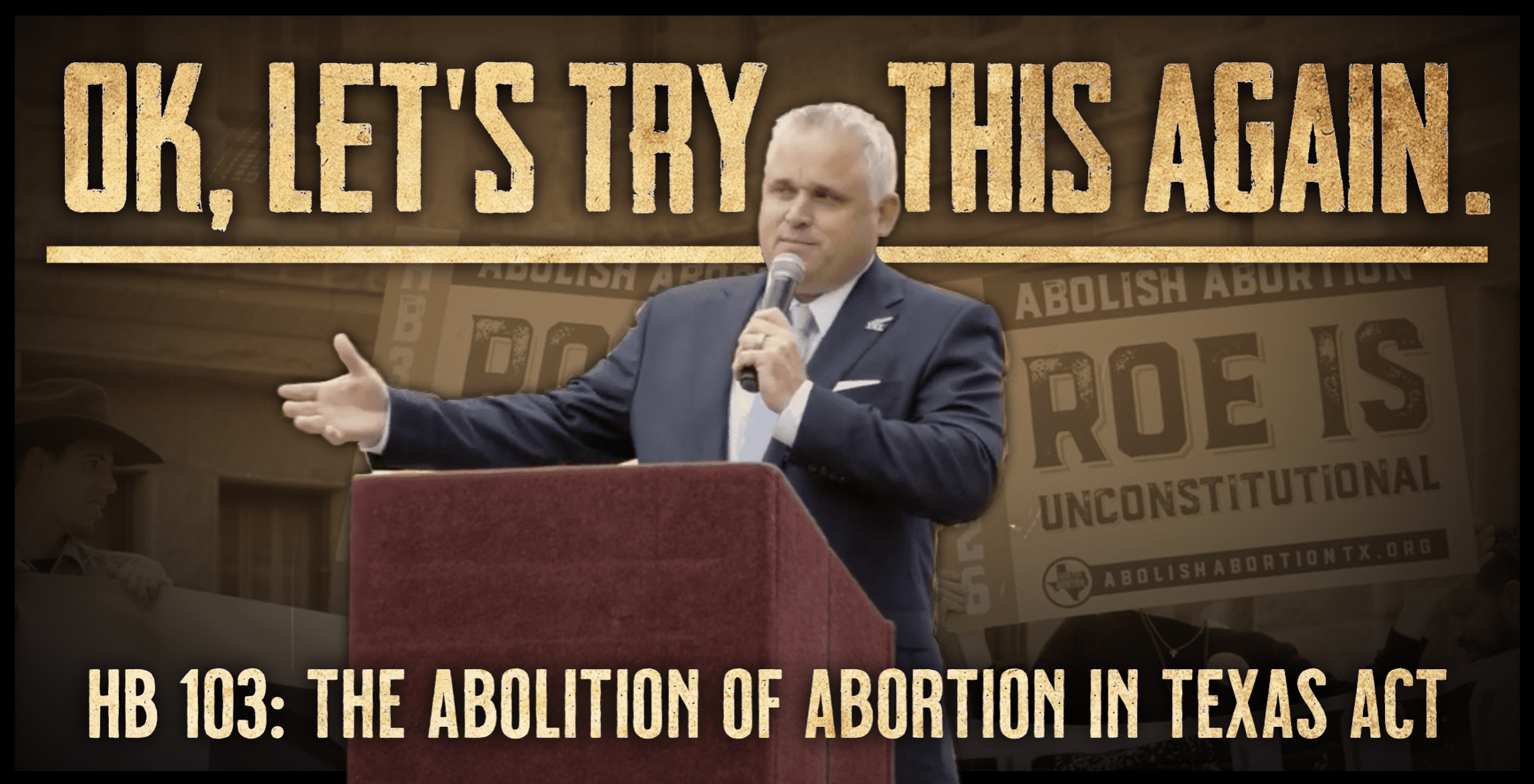 On June 22, Texas Governor Greg Abbott called a special session of the Texas legislature to begin on July 8. On the opening day of the session, State Rep. Bryan Slaton filed HB103, the Abolition of Abortion Through Equal Protection for All Unborn Children Act.
Slaton fought valiantly for preborn children in Texas during his freshman session in the House — introducing HB3326 which would have immediately provided preborn children the equal protection of the law, motioning to amend House rules to force a vote on abolishing abortion before any vote to name bridges or roads, and filing an amendment to a counter-productive pro-life bill to make it immediately abolish abortion.
HB3326 was coauthored by Reps. James White, Kyle Biedermann, and Tom Oliverson, but it was denied a committee hearing by Public Health Committee chair Stephanie Klick, a pro-life Republican. Klick's office went as far as telling her constituents blatant lies about the bill in an attempt to defend her actions.
The pro-life establishment's strategy to kill the bill was to rally around Klick. Texas Right to Life published an article entitled "Representative Klick is a Hero for Preborn Babies, Vulnerable Patients" in which they hyped up all the useless pro-life bills that passed out of her committee. This same tactic has been applied in Oklahoma, Missouri, and other states where abolition bills are introduced. Abolition bills were assigned to the same committee as a bunch of useless pro-life bills, and the pro-life bills were used as political cover for the committee chair who killed the abolition bill. Be on the lookout for this strategy again in the special session.
A form of this tactic has already begun. Instead of the abolition of abortion, Governor Abbott called for legislation that "strengthens the laws applicable to the reporting of abortions and abortion complications," whatever that is supposed to accomplish, and "ensures that no abortion-inducing drugs are provided unless there is voluntary and informed consent." Like all pro-life legislation that can be upheld within Roe and Casey, this bill is completely useless, but it allows pro-life politicians and lobbyists to look like they're doing something, which is politics 101.
Unsurprisingly, the primary House author of the bill is none other than Stephanie Klick. Her useless bill has a good chance of passing and if it does, the Representative who made sure that 110,000 babies are murdered in Texas will be touted as a pro-life hero by the pro-life organizations once again. This is one of the reasons it is so important to oppose incremental pro-life legislation.
As for HB103, it has yet to be assigned to a committee. Part of the holdup is due to Texas democrats flying to D.C., essentially filibustering all Texas House activity, to lobby against the U.S. Senate filibuster. The irony really is too rich.
Texas abolitionists have worked hard in recent years to make abolition a legislative priority of the party, and accordingly, the Republican Party of Texas has once again publicized the abolition of abortion as a legislative priority of the party going into the special session. Even better, they specifically called for the passage of a bill like HB3326 from the previous session. This specificity is crucially important because Texas pro-life groups have been stealing the language of abolition in recent years since the new Republican platform was established to try to pass themselves off as abolitionists. Texas Right to Life has called their collection of incremental bills the Texas Abolition Strategy. Texas Alliance for Life posted on Facebook that their trigger bill, which actually makes Texas abortion statutes even more unjust than they already are, is a bill to "abolish abortion in Texas." The Republican Party of Texas is specifically demanding abortion's immediate abolition, as opposed to the faux abolition of the pro-life organizations.
Stay tuned to the Facebook pages of Abolish Abortion Texas and Free the States for further updates about HB103!
---
Three things to do!
Big tech is cracking down on our ability to reach you! Our social media reach has been greatly decreased in recent months. To make sure you are not missing important content and news about abolition bills from Free the States, sign up for email updates!
Be an activist! Convert people in your community to abolitionism. The best brief resource in the Abolitionist Movement for turning pro-lifers into abolitionists is the Are You An Abolitionist pamphlet. The best quadfold for outreach to pro-aborts and evangelism is the Abortion is Murder And Everybody Knows it quadfold. You can pick up copies from the Free the States store, along with t-shirts, drop cards, stickers, and activism signs!
Everything we produce is possible because of the support of our donors. Help fund the fight to abolish abortion! Help us add staff and expand our programs by becoming a monthly supporter of Free the States!