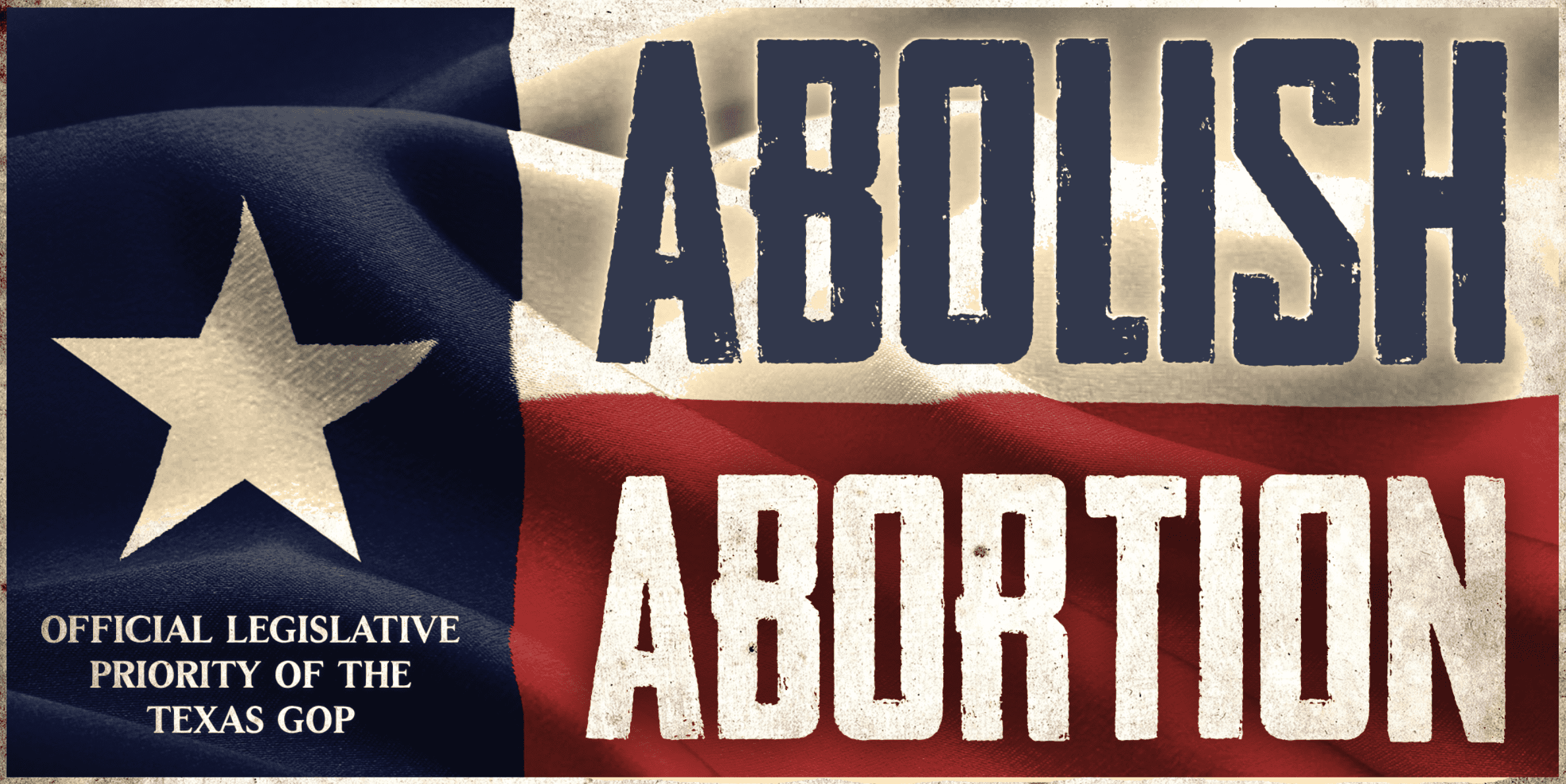 During their recent biennial convention, the Republican Party of Texas (RPT) passed a legislative priority to abolish abortion completely. It reads: "Abolish abortion by ensuring the right to life and equal protection of the laws to all preborn children from the moment of fertilization."
Despite Texas Right to Life and Texas Alliance for Life's insistence on an incremental approach to ending abortion, the RPT chose to listen to the abolitionists, who outnumbered those testifying in favor of incrementalism five-to-one at the hearings. The complete abolition of abortion is now one of Texas Republicans' eight official legislative priorities, while the incremental proposal did not even make the top fifteen.
RPT Delegate David Sims testified to the Legislative Priorities Committee about the folly of compromise and the necessity of holding firmly to our principles. "We've got to stop with the strategy of begging the supreme court to allow us to compromise with evil. It's unprincipled and it clearly isn't working. It's time to stand firmly on God's word and on the Constitution and provide equal protection of the laws against murder to preborn children. It's time to abolish abortion."
Wesley Thomas from Abolish Abortion Texas was another delegate who testified in favor of abolition. When asked if he feared that abolishing abortion in Texas may lead to a civil war, Thomas replied, "55,000 plus children per year are currently being aborted… That is a war, okay? And so… if we're not willing to lay down our lives to save 55,000 children, are we not asking them to lay down their lives for us instead?"
Wesley Thomas' Excellent Testimony and Q&A at TX GOP Convention

Wesley Thomas of Abolish Abortion Texas testifies at the TX GOP State Convention in favor of making abortion's immediate abolition in defiance of SCOTUS an official legislative priority of the party. His interactions with incrementalist members of the committee are very instructive.

Posted by Free the States on Saturday, July 18, 2020
One delegate, David Bellow, was converted to abolitionism during the convention by listening to the abolitionist testimonies and was inspired to add his own testimony. "We need to say… that an unborn person is a person and has a right to life from conception, and if the federal government wants to say otherwise, who cares?" Bellow's on-the-spot conversion is a testament to the growth of abolitionism. When Christians who haven't already been fed slander about abolitionists by pro-life leaders hear the call of abolition, they are often persuaded to the cause.
After the hearings, the committee members deliberated regarding the exact wording of the abolition legislative priority. One member of the committee motioned to strike "equal protection" from the priority, so that the priority would call for some degree of protection for preborn children, but not for the treatment of preborn children as equals under the law. Abolitionist committee member J.R. Haas spoke against this motion. 
"He is saying that we should deny equal protection to preborn children. Friends, I don't know about you, but I have a real problem with that," Haas said. "Do we believe that these babies are persons? If so, we must not, before God and under our Constitution, deny them the equal protection of our laws. Please do not strike these two words. Thank you."
After Haas' comments, the motion to strike "equal protection" was retracted. That there was opposition to equal protection for preborn children in the first place tells you a lot about pro-life incrementalists.
Incrementalists were able to strike other language from the legislative priority however, most notably the wording which explicitly called for Roe and Casey to be defied. The language of the bill still implies defiance of the supreme court, however, as abortion cannot be abolished from conception without defying the supreme court.
What does all this mean?
While legislative priorities aren't binding, they act as a clear guide to the Texas legislature on the actions the people want them to take this upcoming legislative session. There is only one bill which has ever been proposed in Texas which fulfills the standards set by the legislative priority: the Abolition of Abortion in Texas Act. Texas State Rep. Briscoe Cain, who was a coauthor of the Abolition of Abortion in Texas Act, told The Resurgent that the legislative priority is a clear signal to himself and his colleagues that the grassroots are demanding abolition.
"As Republicans, our identity tends to be found in the platform which says what Republicans believe, and in the Texas Republican party, we have legislative priorities that are the commands of the grassroots," Cain said. "With abolition being a clearly-written legislative priority, I expect more legislators to sign on [to The Abolition of Abortion in Texas Act]. They may do so willingly or because there's a mandate from the grassroots… I think legislators who don't support it will find many upset constituents who are able to point to the Texas Republican legislative priorities and say 'why didn't you support this?' After the legislative session, Republican legislators who rebuffed the grassroots will have a lot of questions to answer."
Two years ago, the Abolition of Abortion in Texas Act had 11 cosponsors and over 300 people who testified in favor of it, causing the hearing to last until 2:58AM. Nevertheless, committee chairman Jeff Leach denied the bill a vote, keeping abortion legal in Texas for two more years and guaranteeing 110,000 preborn children would be legally murdered.
With the passage of this legislative priority, the Texas legislature has a decision to make: heed the clear demand of the people and pass the Abolition of Abortion in Texas Act, or kill the bill once again in an act of cowardice and lack of love for preborn children.
Another positive development is the fact that the new chairman of the RPT, former congressman Lt. Col. Allen West, has promised that he would fully support a bill of abolition: "If a bill were introduced that would abolish abortion – saving the lives of unborn babies, beginning at conception – I would speak in full support."
It's time for Texas to stop with the fruitless incremental strategies and do what it should have done from the very beginning: oppose unjust court rulings and provide equal protection for all preborn humans as mandated by God, the US Constution, and the Texas Constitution. Pray that Texas would abolish abortion this upcoming legislative session, and if you live in the Lone Star State, be sure to urge your local legislators to pass the bill.
Three things to do!
Big tech is cracking down on ability to reach you! Our social media reach has been greatly decreased in recent months. To make sure you are not missing important content and news about abolition bills from Free the States, sign up for email updates!
Convert people in your community to abolitionism! The best brief resource in the Abolitionist Movement for sharing with pro-lifers, is the Are You An Abolitionist pamphlet. You can pick up copies from the Free the States store, along with t-shirts, drop cards, stickers, and activism signs!
Everything we produce is possible because of the support of our donors. Help fund the fight to abolish abortion! Help us add staff and expand our programs by becoming a monthly supporter of Free the States!