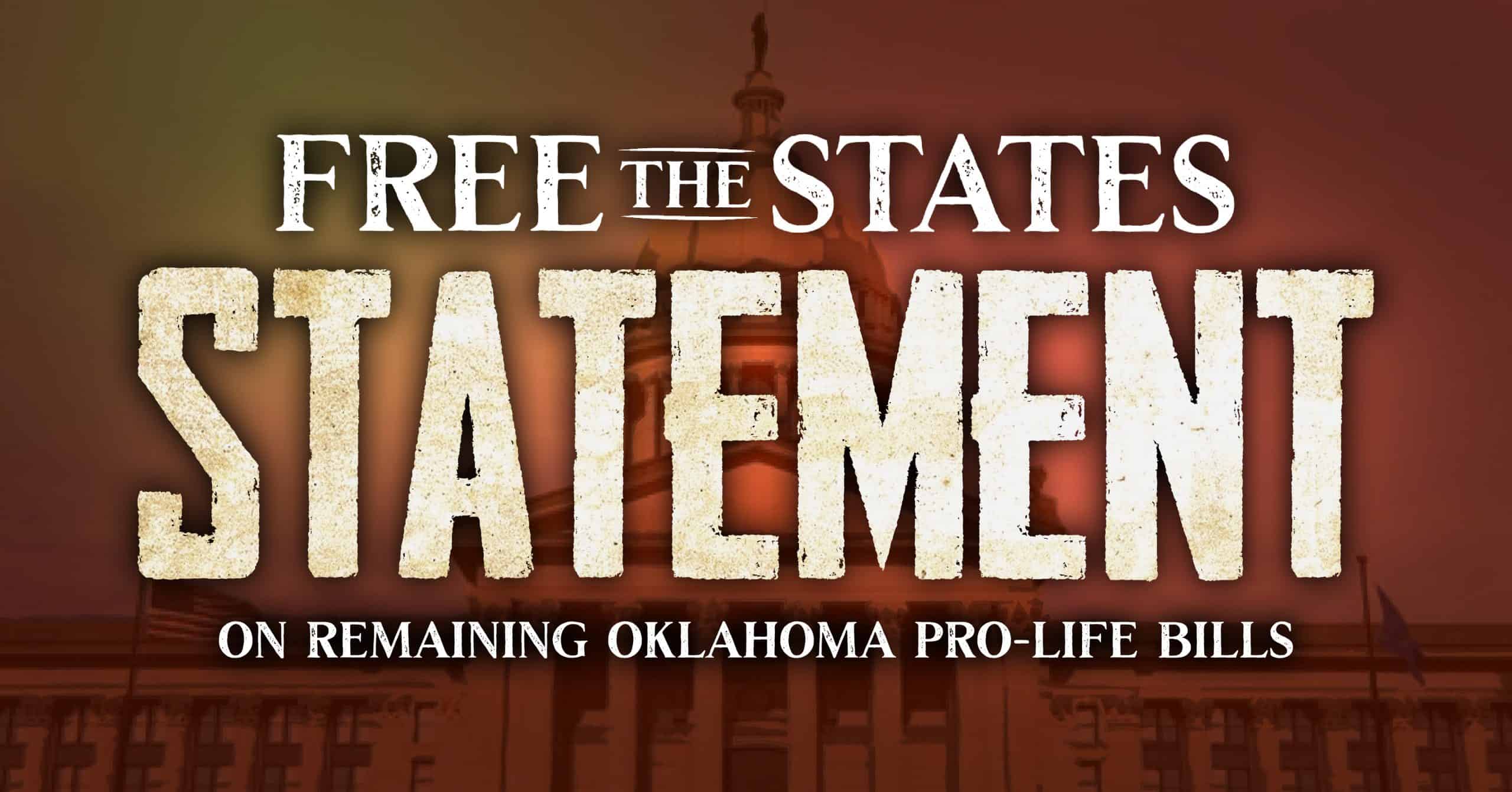 The Oklahoma legislature has already passed the supposed "total abortion ban" (SB612) and a bill amending in legally insignificant ways last year's trigger bill (SB1555). In addition to these two, there is a handful of pro-life bills sitting on general order eligible to be heard on the floors of the State House and Senate before tomorrow's deadline for third readings in the opposite chamber.
SB1552
A favorite tactic of politicians is looking like they are doing something without actually doing anything. In 2017, the legislature passed the Choosing Childbirth Act which directed the State Department of Health to assign grants to pro-life pregnancy centers. But they conveniently did not assign money for these grants in the budget. So they pass a shiny, new pro-life victory so they can posture as pro-life heroes without actually doing anything.
In 2019, they finally assigned money for the grants, getting to campaign as pro-life champions once again. Now, they are amending the Act to allow the State Department of Health to enter into contracts directly with the pregnancy centers. Each time they update the terms of how these funds are allocated is a new pro-life bill and victory to tout. That's how the game is played.
The author of this bill is none other than Senate Pro Tem Greg Treat whose game is delaying the abolition of abortion in Oklahoma.
SJR37
This joint resolution would place an amendment to the Oklahoma Constitution on the ballot which states, "Recognizing that abortion is a unique and destructive act that terminates the life of an unborn human being, nothing in this Constitution secures or protects a right to an abortion."
This would not abolish abortion, but might prevent the Oklahoma Supreme Court from attempting to read a right to abortion into our State Constitution should they ever desire to.
Attorney and Abolish Abortion Texas Director Bradley Pierce wrote in an amicus brief in the Dobbs v. Jackson supreme court case that one of the problems with amending Constitutions in response to legal abortion is that legal abortion is a result of courts ignoring Constitutions. "[E]ven if the Constitution were to be successfully amended, the Court could simply choose to ignore the text by a 'raw exercise' of judicial supremacy, just like it did in Roe, Pierce wrote. "The very attempt to amend the Constitution to undo a judicially created 'amendment' would likely further concede the legitimacy of the concept of judicial supremacy, which is a fundamental underlying problem."
The underlying problem is that politicians and much of the public thinks there is no check on the authority of the judiciary to coerce the legislative and executive branches into protecting murder. The Constitutional Amendment provided by SJR37 may or may not prevent the Oklahoma State Supreme Court from trying to "find" a right to murder in the State Constitution, but with or without the amendment, if Oklahoma Supreme Court justices ever attempt to do so, they should be impeached or ignored.
SB1553
This bill would make it homicide for an abortionist to perform an abortion after 30 days "unless such abortion is necessary to prevent the death of the pregnant woman or to prevent impairment to her health."
Like SB612, it does not defy Roe v. Wade and thus is essentially a trigger bill.
SB1503
This bill mimics the Texas heartbeat bill by allowing for lawsuits against abortionists who murder children after six weeks. Episode #84 of The Liberator Podcast addressed the various issues with this bill.
It seems unlikely that they would pass a bill purporting to ban abortion at 30 days after just passing a bill purporting to ban abortion at conception, but they've done contradictory things like that before.
HB4327
This bill is similar to the Texas bill in that it allows for lawsuits against abortionists. It is better than the Texas bill in that it defines life as beginning at conception instead of a heartbeat, but it is worse than the Texas bill in that it protects the murder of children conceived in rape or incest, in addition to the exception for the life of the mother.
Conclusion
All of these bills have substantial problems and all of these bills have been advanced through the legislative process instead of the bill that would have abolished abortion. Unless they amend one of these bills on general order to become an abolition bill and do whatever they have to do to hurry the amended version through conference committee, the Oklahoma legislature will have gone another year of disobeying Christ and overseeing the death of their preborn neighbors.
---
Three things to do!
Big tech is cracking down on our ability to reach you! Our social media reach has been greatly decreased in recent months. To make sure you are not missing important content and news about abolition bills from Free the States, sign up for email updates!
Be an activist! Convert people in your community to abolitionism. The best brief resource in the Abolitionist Movement for turning pro-lifers into abolitionists is the Are You An Abolitionist pamphlet. The best quadfold for outreach to pro-aborts and evangelism is the Abortion is Murder And Everybody Knows it quadfold. You can pick up copies from the Free the States store, along with t-shirts, drop cards, stickers, and activism signs!
Everything we produce is possible because of the support of our donors. Help fund the fight to abolish abortion! Help us add staff and expand our programs by becoming a monthly supporter of Free the States!