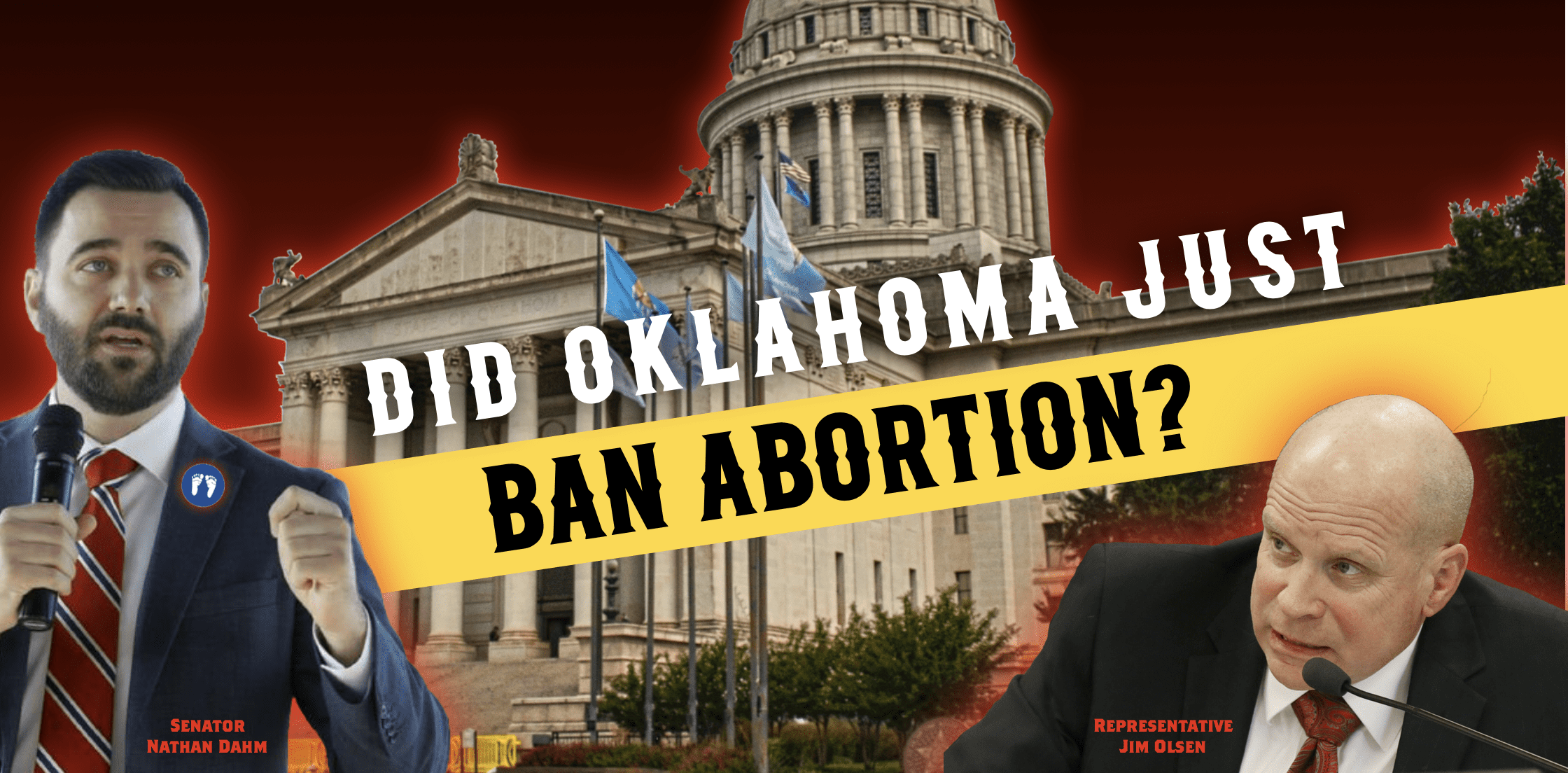 The Oklahoma House passed Senate Bill 612 on Tuesday, sending it to Governor Kevin Stitt who will likely sign it into law. The bill purports to establish that "A person convicted of performing or attempting to perform an abortion shall be guilty of a felony punishable by a fine not to exceed One Hundred Thousand Dollars, or by confinement in the custody of the Department of Corrections for a term not to exceed ten years."
The new law quickly made national headlines such as "Oklahoma state House approves bill to make abortion illegal" (ABC News), "Oklahoma Legislature passes a bill to make abortion illegal" (NPR), and "Oklahoma Lawmakers Pass Bill Making Abortion 'Entirely Illegal'" (US News). As usual, the headlines do not match the reality.
There are a number of problems with this bill, the first being that it contains no language clarifying that the prohibition contained in SB612 is to be enforced in the face of judicial violations of the right to life. For instance, OK SB495, which was left pending in the Senate Health and Human Services Committee, establishes that "The Attorney General shall monitor this state's enforcement of [Oklahoma homicide statutes] in relation to abortion. The Attorney General shall direct state agencies to enforce those laws regardless of any contrary or conflicting federal statute, regulation, treaty, executive order, or court ruling."
Lacking this language, enforcement of SB612 is going to be enjoined and babies will continue to be murdered here in pro-life Oklahoma. This is exactly what occurred in 2019 when Alabama passed the Human Life Protection Act which also purported to outlaw abortion from conception. But when she signed the law, Alabama Governor Kay Ivey said, "No matter one's personal view on abortion, we can all recognize that, at least for the short term, this bill may be unenforceable. As citizens of this great country, we must always respect the authority of the U.S. Supreme Court even when we disagree with their decisions." Planned Parenthood was so confident that the courts would not allow the law to stand they told the press they would be building a new mega-center in Birmingham a month after Ivey signed the Human Life Protection Act.
Governor Stitt has taken the same posture as Ivey. While signing a handful of pro-life bills last year, one of which (HB1102) also purported to end abortion from conception, Stitt said, ""We'll let the courts work out if any of those get overturned." Of course, Stitt knew that all abortion bans prior to 20 weeks are considered unconstitutional by our rogue judiciary, so he was setting the stage for himself to bow to their whims. That is what is going to happen with SB612. Stitt will sign it. Republican politicians will posture as if they just abolished abortion. The courts will enjoin enforcement of the law. Republican politicians will say "shucks," pretend they did all they could, and start the same process over again next year.
The posturing is already beginning. Nathan Dahm, who we appreciate for his support of SB495 and his work on other conservative issues, said in a statement that "We are one signature away from protecting the lives of thousands of unborn babies." Senator David Bullard spoke similarly last year upon the passage of his pro-life bill (SB1728), claiming that "thousands of unborn babies will be saved every year," and that Oklahoma will be made into an "abortion desert." This is what pro-life politicians do year-after-year. This is the game, and the game has less to do with protecting preborn children than it does with politicians appearing to voters as though they are protecting preborn children.
Aside from its submission to the genocidal federal judiciary, SB612 has more problems. Providing only 10-year maximum sentence treats preborn children as less valuable than born people. This is partiality which God condemns in His Word, and it also violates the 14th amendment of the United States Constitution which establishes that "no state shall… deny to any person within its jurisdiction the equal protection of the law."
It also explicitly protects birth control drugs which can cause abortion as long as the drug is administered before pregnancy occurs. But many hormonal birth control drugs which are taken prior to pregnancy thin the lining of the uterus, making it impossible for the human in the embryonic stage to implant. If hormonal birth control was one hundred percent effective in preventing fertilization, this wouldn't be a problem, but it's not one hundred percent effective. Children are often conceived despite the mother using birth control, which means that hormonal birth control is an abortion-inducing drug. These abortions are not recorded but are likely the most prolific form of abortion that take place and are explicitly protected by SB612.
The bill also explicitly protects all forms of self-managed abortion by giving mothers full immunity in the murder of their child: "This section does not… authorize the charging or conviction of a woman with any criminal offense in the death of her own unborn child." Only the abortionist is liable to face prosecution under SB612. This means, in essence, that mothers still have the right to murder their own children. They just would no longer have the right to have an abortionist help them do it. This is hardly a problem for many abortion-minded mothers because of the ease of managing one's own abortion given advances in abortion medicine (see this excellent presentation from pastor and author C.R. Cali for more on the rise of self-managed abortion).
SB612 is not a bill to celebrate. It will not go into effect because of its refusal to stand up to the federal judiciary. Even if it did go into effect, it has major problems that allow for abortion and frame injustice into law. It was passed by the Oklahoma legislature instead of passing legislation that would have actually immediately abolished abortion.
For more info about what a bill needs to look like so that it actually abolishes abortion, see the below presentation on the five components of an abolition bill.
---
Three things to do!
Big tech is cracking down on our ability to reach you! Our social media reach has been greatly decreased in recent months. To make sure you are not missing important content and news about abolition bills from Free the States, sign up for email updates!
Be an activist! Convert people in your community to abolitionism. The best brief resource in the Abolitionist Movement for turning pro-lifers into abolitionists is the Are You An Abolitionist pamphlet. The best quadfold for outreach to pro-aborts and evangelism is the Abortion is Murder And Everybody Knows it quadfold. You can pick up copies from the Free the States store, along with t-shirts, drop cards, stickers, and activism signs!
Everything we produce is possible because of the support of our donors. Help fund the fight to abolish abortion! Help us add staff and expand our programs by becoming a monthly supporter of Free the States!