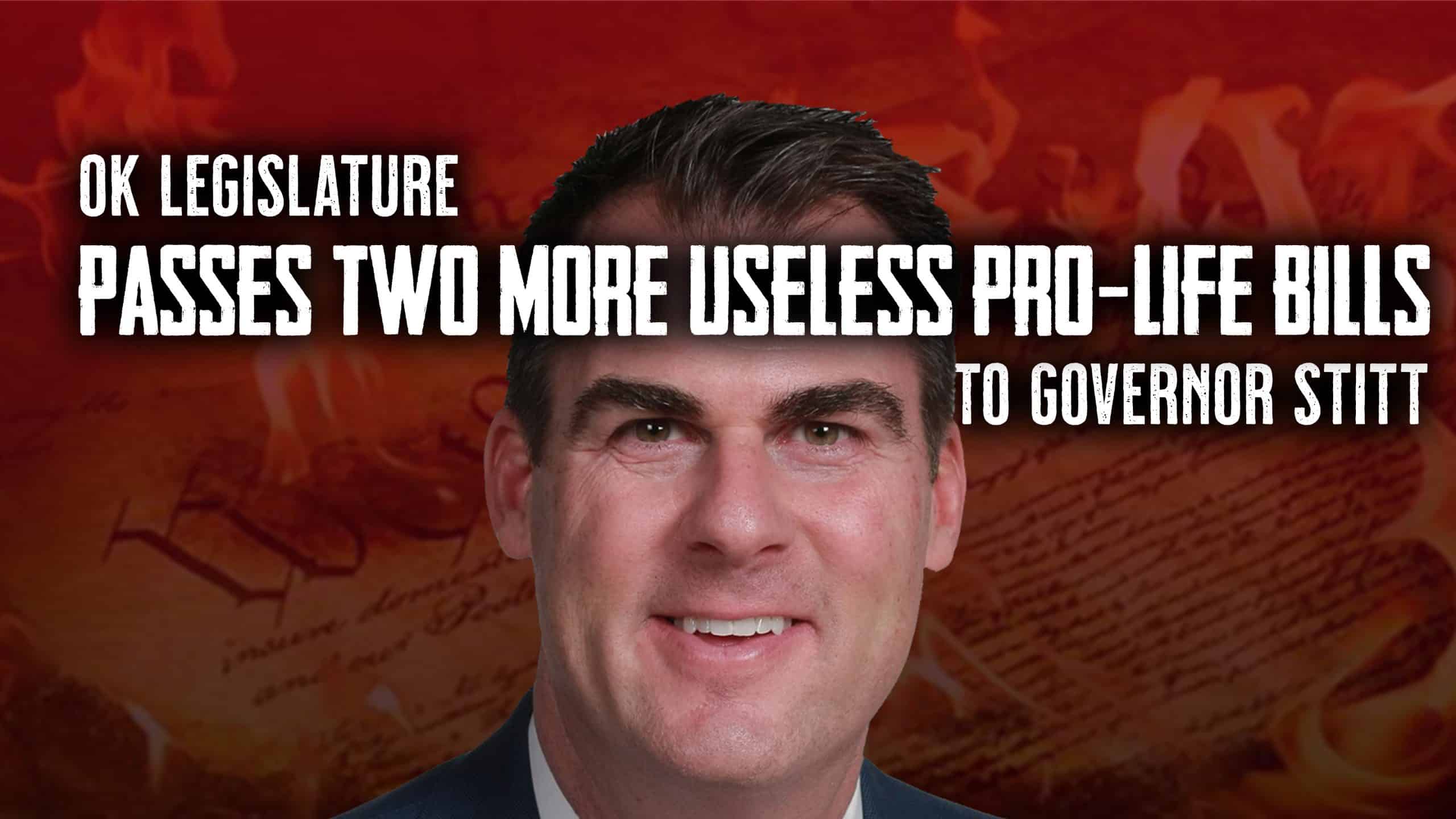 On Tuesday, the Oklahoma State Senate passed three pro-life House bills to the governor. On Thursday, the House approved two pro-life Senate Bills, making for a total of five pro-life bills sitting on Governor Kevin Stitt's desk.
SB918 – Trigger Bill
In 2019, when Senate Pro Tem Greg Treat and abolitionist former Senator Joseph Silk were discussing the Abolition of Abortion in Oklahoma Act (SB13), the subject of repealing pro-life legislation came up. Silk explained that to abolish abortion, abortion-allowing regulations (including those passed by pro-lifers) have to be done away with. Treat recognized the truth of what Silk was saying and amended SB195 (originally a different pro-life bill) to make it repeal all pro-life regulations in Oklahoma if "The United States Supreme Court overrules the central holding of Roe v. Wade…reaffirmed by Planned Parenthood of Southeastern Pennsylvania v. Casey…thereby restoring to the State of Oklahoma the authority to prohibit abortion" or "An amendment to the United States Constitution is adopted that restores to the State of Oklahoma the authority to prohibit abortion."
The bill did not pass, but Treat refiled the language in SB918 ahead of the current session. It passed the Senate on March 10 along party lines except for abolitionist Senator Warren Hamilton who voted against it. It then passed the House on Thursday along party lines. Every Democrat in both chambers of the State legislature voted against the bill because they know that pro-life regulations are what would keep abortion legal if Roe is ever overturned. They will fight to preserve those "pro-life victories."
The insidious part of the bill is the wording of the trigger clauses. Not only does Oklahoma posses the authority to prohibit abortion right now, we have the Biblical and Constitutional obligation to prohibit abortion right now. Outlawing murder (Exodus 20:13, Romans 13:3, Genesis 9:6) (U.S. Const. amend. V) and establishing equal protection of the law for all (Deuteronomy 1:17) (U.S. Const. amend. XIV) are non-negotiable responsibilities of Oklahoma's governing authorities. SB918 perpetuates the fiction that the authority of the supreme court stands over the authority of God and Constitution.
SB584 – Defunding Bill
In 2018, Oklahoma passed the "Defunding Fetal Body Parts Trafficking Act" which prevents business which have been found guilty in court of trafficking fetal body parts from access to federal or State funding programs such as Medicaid. SB584 amends the 2018 law to prohibit subdivisions of the State of Oklahoma from making funds available to such businesses.
Though Planned Parenthood engaged in illegal activity on camera, protecting child sacrifice is one of the American judiciary's highest priorities. No court ever convicted Planned Parenthood for fetal body part trafficking. The journalists who exposed them are the only ones involved facing substantial legal trouble. This means that the Defunding Fetal Body Parts Trafficking Act does not deny funding to Planned Parenthood in Oklahoma. SB584 and its 2018 predecessor are merely for show.
Even if these bills did substantially effect Planned Parenthood's bottom line, it would make no difference to abortion's legal status. Planned Parenthood is not keeping abortion legal in Oklahoma. Pro-life Republican politicians are.
Further, pro-life bills like these are used as the excuse not to abolish abortion. These bills save the careers of the very same people who are keeping abortion from being abolished. The strategy of the pro-life establishment is to kill the bill to abolish abortion, but pass enough of these useless pro-life bills to regain their credibility with Christian voters. When enough of us see through their charade and reject their incremental schemes and pro-life bills, they'll have no choice but to abolish abortion.
---
Three things to do!
Big tech is cracking down on our ability to reach you! Our social media reach has been greatly decreased in recent months. To make sure you are not missing important content and news about abolition bills from Free the States, sign up for email updates!
Be an activist! Convert people in your community to abolitionism. The best brief resource in the Abolitionist Movement for turning pro-lifers into abolitionists is the Are You An Abolitionist pamphlet. The best quadfold for outreach to pro-aborts and evangelism is the Abortion is Murder And Everybody Knows it quadfold. You can pick up copies from the Free the States store, along with t-shirts, drop cards, stickers, and activism signs!
Everything we produce is possible because of the support of our donors. Help fund the fight to abolish abortion! Help us add staff and expand our programs by becoming a monthly supporter of Free the States!