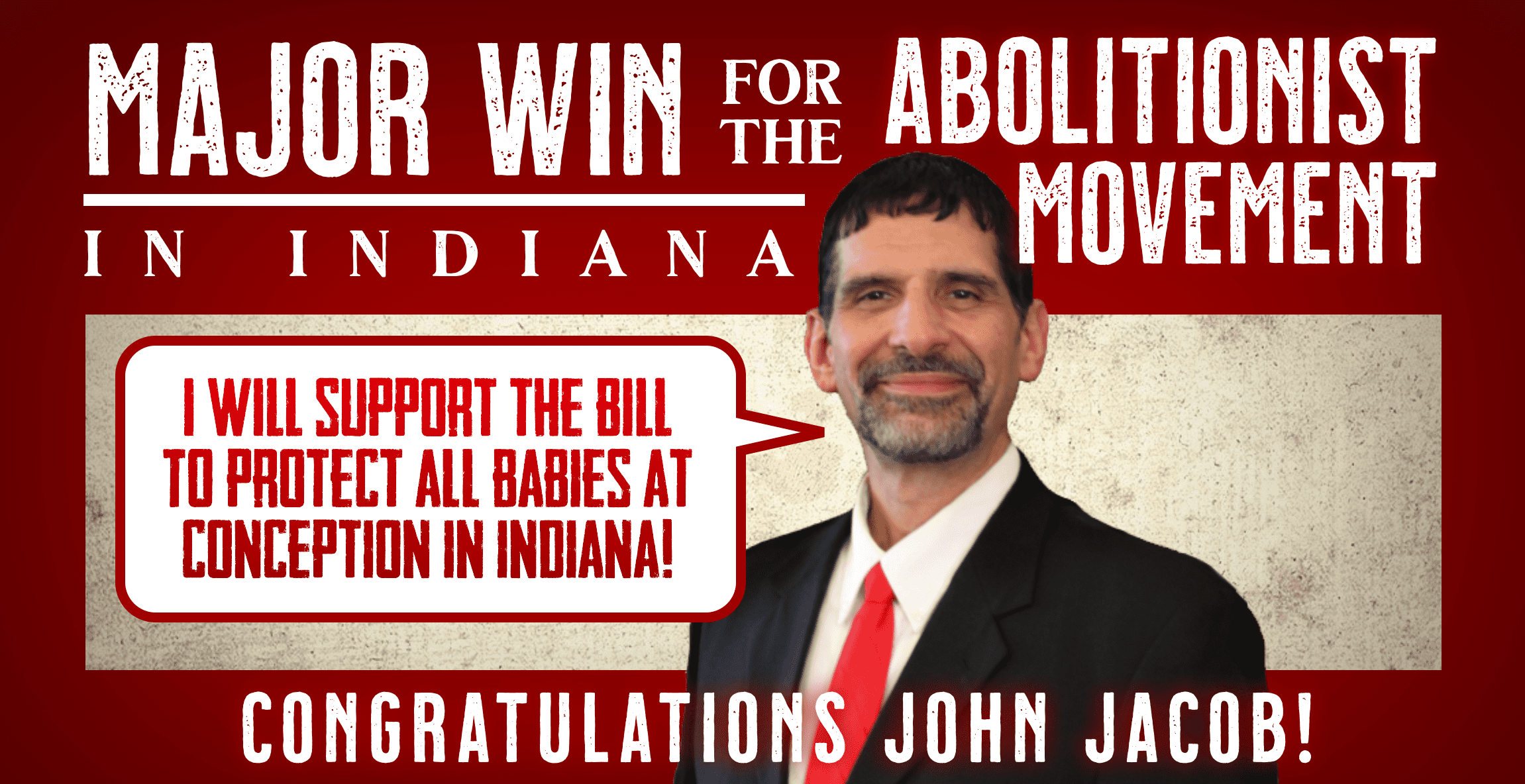 Abolitionist John Jacob has been elected to the Indiana State house with more than 65 percent of the vote, defeating Democrat Angela Elliot.
Jacob reached the general election for Indiana HD93 after defeating incumbent Rep. Dollyne Sherman in the Republican primary. Sherman was endorsed by the state's pro-life incrementalist organization, Indiana Right to Life, while Jacob was endorsed by Abolish Abortion Indiana and Hoosiers for Life, organizations which advocate the total and immediate abolition of abortion.
Jacob is an evangelist and has been active in the Abolitionist Movement for a number of years. He joins the Indiana State House where there is already a bill to immediately abolish abortion, the Protection at Conception Act, which has been introduced by State Rep. Curt Nisly every year since 2017.
While a number of state legislators have converted to abolitionism in recent years beginning with Oklahoma State Senator Joseph Silk in 2016, Jacob and Oklahoma State Senator-elect Warren Hamilton are the first abolitionists to challenge incumbent anti-abolitionists and enter the legislature as abolitionists.
Abolish Abortion Indiana's Derin Stidd told Free the States that he is thrilled about Jacob's victory and what it means for the Abolitionist Movement in the state.
I am delighted to see that the voters of House District 93 have selected John Jacob to be their State Representative. John is a Christian man, of sound principle and great integrity. He was able to unseat a pro-life establishment Republican in the primary, and a pro-abortion Democrat in the general election, because he ran a disciplined campaign that connected with the voters in his district.

John has repeatedly stated that his number one priority is to criminalize abortion by working to pass the Protection at Conception Act. I'm excited to see John go to work in the chamber. Honestly, we need more men like him there. It's time to stop playing games with abortion, and completely and totally abolish it from our land. John will work hard to that end.
In a statement to Free the States, Jacob gave God the glory for the victory and expressed optimism about the prospects of abolishing abortion in Indiana.
God has made His way clear. To God be the glory for not only the victory, but for the wide margin of victory. We had a marvelous all volunteer campaign team as well as some generous donors who obeyed God and funded our Campaign.

The fight is not over. It is just beginning. We know that there will be many obstacles along the way and by the grace of God, we will overcome to move us toward the goal of making the brutal, yet currently legal, practice of killing innocent human lives in the womb a thing of the past. We need our legislation to lead our culture out of this wickedness and that is one of the primary reasons I ran for this position. Please pray for me as I know there will be attacks and I realize that we do not struggle against flesh and blood, but against principalities, against powers, against the rulers of the darkness of this world, against spiritual wickedness in high places.
Jacob's victory is a signal to the pro-life Republican establishment in Indiana that the Abolitionist Movement is now a political force in the state with the ability to remove people from office who will not legislate justly. His victory is a huge encouragement to us at Free the States and we will be doing everything we can to support him and the Indiana abolitionists from afar.