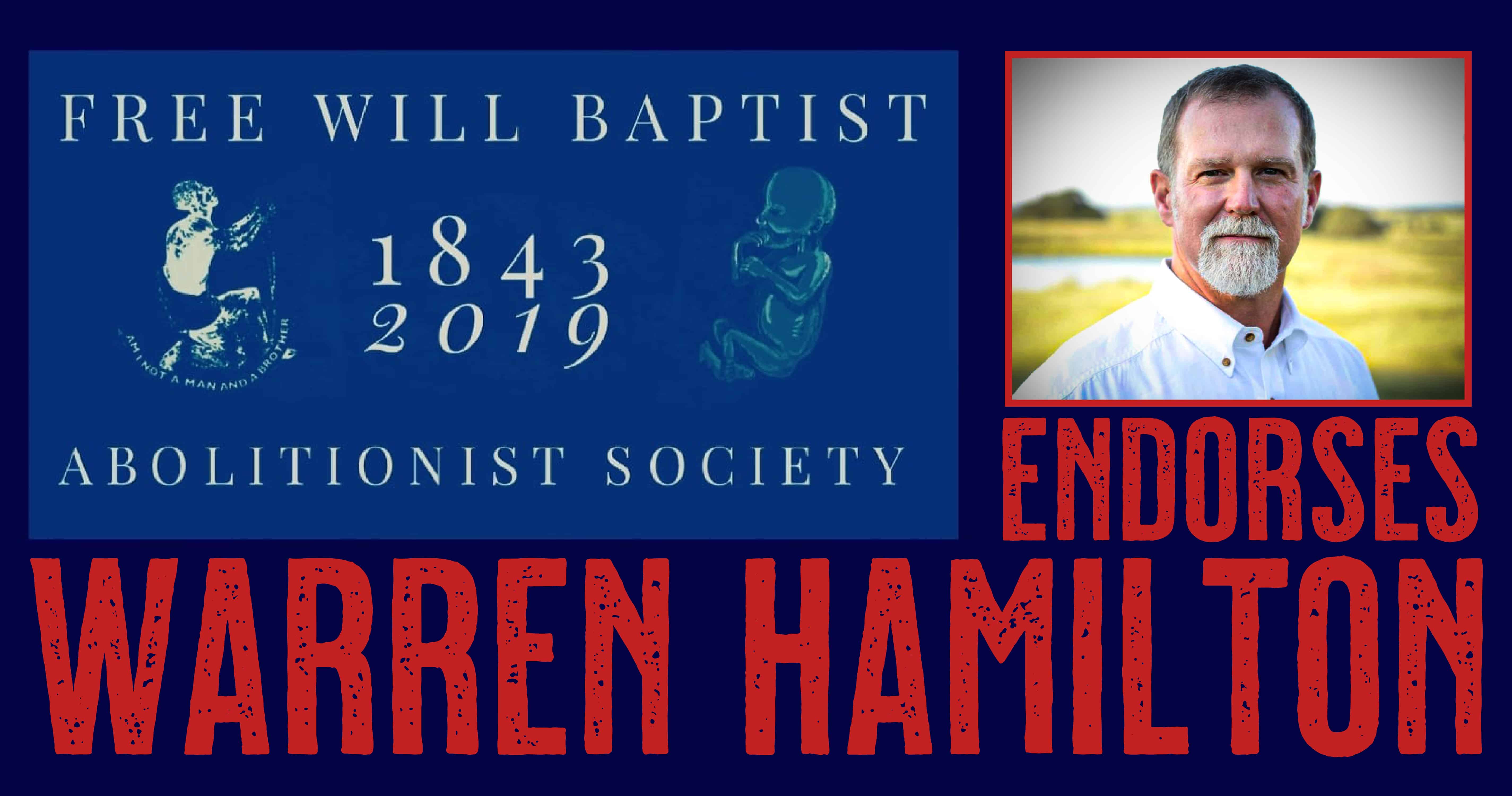 O
n Monday, Free Will Baptist Abolitionist Society leaders endorsed State Senate District 7 candidate Warren Hamilton. The endorsement comes on the heels of Southern Baptists for Abolishing Abortion's
endorsement
of Hamilton last Tuesday.
Free Will Baptist Abolitionist Leaders Endorse Hamilton for State Senate

The Founders and Directors of the Free Will Baptist Abolitionist Society announce their endorsements of Warren Hamilton for Oklahoma Senate District 7. The following statements have been provided by each of them:

There can be no negotiating with evil and that is what pro-life politicians have been doing since 1973. If you would like to see what it really means to be pro-life, vote for abolitionist Warren Hamilton. Now more than ever, we need leaders like him who will do more than just give lip service. He will actually fight for the rights of the unborn without compromise." 

– Pastor Sam Ketcher, Hillside Free Will Baptist Church (Wewoka, OK)*

"I give an enthusiastic endorsement of my fellow laborer in the fight to save our unborn babies. I met Warren Hamilton in the halls of the Oklahoma State Capitol while myself and other ministers of Jesus Christ were pleading with our senators to do something about the 5,000 babies a year that are aborted in Oklahoma. A stranger and I began to discuss the future of the fight against abortion and I was encouraged by his simple faith that abortion can and will end in our great state. This stranger was Warren Hamilton. Apparently, Warren decided to take matters into his own hands and determined to become the senator we needed that day. Since then Warren has become my friend. I not only endorse Warren Hamilton; I believe he just may be the most important man to enter the Oklahoma Senate in decades."

– Pastor Kelly Greene, Hope Church (Shawnee, OK)*

"As a father, pastor and activist for liberty, I fully endorse Warren Hamilton for Senate District 7. He is a fellow abolitionist and I trust him to protect our right to keep and bear arms, having received an A candidate rating from OK2A."

– Pastor Tim Gillespie, First Free Will Baptist Church of Stroud, OK (Also, Founder of OK2A)*

At the 2019 meeting of the Oklahoma State Association of Free Will Baptist, the following resolution was adopted unanimously with no debate. Since then, the Oklahoma Southern Baptists and Free Will Baptists in other states have adopted similar resolutions. The movement to finally and unconditionally end the practice of human abortion is gaining momentum. God's Word is clear in its admonition to stand and speak for the innocent. There are none more innocent than the unborn.

WHEREAS, God's Word clearly declares that all human life is a sacred gift from our sovereign God and that His Law is supreme over mankind and man's law, and therefore that all abortion is wrong and usurps God's sovereignty; and,

WHEREAS, since Roe v. Wade, 60 million innocent unborn babies have been legally murdered in the United States and approximately 5,000 innocent unborn babies are legally murdered in Oklahoma every year; and,

WHEREAS, government is not instituted to grant rights but to protect our unalienable, God-given rights to life, liberty, and the pursuit of happiness as recognized in the Declaration of Independence and Article 2, Section 2 of the Oklahoma Constitution; and,

WHEREAS, traditional pro-life laws do nothing to abolish abortion and, in fact, merely establish regulatory guidelines for how to obtain a legal abortion and, in so doing, simply facilitate the murder of innocent unborn children; and,

WHEREAS, Roe v. Wade will never be overturned unless a state enacts a law abolishing human abortion; therefore,

BE IT RESOLVED, that we, the Oklahoma Association of Free Will Baptists, call upon the Legislature, Governor, and Attorney General of Oklahoma to pass, sign, and enforce legislation abolishing the practice of human abortion at all gestational stages and for all reasons in Oklahoma.

– Resolution adopted by 2019 OK FWB state meeting

* The Free Will Baptist Abolitionist Society is not an officially sanctioned organization of the National Assoc. of FWB or any state or district association. It is comprised of Free Will Baptist ministers and laypeople who wish to work toward an abortion-free society where life is cherished and protected. The endorsements contained herein do not constitute endorsements by any church, district or state associations, or the national association. The titles used are for identification purposes only, including the reference to Pastor Gillespie as the founder of OK2A.
Hamilton faces Larry Boggs in tomorrow's SD7 runoff election. Boggs left the Senate chamber just before the vote on the bill to abolish abortion in Oklahoma. Hamilton has promised to author The Abolition of Abortion in Oklahoma.
Tomorrow's runoff will determine whether Senate District 7 is represented by a man who will work to regulate abortion or a man who will fight to abolish it. Free the States joins The Free Will Baptist Abolitionist Society and Southern Baptists for Abolishing Abortion in supporting Warren Hamilton.
Don't miss news about abolition events, projects, bills, and candidates! Sign up for emails from Free the States!