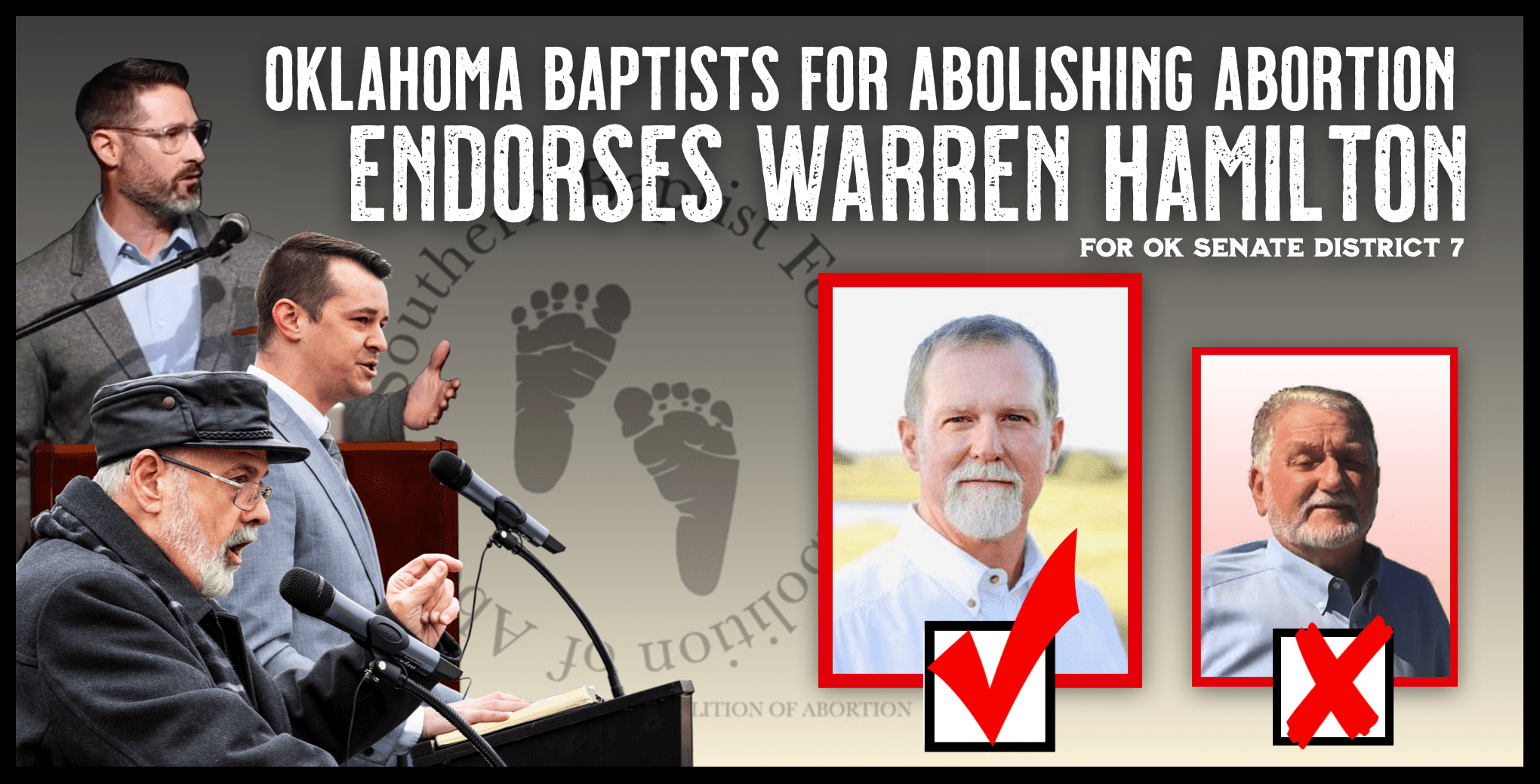 On Tuesday, Oklahoma Baptists for Abolishing Abortion endorsed Oklahoma Senate District 7 candidate Warren Hamilton. Oklahoma Baptist for Abolishing Abortion is a pastor-led coalition of Southern Baptists in the state. Hamilton is an abolitionist who has promised to author the Abolition of Abortion in Oklahoma Act in the State Senate. Larry Boggs left the room when the motion was made to bring the bill out of committee.
Oklahoma Baptists for Abolishing Abortion wholeheartedly endorses Warren Hamilton for the District 7 Senate seat. ‪On Tuesday, August 25th‬ voters living in Oklahoma State Senate District 7 have a great opportunity to choose a principled statesman over a political swamp creature by voting FOR challenger Warren Hamilton over eight-year incumbent Senator Larry Boggs.

We are very disappointed to see the Boggs' campaign resorting to half-truths and outright lies about Warren Hamilton. As Oklahoma Baptists we want everyone to know that Warren Hamilton is a member in good standing of an Oklahoma Southern Baptist congregation. Any suggestion that he is part of a cult would be laughable if it were not such a libelous lie. We need more people like Warren Hamilton in the Oklahoma Legislature. Warren Hamilton is a convictional conservative who has endorsed the Southern Baptist Resolution on Abolishing Abortion (https://docs.google.com/forms/d/e/1FAIpQLScgVHlX3klYqQthBEJ-6YGgANtFuNaLjYXiQ6loUzaHOLu8OA/viewform), and less people like Larry Boggs (who will say or do anything to hang onto his political power).

Join us in helping Warren Hamilton defeat Larry Boggs in the ‪August 25th‬ runoff and put Hamilton's name on the ballot for the November election. Both men are ranchers and they know that even politicians need to be "put out to pasture" from time to time.

Pastor Bill Ascol

Bethel Baptist Church
The idea that abolitionism is a cult has become a popular slander among pro-life Republican establishment Senators and local tabloids working in concert with these politicians. Boggs has publicly slandered Hamilton by comparing him and his supporters to Westboro Baptist. What preceded this vicious slander was an incident at the Haskell County GOP meeting on July 14th where Boggs shoved Hamilton and threatened one of his supporters, shouting "Screw you!… If you don't like, step outside and you square right up!" In an attempt to cover for his shameful behavior, he resorted to vicious slander against those he had aggressed against. This is the sort of "libelous lie" Oklahoma Baptists for Abolishing Abortion is rebuking Boggs for.
It is immensely important that Senate District 7 voters understand the gravity of the choice that is before them. Beyond his shameful behavior during the campaign, Larry Boggs promises to continue regulating abortion if reelected. Warren Hamilton has promised to fight to abolish it. If we continue sending men like Larry Boggs to Oklahoma City, nothing is going to change and babies will continue to be murdered under the cover of Oklahoma State law. Warren Hamilton is the type of man we need at the capitol to change that.
Call to Action
Share this article with anyone you know in Senate District 7 (McAlester, Stigler, Wilburton, Hartshorne, East Eufala, Coalgate, Savanna, Stuart, Kiowa, Quinton, Whitefield, Spiro, and the surrounding areas) so they know to vote for Warren Hamilton on August 25th!
Become a monthly supporter of Free the States so we can continue growing the Abolitionist Movement so that people know to support candidates like Warren Hamilton.
Sign up for our email list to make sure you don't miss updates about abolitionist candidates, bills, projects, and events!