Oklahoma State Senator David Bullard may not be up for reelection until 2022, but he is in full campaign mode. His current campaign is to (1) decrease support for The Abolition of Abortion in Oklahoma Act (SB13) and (2) increase support for his bill, SB1728. He has been traveling the state to meet with a number of abolitionist and pro-life pastors and has spoken at at least one campaign event for another State Senator. Free the States spoke with a number of people who met with Bullard at these recent meetings and speaking engagements.
Regarding Bulard's second objective, SB1728 is not a bill that anyone should support, as explained here. But the purpose of this article is to correct misinformation that Bullard has been spreading regarding his first objective. Bullard has been spreading provably false information about SB13 and Senator Jospeh Silk to hundreds, if not thousands of Oklahomans.
In Early 2019, Bullard was a supporter of SB13. He was working with Senator Joseph Silk, the bill's primary author, to suggest edits to the language of the bill. His suggestions included adding references to the fifth, tenth, and fourteenth amendments of the US Constitution, among a few others.
Bullard's present argument against SB13 is that Silk did not make the edits Bullard requested. In meetings, Bullard has been pointing to the state website to defend his claim. The state website still shows the original SB13 without his requested edits.
What Bullard is not telling pastors is that the version of SB13 on the state website does not contain the edits because the bill never received a committee hearing after the committee substitute was filed. Without a committee hearing, there was never a chance for the edits to be reflected on the website.
Even though no action was taken on the bill which would lead the changes to be reflected on the state website, there is still a way to prove the bill was amended. Every piece of legislation, including committee substitutes, comes with a unique request number when it is officially filed. Request numbers appear on the bottom left corner of each page of the bill. The request number for the original SB13 is 62. The request number for the committee substitute with Bullard's requested edits is 1933.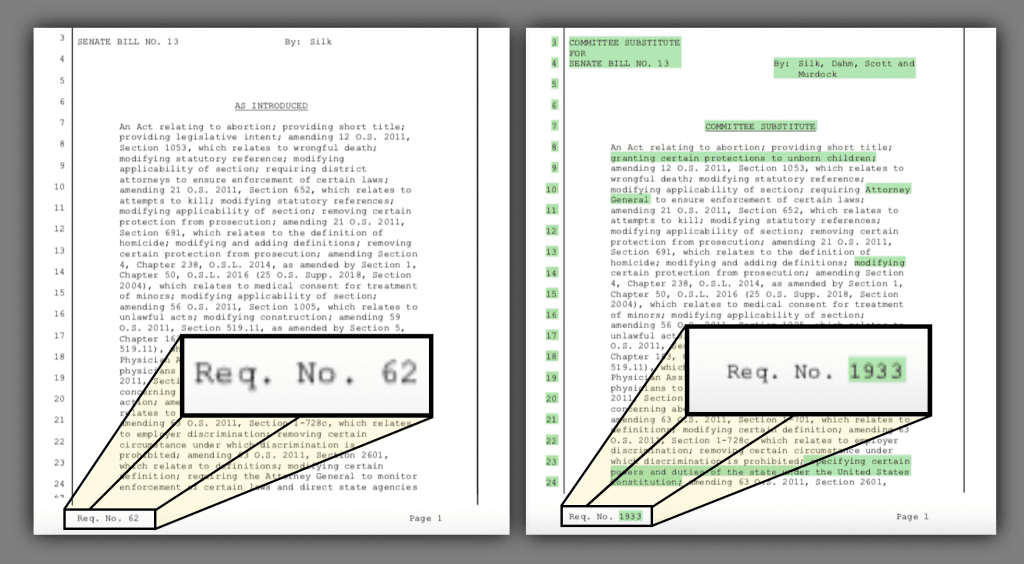 Again, the committee substitute does not appear on the State website because Senator Greg McCortney denied SB13 a committee hearing. Senator Bullard knows this, yet still has dishonestly pointed to the state website which he knows contains the unedited version.
One might be inclined to give Bullard the benefit of the doubt and assume that he simply did not know that his suggested edits were added to the bill. However, this is not the case. According to Senator Silk, during a 2019 meeting in Silk's office, Silk handed Bullard a copy of the new version of SB13 with Bullard's suggested edits highlighted. Bullard has been willfully lying.
In a statement, Senator Silk recounts filing the committee substitute and the meeting with Bullard.
"Recently many legislators that voted against hearing SB13 have been telling their constituents that they would have been in support of it if changes had been made to the bill.  All requested changes were made in committee substitute request #1933 from 2019.  Therefore, either these legislators are either knowingly lying to there constituents or are very bad at their job.  Additionally, even if the changes had not been made they as legislators have the power to amend any bill themselves.  The excuses continue year after year and are getting weaker and more untrue every year.

In particular, in February of 2019 I personally handed Senator David Bullard the updated version of SB13 with the changes highlighted, and he approved.  He then fell in line with corrupt Senate Leadership, voted against the bill and told the public that the changes he requested were not made even though there is documented proof to the contrary.  Never in my life have I witnessed more outright lies and evilness in people who profess to be followers of Christ. This is hypocritical, corrupt politics at it's worst.  All at the expense of innocent children continuing to be murdered."
Bullard was given a chance to come clean regarding the false information he was spreading. A pastor who had met with Bullard, and had been lied to by Bullard, reached out to him for an explanation of Req. No. 1933. Bullard acted confused when he was confronted with the two Req. Nos. and said he would try to get back to the pastor with an explanation. A week has gone by since that conversation and Bullard still has not gotten back to the pastor. The reason he hasn't gotten back to him is because there is no explaining this away. Bullard was lying and now he's been caught.
As Silk alluded to in his statement, other Senators are making the same claim as Bullard in an attempt to defend their refusal to support abortion's abolition. Among them is Senator Larry Boggs who echoed Senator Bullard in a campaign ad in a local publication, The Weekly Bargain Journal. "Despite what you may be told or fake document you've been shown, the bill was never amended," Boggs wrote. "Here is a link to show the bill's official progress – note 'no amendment' – that means the author never changed the SB13 bill. I've always shot straight with you."
Like Bullard, Boggs is a State Senator. He is surely aware that committee substitute amendments are not reflected on the state website unless further action is taken on that bill. Also like Bullard, Senator Silk has spoken with Boggs about the amendments made.
"Sadly, Senator Larry Boggs is knowingly lying about SB13 in order to try to retain his seat," Silk said. "I personally spoke with Boggs early this year during session and informed him of changes that were made, and he acknowledged his understanding. The Republican establishment have been backed into a corner on this issue and are doing everything they can to save face, even spreading totally false information. SB13 was amended as reflected in filed Request No. 1933 and the reason it does not show up online is because no action was taken on it for it to show up."
Tragically, when those in positions of influence – such as a State Senator – decide to spread lies, the disinformation spreads quickly. Allies of the Republican establishment such as former Pittsburg County GOP Chair Lonnie Lu Anderson have been spreading the misinformation as well.

With sitting Senators and other establishment figures involved in this attempt to cover themselves after voting against The Abolition of Abortion in Oklahoma Act, it is incredibly important that we combat their disinformation. With a lie that is so easily disprovable, they appear to be betting on their hope that they can reach more people with the lie than we can reach with the truth. Don't let that be the case. Don't let the establishment lie their way out of the just outrage against them for their failure to abolish abortion. Share this article with Oklahoma friends and family.
---
Three things to do!
Big tech is cracking down on our ability to reach you! Our social media reach has been greatly decreased in recent months. To make sure you are not missing important content and news about abolition bills from Free the States, sign up for email updates!
Be an activist! Convert people in your community to abolitionism. The best brief resource in the Abolitionist Movement for turning pro-lifers into abolitionists is the Are You An Abolitionist pamphlet. The best quadfold for outreach to pro-aborts and evangelism is the Abortion is Murder And Everybody Knows it quadfold. You can pick up copies from the Free the States store, along with t-shirts, drop cards, stickers, and activism signs!
Everything we produce is possible because of the support of our donors. Help fund the fight to abolish abortion! Help us add staff and expand our programs by becoming a monthly supporter of Free the States!