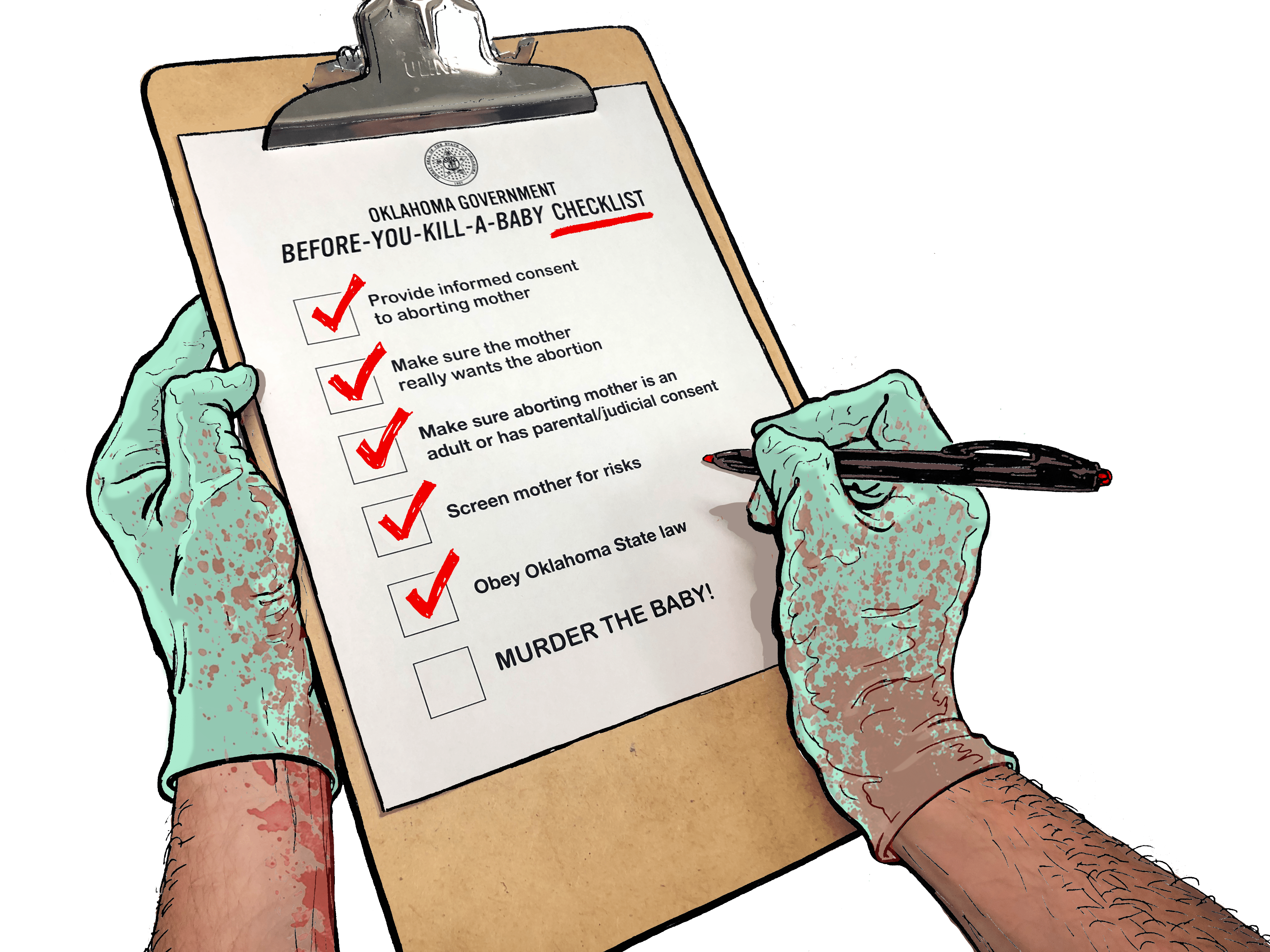 Every session in recent years in Oklahoma has ended with "pro-life victories" which do nothing to abolish abortion. These bills serve to provide Senators with anti-abortion credibility to help them get reelected while the same Senators are preventing the abolition of abortion. Last year, it was SB614, HB 2765, and HB2591. This year, the first to be passed by both chambers is SB1728, "the Unborn Person Wrongful Death Act."
This is not a bill to ban abortion. It does not do a single thing to establish justice for preborn children. SB1728 allows the mother who had the abortion or the grandparents of the murdered child to sue the abortionist if the abortionist violates an abortion regulation; for instance if the abortionist fails to document parental consent or judicial bypass before murdering the child of a minor, if the abortionist fails to obtain and document compliance with informed consent regulations, or if the abortionist fails to document that they screened the mother for impaired judgement, among a few other regulatory violations.
Language in this bill relating to the "unborn person" is good language, but, tragically, is used schizophrenically. If the unborn child really is a person, why doesn't SB1728 treat them as a person? If you're going to call a bill "the Unborn Person Wrongful Death Act," logically, that should be a bill to treat unborn children like all the rest of us. But SB1728 absolutely does not treat unborn human beings like people. Senate Bill 1728 fully affirms the legality of the practice of murdering unborn children. It simply provides the abortionist with a few hoops to jump through to make the unborn person's death rightful.
On March 9th, Senator David Bullard, the author of SB1728, made a shocking admission about his bill on the Senate floor. Responding to a question from Senator Joseph Silk, Bullard said not only is providing a checklist for abortionists all his bill does, but further, he admitted his belief that providing abortionists a pre-murder checklist is the best possible way to protect preborn children.
Senator Silk Cross Examines Senator Bullard on SB1728

Senator Bullard said on the senate floor that providing @bort!onists a checklist is the most effective way to protect preborn humans. The best way to abolish @bort!on is not to regulate it. The best way to abolish @bort!on is to abolish it.

Posted by Free the States on Sunday, March 8, 2020
This is, of course, absurd. The best thing to do to protect unborn children is to write a law treating unborn human beings as fully equal to born human beings. Senator Bullard and his colleagues are legislators. Their job is to be God's deacon of wrath against the evil-doer. Their job is to write just laws. Their responsibility is to uphold justice, even if a superior is telling them not to. The bill to do exactly that (The Abolition of Abortion in Oklahoma Act) has been in the Oklahoma Senate since 2016, and every year, it is killed. In its place, legislators put forward new incremental compromise bills every year that regulate murder and do nothing to establish justice. These bills don't even accomplish what we're told they accomplish. Abortions have increased in Oklahoma in recent years despite the abortion regulations passed every session!
The Christian obligation is to love our neighbor as our self. If SCOTUS opined that it was legal to murder brown-haired 25-year-olds, I assure you I would not ask the Oklahoma State Government to fiddle with regulatory codes. I would demand with every bit of passion within me that the State of Oklahoma make it illegal to murder me in defiance of that supreme court opinion. To do anything less for preborn human beings would thus be a failure to love my neighbor as myself.
Senator Bullard used to support the Abolition of Abortion in Oklahoma Act, at least to some degree. He worked with Senator Silk on some of the language of the bill. But pressure from Senate Pro-Tem Greg Treat caused Bullard, Senator Mark Allen, and Senator Casey Murdock to stop supporting abortion's immediate abolition. Senator Silk was punished by Treat for publicly campaigning for abortion's abolition, so it's conceivable that Treat threatened to take committee leadership assignments from Bullard, Allen, and Murdock too unless they stopped supporting the bill. There's no way to know for sure. But whatever it was, they all turned against the Abolition of Abortion in Oklahoma Act. Bullard and Allen voted to kill SB13 on March 11th while Murdock abstained.
Watch the Oklahoma Senate Vote to Kill SB13

Here's what it looked like for the Oklahoma Senate to kill SB13 and keep abortion legal in their state for another year. Each one of these Senators will stand before God and give an answer for what they've done.

Posted by Free the States on Thursday, March 12, 2020
If anything can be learned from observing the Oklahoma State Senate over the past four years, and especially the past two, it's that the Senators will do anything to avoid abolishing abortion. In a state like Oklahoma, the only way they can get away with refusing to abolish abortion is by passing incremental compromise bills to try to save their pro-life credibility.
SB1728 is just the latest in a string of pro-life bills being used as a substitute for abortion's total and immediate abolition. Again, it does nothing to abolish abortion. It does not have a single one of the five components of an abolition bill. It should not be supported by Christians who want to see abortion abolished.
William Lloyd Garrison, publisher of The Liberator and probably the most influential American abolitionist of slavery, said in 1832, "We regard as delusive, cruel and dangerous, any scheme of expatriation which pretends to aid, either directly or indirectly in the emancipation of the slaves, or to be a substitute for the immediate and total abolition of slavery (emphasis mine)."
SB1728 is one of many substitutes for abolition that the Oklahoma State government has passed in recent years that does nothing to abolish abortion. It's another compromise that helps the very same Senate that voted to prevent abortion's abolition pretend that they've done something to abolish abortion. To call something "cruel, delusive, and dangerous" is pretty harsh, but what else can be said about a bill that, whatever the intentions may be, is serving to delay the abolition of abortion?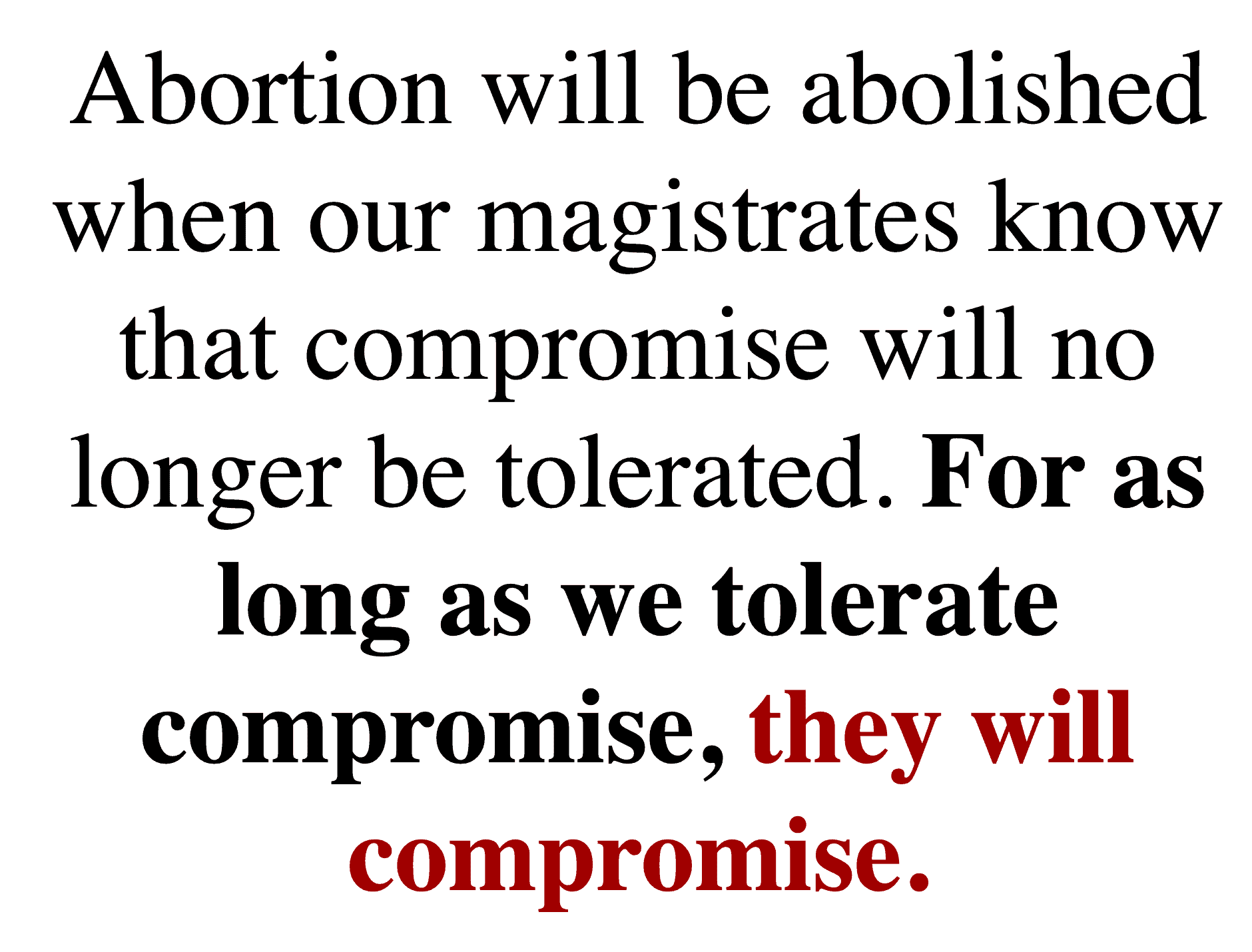 As an example of how SB1728 is being transparently used as a substitute for abolition to save the anti-abortion credibility of Senators who prevented abolition, Senator Larry Boggs (OK Senate District 7) has become one of the main champions for the bill. Boggs is facing a primary challenge from Warren Hamilton, an abolitionist. In order to fend off Hamilton, Boggs has to work hard to gain back the anti-abortion credibility that he lost when he refused to support the Abolition of Abortion in Oklahoma Act. Boggs regularly posts about the progress of SB1728 and has even called abolitionist organizations "wolves in sheep's clothing" for calling state Senators to move beyond pro-life compromises and pre-murder checklists to actually abolish abortion. It's clear that these compromises are being used by the people who kept abortion legal to try to get reelected.
It's time to take compromise off the table for pro-life politicians and lobbyists. It's time to stop fighting abortion by fiddling with regulatory violations and giving abortionists before-you-kill-the-baby checklists. It's time to stand firmly on the word of God, as well as the U.S. and Oklahoma Constitutions which demand equal protection of the law for all. It's time to treat Roe as the crime against humanity and legal nullity that it is by abolishing abortion. And it's time for ambassadors of Jesus Christ to be the prophetic voices that we're supposed to be in demanding the total and immediate abolition of the murder of preborn image bearers of God. No substitutes. No compromises. Abolition.
---
Three things to do!
Big tech is cracking down on our ability to reach you! Our social media reach has been greatly decreased in recent months. To make sure you are not missing important content and news about abolition bills from Free the States, sign up for email updates!
Be an activist! Convert people in your community to abolitionism. The best brief resource in the Abolitionist Movement for turning pro-lifers into abolitionists is the Are You An Abolitionist pamphlet. The best quadfold for outreach to pro-aborts and evangelism is the Abortion is Murder And Everybody Knows it quadfold. You can pick up copies from the Free the States store, along with t-shirts, drop cards, stickers, and activism signs!
Everything we produce is possible because of the support of our donors. Help fund the fight to abolish abortion! Help us add staff and expand our programs by becoming a monthly supporter of Free the States!