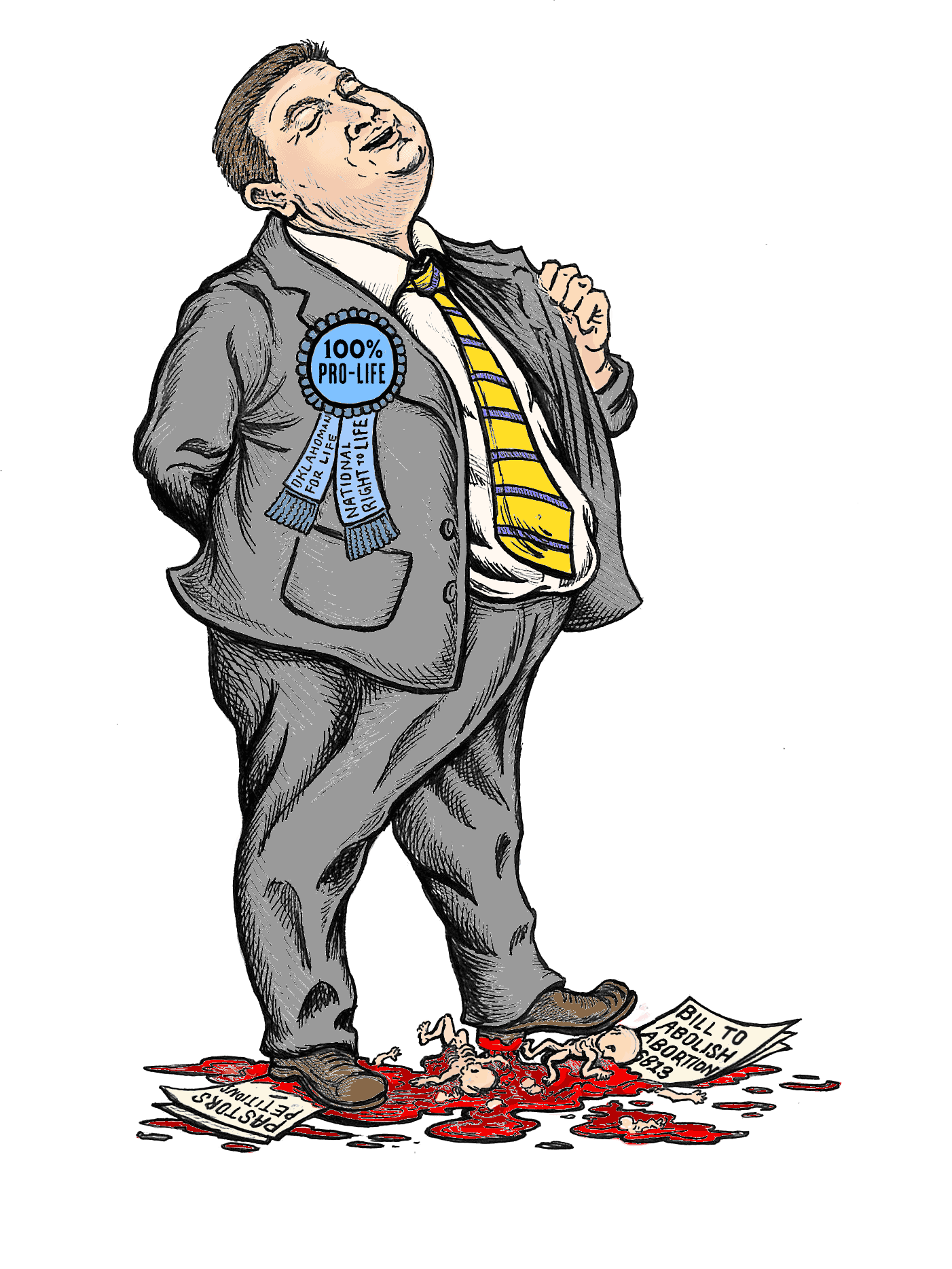 The Abolition of Abortion in Oklahoma Act (SB13) would have abolished abortion in the State of Oklahoma. It would have established that preborn humans are equal under the law and that any government decree violating the unalienable right to life was void.
As many of you know, it was denied a committee hearing and then killed by a motion made on the Senate floor. Tony Lauinger, the Vice President of National Right to Life and the President of Oklahomans for Life, lobbied against the Abolition of Abortion in Oklahoma Act, as he has every year since it was introduced in 2016.
The committee chairman who denied SB13 a hearing was Greg McCortney. McCortney is up for reelection this year and facing a challenge from Carisa Roberson, an abolitionist who is running on a platform of supporting the bill that McCortney prevented from being heard.
National Right to Life, after lobbying hard against the bill that would've abolished abortion, has endorsed the man most responsible for killing the bill. The below mailer was received by the people of Senate District 13 (Ada area) yesterday.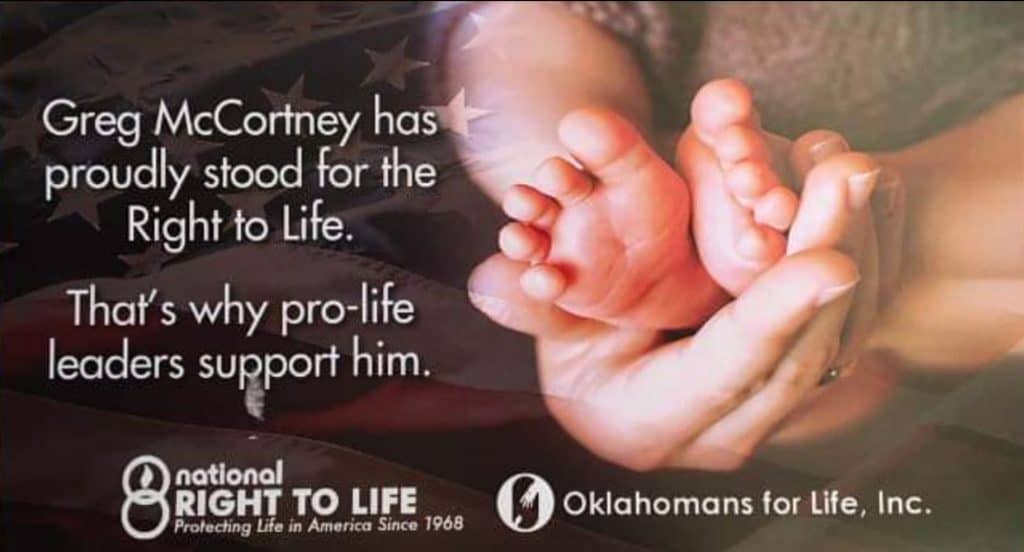 At every turn, it is the pro-life leaders and organizations who are most fervently and consistently opposing the immediate abolition of abortion.
McCortney, like many pro-life politicians in Oklahoma, is in a pickle. There's a bill to abolish abortion in a state where the people overwhelmingly want abortion to be abolished, but he doesn't want to do it. That's a dangerous place to be as a politician. But that pressure is released if a pro-life organization comes along and justifies your actions. Then you get to say you're a pro-life™-approved candidate and the person running against you on a platform to abolish abortion has their legs cut out from underneath them.
The public demand for abolition is immense. Thousands of people came to the Capitol on Abolition Day to demand abortion's abolition. In Oklahoma, the Republican Party platform calls for a bill of abolition to be brought to the floor of both chambers. Oklahoma Baptists have formally requested abortion's total an immediate abolition "without exception or compromise." The Oklahoma Free Will Baptist platform formally demands abortion's abolition and the rejection of pro-life compromise.
If the full force of the public outrage were to come down on the politicians responsible for keeping abortion legal, their political careers would be over. They would easily be replaced with abolitionists who would then abolish abortion. The only way abortion remains legal in Oklahoma for the foreseeable future is if the politicians who keep abortion legal receive cover from the establishment pro-life organizations. And that's exactly what they're getting.
This isn't the first time a pro-life establishment organization has rewarded a politician for keeping abortion legal. The Abolition of Abortion in Texas Act was denied a committee vote by House Judiciary and Civil Jurisprudence committee chair Jeff Leach. Just a few months later, Texas Alliance for Life awarded Leach with their Courageous Defense of Life award. The pro-life establishment is actively rewarding politicians for delaying and preventing the abolition of abortion.
As an entrenched establishment politician, Greg McCortney has the money to spread this misinformation that keeps abortion legal. For the sake of the thousands of babies who are murdered annually in Oklahoma, this must be combatted. Here are two things everyone reading needs to do:
Share this article. And if you know anyone in Oklahoma Senate District 13 (Ada, Pauls Valley, Roff, Stratford, Fitzhugh, Allen, Sasakwa, Wynnewood, Elmore City, Byng, Paoli, Wanette, Konawa, Asher, Holdenville, and Maud), tag them in the post to make sure they see it. They've likely already received McCortney's mailer. They need to hear the truth.
Tell anyone you know who donates to National Right to Life or any of its state-level affiliates to cancel their donations. McCortney is guilty of denying the Abolition of Abortion in Oklahoma Act a hearing, but he wouldn't be able to get away with it without cover from National Right to Life.
As mentioned above, McCortney is being challenged for the Senate District 13 seat by Carisa Roberson, an abolitionist. If we're able to combat the misinformation, even National Right to Life's endorsement won't save McCortney and the other pro-life politicians keeping abortion legal. But for that to happen, the Abolitionist Movement has to continue growing. So get active! Demand abolition and expose the pro-life establishment.
---
Three things to do!
Big tech is cracking down on our ability to reach you! Our social media reach has been greatly decreased in recent months. To make sure you are not missing important content and news about abolition bills from Free the States, sign up for email updates!
Be an activist! Convert people in your community to abolitionism. The best brief resource in the Abolitionist Movement for turning pro-lifers into abolitionists is the Are You An Abolitionist pamphlet. The best quadfold for outreach to pro-aborts and evangelism is the Abortion is Murder And Everybody Knows it quadfold. You can pick up copies from the Free the States store, along with t-shirts, drop cards, stickers, and activism signs!
Everything we produce is possible because of the support of our donors. Help fund the fight to abolish abortion! Help us add staff and expand our programs by becoming a monthly supporter of Free the States!