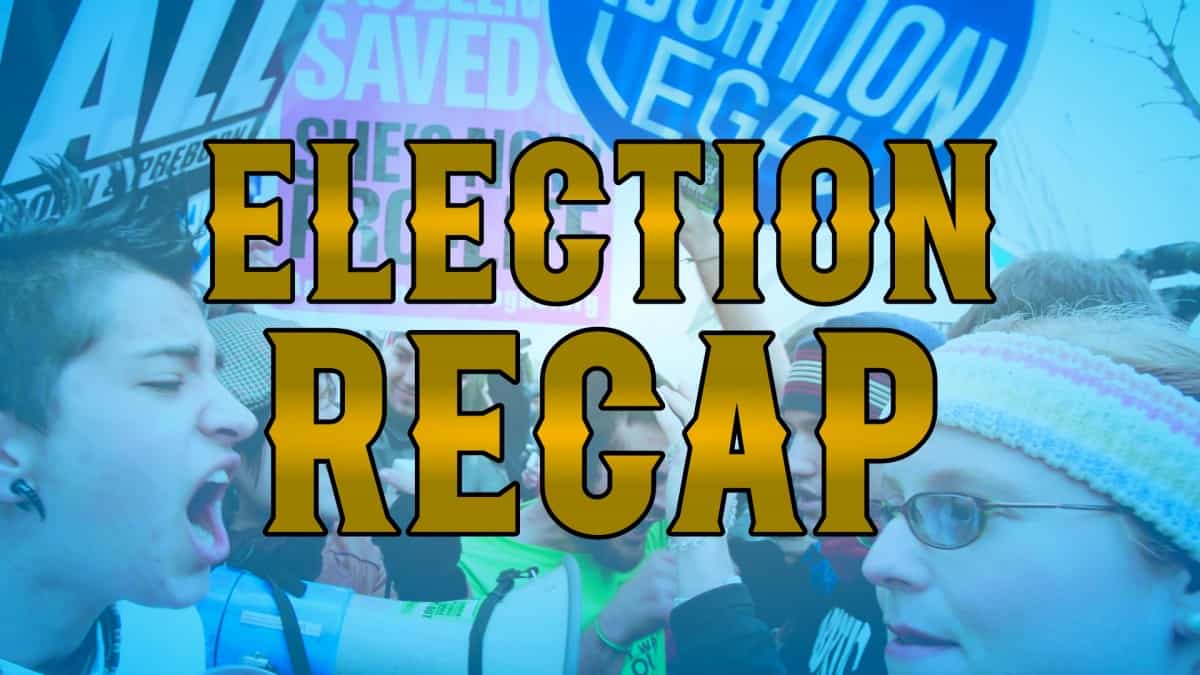 Conservatives were disappointed on Tuesday by the all-but-certain red wave turning out to be a red ripple that resulted only with Republicans possibly picking up a slim majority in the U.S. House. Former President Donald Trump's handpicked candidates around the country faired especially poorly, but it was a bad showing across the board for Republicans outside the State of Florida; the only state where the expected tidal wave materialized as expected.
Red Wave in Florida
Republicans in the Sunshine State picked up four congressional seats, gained enough State House and Senate seats for supermajorities in both chambers, and GOP statewide candidates won by historic margins. Tragically, rumors out of Florida indicate that party leaders intend to use their new supermajorities to move ahead with a heartbeat bill in 2023 rather than abolish abortion. Abortion would thus continue and the red wave of blood would continue flowing through Florida.
New Abolitionist Legislators
For the Abolitionist Movement, there will be a few new abolitionist faces in state legislatures around the country in 2023. Abolitionist Zach Dieken (IA HD5) easily won his June primary over incumbent Republican State Representative Dennis Bush 55.8-to-24.2. Dieken did not face a general election opponent and will be the next Iowa State Rep in HD5.
In similar fashion, longtime abolitionist leader Scott Herndon (ID SD1) defeated incumbent Republican State Senator Jim Woodward 56.2-to-43.8 in the May primary, and faced only a write-in opponent in the general. (Watch our interview with Senator-elect Herndon here.) Also of note in Idaho, Dan Foreman — who previously authored a bill making abortion first degree murder in the state — appears to have unseated incumbent Democrat David Nelson by a 49.98-to-48.05 margin in the Senate race in LD6. With abolition bill sponsor Heather Scott (HD2A) being reelected, Idaho will become the second state to have abolitionist legislation in both the State House and State Senate.
In Alabama's seventh district, Ernie Yarbrough — with the support of our friends at End Abortion Alabama — defeated incumbent Proncey Robertson 54.2-to-45.8 in the primary and demolished his democratic opponent on Tuesday by more than 55 points.
Indiana's 50th district saw challenger Lorissa Sweet knock off incumbent Republican Dan Leonard, one of the most influential members of the State House. Leonard had close ties to Speaker Todd Huston and according to the Associated Press, outraised Sweet by an almost 20-to-one ratio. Still, Sweet defeated Leonard with more than 56 percent of the vote. Sweet, who has promised to carry the bill to abolish abortion in Indiana, went on to defeat Democrat Tammari Ingalls in Tuesday's general election by more than 54 points.
There were a few other candidates elected on Tuesday who we are hopeful will fight for abortion's abolition in their respective legislatures, but we will keep that information close to the vest for now until the commitments are more public and certain. Notably, one of these candidates ran against an incumbent Democrat in a suburban district and defeated him easily.
Abortion Referendums
Abortion was protected in three blue states on Tuesday, as Michigan (57-to-43), California (65-to-35), and Vermont (77-to-23) voters chose to make abortion a Constitutional right. Pro-life referendums failed in Kentucky (where a Constitutional amendment making clear there is no right to abortion was defeated 52-to-48) and Montana (where a born-alive infant protection amendment was defeated 53-to-47).
These votes come on the heels on the pro-life Value Them Both amendment in Kansas being voted down by a massive 60-40 margin. It is clear the overturn of Roe energized pro-abortion voters to turn out for this year's abortion referendums much more than it did pro-lifers. Similar referendums to the ones that Kentucky and Kansas voted down have passed in Louisiana, Alabama, Tennessee, and West Virginia in recent years.
It's also important to note that politicians who leaned into abortion messaging and legislation (even if it was weak, pro-life messaging and legislation) fared far better than Republicans who ran from the issues altogether.
Lessons to Learn From the Midterms
1) Running from the abortion issue is, of course, a sin before God, but it is also political malpractice. To be silent on the issue as those who support child sacrifice pummel voters with lies about preborn children and abortion is to allow democrats to control the messaging of the defining issue in the culture war.
2) In the short term, referendums aren't a wise path forward, with some possible exceptions.
3) Weak bills and messaging are stupid and pointless. The Montana referendum was literally about whether a preborn child is a person after being born. Its passage would have established that "infants born alive, including infants born alive after an abortion, are legal persons," and that health care providers are required to "take necessary actions to preserve the life of a born-alive infant." This is the weakest, softest, most milquetoast, pro-life compromise known to the abortion debate and it failed in a ruby red state.
The Kentucky referendum wouldn't have changed any existing abortion laws or enforcement, but it would have provided stronger Constitutional backing for existing laws. There are a number of reasons these two resolutions failed, beginning with the depravity of man, but also because of the wild scaremongering from pro-abortion democrats.
Democrats are going to make every abortion referendum a referendum on total abolition. In Kentucky, pro-abortion campaigners lied to voters, saying "Amendment 2 means no abortions, no exceptions."
While the left tells sob-stories to deflect from the wickedness of child sacrifice, the right fights against them by claiming the mantle of being common-sense, with moderate proposals and moderate messaging. Watch this video from Kansans for Life in support of Value Them Both.
When pro-abortion activists go on the attack against every anti-abortion referendum or bill as a "cruel, complete ban on abortion," there is no reason to sit back and play defense against their charges. Abortion is the brutal murder of human beings and everybody knows it. Put forward bold legislation and initiatives and go after pro-abortion voters and legislators.
Instead of framing a pro-abortion vote as a failure to love them both, call pro-abortion voters and legislators accomplices to murder. Communicate to voters the unabashed savageness of the pro-abortion side. Show images depicting the reality of what abortion really is. Make every person who votes pro-abortion have to work to suppress the truth of how wicked their heart is. Yes, you will be mocked by those who hate God and love death if you do this, but there is no other way forward.
"Take no part in the unfruitful works of darkness, but instead expose them." -Ephesians 5:11
---
Three things to do!
Big tech is cracking down on our ability to reach you! Our social media reach has been greatly decreased in recent months. To make sure you are not missing important content and news about abolition bills from Free the States, sign up for email updates!
Be an activist! Convert people in your community to abolitionism. The best brief resource in the Abolitionist Movement for turning pro-lifers into abolitionists is the Are You An Abolitionist pamphlet. The best quadfold for outreach to pro-aborts and evangelism is the Abortion is Murder And Everybody Knows it quadfold. You can pick up copies from the Free the States store, along with t-shirts, drop cards, stickers, and activism signs!
Everything we produce is possible because of the support of our donors. Help fund the fight to abolish abortion! Help us add staff and expand our programs by becoming a monthly supporter of Free the States!