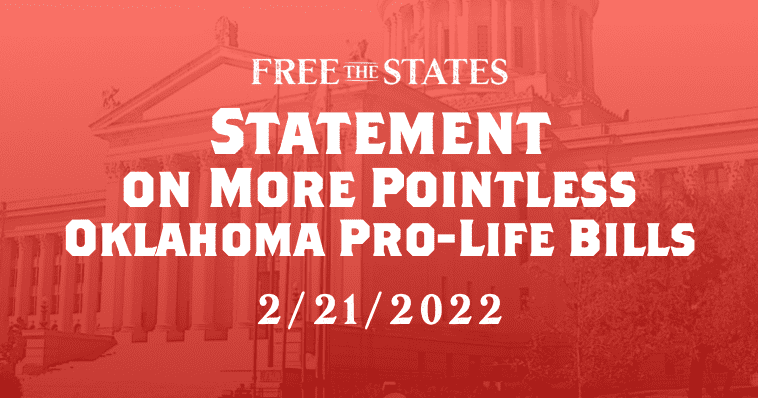 On Monday, February 21, 2022, the Oklahoma Senate Health and Human Services Committee is meeting to hear and vote on five pro-life bills. We expect that all five will pass.
Last year, the day they killed the abolition bill and passed six pro-life incremental bills in its place, they sent out a press release about how great a day for preborn children it was, despite it being the very day that the death warrant for 5,000 preborn children was signed. We expect they will send out another press release about how pro-life they all are if these bills pass.
Four of the five incremental pro-life bills being heard this afternoon have been authored by Senator Greg Treat, the man most responsible for preventing the abolition of abortion in Oklahoma since 2019. The fifth bill was authored by Senator Julie Daniels.
The following is a one-page memo we delivered to the nine Republican members of the Senate Health and Human Services committee ahead of the hearing.
---
Re: Senate Bills 1552, 1553, 1555, 1503, and Senate Joint Resolution 37 to be heard in the Senate HHS Committee hearing (2/21/2022)
Legislative Analysis
SB1552: It is good to help mothers in need, but it is monstrously evil to use bills like this one to posture oneself as a pro-life champion while refusing to actually stop the bloodshed. Babies are being murdered today and everyday until abortion is abolished. SB1552 is a pathetically weak response to the abortion holocaust. This bill will not save lives and it does not establish justice. It is pro-life virtue signaling so that the very politicians preventing abortion's abolition can send out a press release after the hearing about how pro-life they are. Vote no on SB1552.
SB1553: Everyone knows life does not begin at 30 days. It is absurd and immoral to pass legislation allowing certain image bearers of God to be murdered. Even more puzzling: because it does not contain language ignoring Roe, SB1553 is essentially a trigger bill that only goes into effect if Roe is overturned, but it is even weaker than the trigger bill passed in 2021 because it allows murder up to 30 days. All SB1553 does is add an even weaker trigger to the one already on the books in Oklahoma. Vote no on SB1553.
SB1555: By restating that last year's trigger ban "shall only become effective when the Attorney General certifies that" Roe has been partially or fully overturned, SB1555 perpetuates the genocide-enabling fiction that State-level governing officials must disobey Christ and disregard their oaths of office if the supreme court tells them to. Babies are still murdered in Oklahoma because of this legal fiction. Each governing official is first to obey Christ, and then to uphold your oath to the Constitution. You can obey the Law of God and uphold your oath of office, or you can obey the unconstitutional, genocidal pro-abortion jurisprudence of the Supreme Court. You cannot do both. Vote no on SB1555.
SJR37: The Oklahoma Constitution already guarantees the right to life in Article II, Section II-2: "All persons have the inherent right to life." SJR37 would actually weaken our Constitutional protection of life by taking Oklahoma from a place of Constitutionally prohibiting abortion to being Constitutionally neutral on abortion. Vote no on SJR37.
SB1503: By discriminating against and allowing the murder of preborn children without detectable heartbeats, this bill dehumanizes them, disobeys God's prohibition on partiality and murder, and disregards the (U.S. and Oklahoma) Constitutional obligations to protect the right to life and provide the equal protection of the law to all. Further, this bill abdicates government's primary responsibility of upholding justice by stating that no governing officials may enforce this act. Further, SB1503 establishes that the prohibitions contained in "[s]ections 3 and 4 of this act do not apply to an abortion performed at the behest of federal agencies, contractors, or employees." Vote no on SB1503.
If these bills are voted through committee this afternoon, watch for a press release from the politicians keeping abortion legal in Oklahoma about how pro-life they are, just like they did last year. Don't participate in the political games and virtue signaling. If you are serious about obeying the Law of God, upholding your oath, and defending preborn children, coauthor SB1372 (which has changed in three significant ways from SB495) and HB4111.
---
Three things to do!
Big tech is cracking down on our ability to reach you! Our social media reach has been greatly decreased in recent months. To make sure you are not missing important content and news about abolition bills from Free the States, sign up for email updates!
Be an activist! Convert people in your community to abolitionism. The best brief resource in the Abolitionist Movement for turning pro-lifers into abolitionists is the Are You An Abolitionist pamphlet. The best quadfold for outreach to pro-aborts and evangelism is the Abortion is Murder And Everybody Knows it quadfold. You can pick up copies from the Free the States store, along with t-shirts, drop cards, stickers, and activism signs!
Everything we produce is possible because of the support of our donors. Help fund the fight to abolish abortion! Help us add staff and expand our programs by becoming a monthly supporter of Free the States!