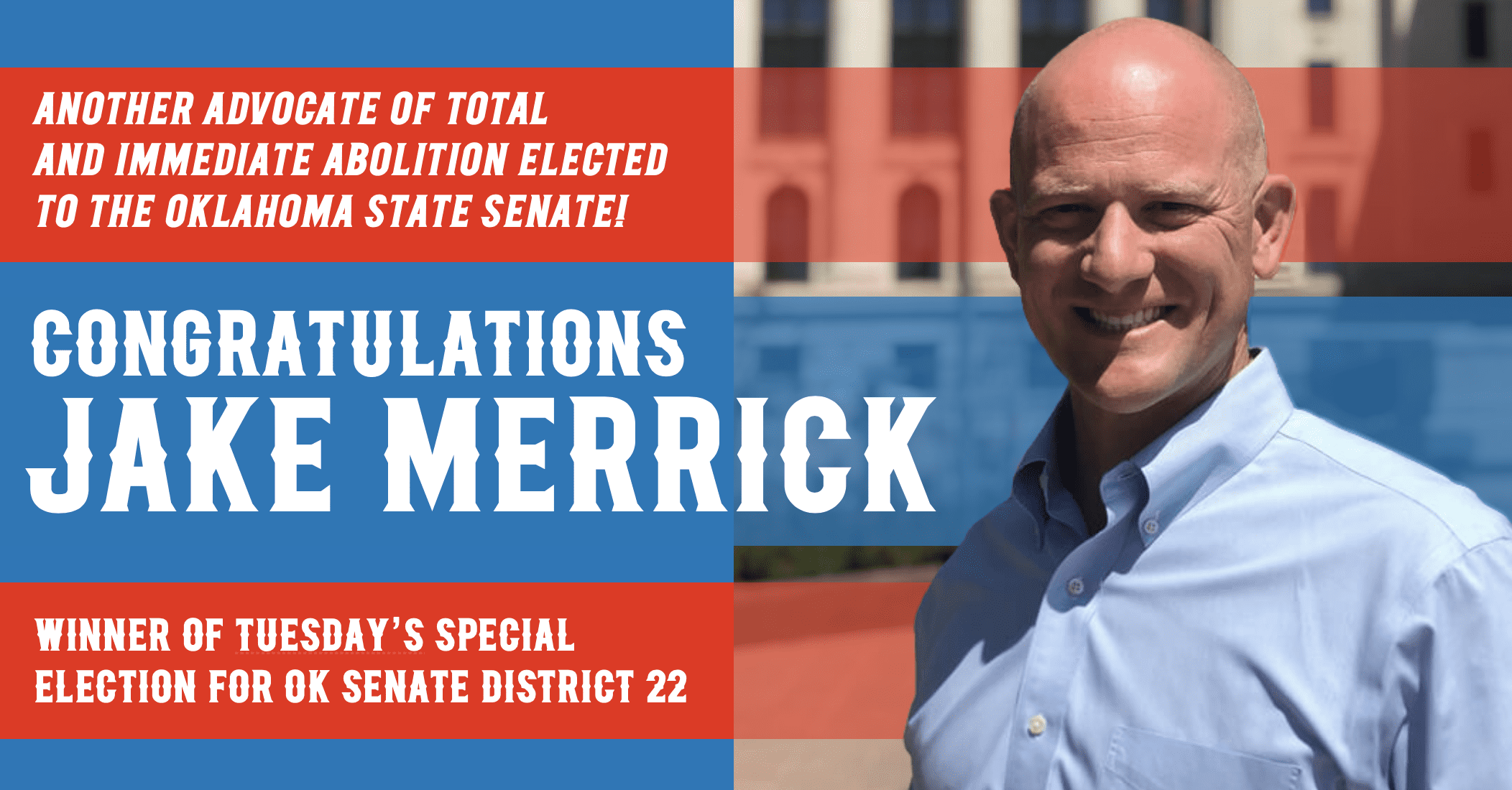 With more than 65 percent of the vote, Jake Merrick defeated Democrat Molly Ooten in Tuesday's special general election to become the next Senator from OK SD22. Merrick had advanced to the general election after handily defeating Kerri Shipley in the Republican primary back in February.
According to Non Doc, Merrick won both elections despite being significantly outspent by Shipley and Ooten. A similar situation played out last year when abolitionist Warren Hamilton defeated incumbent Senator Larry Boggs despite Boggs and Boggs-supporting PACs outspending Hamilton roughly four-to-one. In Oklahoma, it's becoming clear that money is no substitute for strong, consistently Christian stances on important issues, beginning with abortion. Shipley may have had the backing of the Senate Majority Fund, but Merrick promised voters he would work to abolish abortion.
Merrick first appeared on the radar of many abolitionists when, during his previous candidacy for Oklahoma's fifth congressional district, he made "Abolish[ing] abortion" his campaign's top priority. He reiterated the importance of this issue during his Senate campaign, saying on his website that:
When elected as State Senator of District 22, I intend to represent and protect the rights of Oklahomans by drafting legislation that will:

1.) End Abortion in Oklahoma.

In 2019 there were 4,995 abortions performed in Oklahoma. Abortion is currently legal in Oklahoma, and this needs to change. We must end this egregious practice in our state.
We look forward to supporting Senator-elect Merrick as he joins Senator Hamilton in the Oklahoma Legislature. Keep Merrick and Hamilton in your prayers and prepare to support them as they come together as co-authors and champions of bills of total and immediate abolition in the state of Oklahoma.
---
Three things to do!
Big tech is cracking down on our ability to reach you! Our social media reach has been greatly decreased in recent months. To make sure you are not missing important content and news about abolition bills from Free the States, sign up for email updates!
Be an activist! Convert people in your community to abolitionism. The best brief resource in the Abolitionist Movement for turning pro-lifers into abolitionists is the Are You An Abolitionist pamphlet. The best quadfold for outreach to pro-aborts and evangelism is the Abortion is Murder And Everybody Knows it quadfold. You can pick up copies from the Free the States store, along with t-shirts, drop cards, stickers, and activism signs!
Everything we produce is possible because of the support of our donors. Help fund the fight to abolish abortion! Help us add staff and expand our programs by becoming a monthly supporter of Free the States!