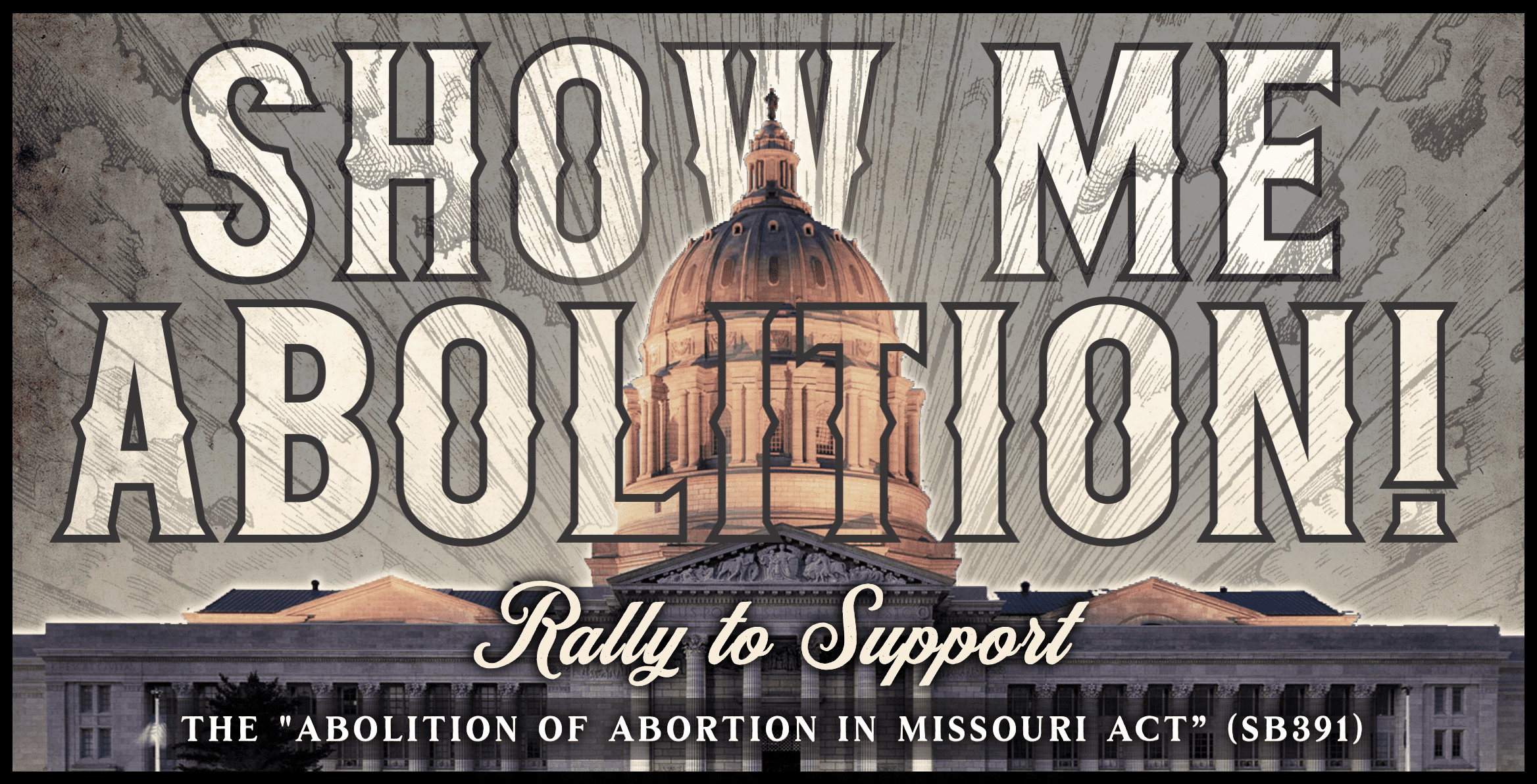 Abolitionists are heading to Jefferson City on Wednesday March 10th to rally for the Abolition of Abortion in Missouri Act. We will be gathering in the rotunda of the Capitol building at 2 p.m. to sing praises to our God, hear preaching from the Word of God, and demand the abolition of preborn murder in the Show Me State.
State Senator Mike Moon has put forward this excellent piece of legislation which is written to establish equal protection from murder for the preborn.  We are rallying to support him and enjoin legislators to stand with him and thereby fulfill their obligation to protect those under their jurisdiction.
Over the years, Missouri has passed a number of pro-life laws that many Christians have celebrated.  These bills are written and passed to regulate the "what, who, when, where, and how" particulars of murdering children in the womb in the Show Me State. 
For decades, the Pro-Life Movement has called the shots in Missouri, with Christians and churches supporting and cheering them on.  This has been seen as a good thing, but when you look closely at what we are endorsing, we have instead been well trained to be pro-life, but not Biblical, in how we deal with child sacrifice.
Five years ago, the spark of the abolitionism caught fire in Missouri and Christians began to be struck with the truth that bills which regulate abortion do NOT tell the truth about abortion. The do not treat abortion like what it is: MURDER. Instead, those bills treat abortion as if it were healthcare.
We have spent much time and money in making rules regarding wider hallways, informed consent, waiting periods, licensed professionals, 20-week bans, heartbeat bills, and evil abortion exceptions. We have stooped low in regulating who can murder, when they can murder, where they can murder, and how they can murder under color of "law," rather than actually demanding the abolition of that murder under law. This is not seeking justice, nor establishing equity.
"Thus saith the LORD; Execute ye judgment and righteousness, and deliver the spoiled out of the hand of the oppressor: and do no wrong, do no violence to the stranger, the fatherless, nor the widow, neither shed innocent blood in this place" (Jeremiah 22:3).
In such a day, in our society, when there is "no soundness in it, but wounds, bruises, and putrifying sores" (Isaiah 1:6), the Pro-Life Establishment has "healed the hurt of the daughter of my people slightly, saying, Peace, peace; when there is no peace" (Jeremiah 8:11).  We don't need bandaids on gangrene.  We need the cure.  We need to "cease to do evil," and "Learn to do well; seek judgment, relieve the oppressed" (Isaiah 1:16-17).
This is now the fifth year that abolitionists have held a rally at the Missouri State Capitol, and the fourth year that a bill to abolish abortion has been put forth in our state. Each year, the pro-life leaders in the state of Missouri have kept the bill from even receiving a committee hearing. But the flames are being fanned before the eyes of Missourian Christians more and more.  We will not cease to engage for justice in behalf of our preborn neighbors.  We will love them as ourselves.  We are calling for sincere pro-life Christians to become abolitionists.  The collective cry is growing louder, "Do not regulate murder.  Abortion must be abolished." On March 10th at 2 p.m., our voices will join together as one calling out for justice. If you live in Missouri, I hope you will join us. If you don't live in Missouri, share this article with someone who does.