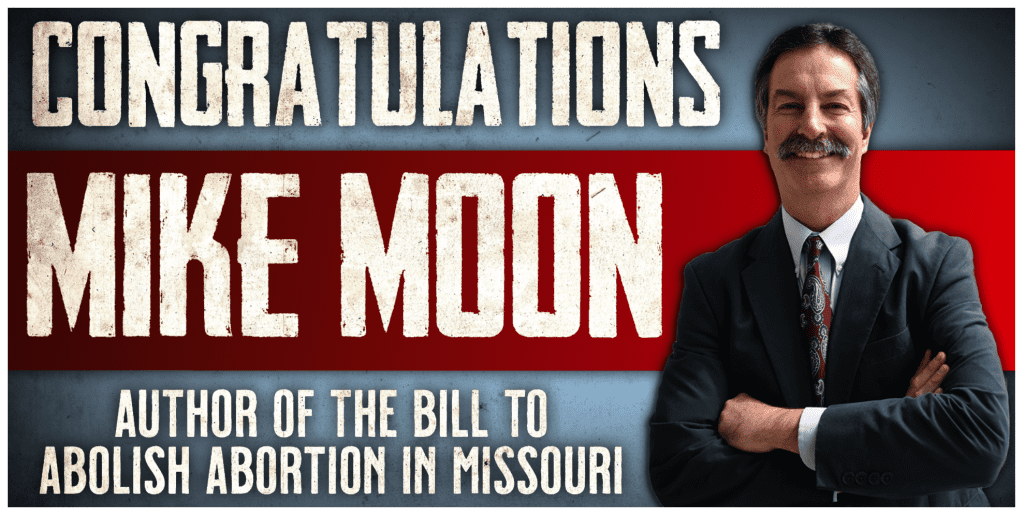 Missouri State Representative Mike Moon was elected to the State Senate last week after spending the maximum four terms in the State House. Moon defeated former Missouri Republican Party Chairman David Cole 52.5% to 47.5% to become the Senate District 29 Republican nominee. There is no Democrat running for the seat so Moon will join the State Senate in 2021.
In January, Moon introduced MO HB2285, a bill of total and immediate abolition. It was co-authored by Reps. Dirk Deaton, Ben Baker, Jeff Pogue, Tom Hurst, and Brad Hudson. Missouri House Children and Families committee chair Rep. Sheila Solon, a pro-life Republican endorsed by Missouri Right to Life in 2018, denied the bill a committee hearing, keeping abortion legal in the state for another year.
Moon said he intends to introduce a Senate version of the bill in 2021. Deaton and Hudson have already been reelected to their House seats, while Baker is very likely to win reelection against the Democrat this November. Pogue and Hurst are term-limited.
Moon's bill amends a particularly hypocritical section of Missouri state law, which, like many pro-life laws, begins with some good sentiments. The current statute reads: "[I]t is the intention of the general assembly of the state of Missouri to defend the right to life of all humans, born and unborn," and "Declare that the state and all of its political subdivisions are a 'sanctuary of life' that protects pregnant women and their unborn children." So far so good, but the stunning hypocrisy of the following line makes the preceding language worthless. It clarifies that Missouri is actually the opposite of a sanctuary for unborn children; that the state will not defend the right to life but will "regulate" the killing of preborn children if given permission to do so by "decisions of the United States Supreme Court."
Moon's bill gets rid of this and other hypocritical, abortion-preserving sections of Missouri law to abolish abortion in the state. (Sections in bold are additions and stricken through sections are deletions.)
"[I]t is the intention of the general assembly of the state of Missouri to:

(1) Defend the right to life of all humans, born and unborn;

(2) Declare that the state and all of its political subdivisions are a 'sanctuary of life' that protects pregnant women and their unborn children; and

(3) Regulate Abolish abortion to the full extent permitted by the Constitution of the United States, decisions of the United States Supreme Court, and federal statutes in this state."
Another important aspect of the bill is its recognition that the supreme court's abortion jurisprudence is obviously in violation of the United States Constitution and the Missouri Constitution which explicitly protect the right to life. Moon's bill states on page 80 that "Any federal act, law, treaty, decision, order, rule, or regulation that purports to supersede, stay, or overrule section A of this act is in violation of the Constitution of the state of Missouri and the Constitution of the United States and is therefore void."
Abortion became a major theme of the SD29 race when Cole wrote an op-ed published in the Missouri Times on February 13 spreading falsehoods about Moon's bill. Cole wrote that the bill "would direct law enforcement to arrest and prosecute women for murder that carry out an abortion — no matter the circumstances." This is, of course, false. The circumstances of the case would effect whether the mother is prosecuted. Just like the circumstances of a crime against a born human effect whether someone is prosecuted and the degree to which they are prosecuted, the circumstances of crimes against preborn humans would absolutely factor into prosecutorial decisions once abortion is abolished. If someone is coerced into having an abortion under threat of bodily harm, they would not be prosecuted, just like any other crime committed against one's will. There is nothing in Moon's or any other abolition bill that specifies that a mother is to be prosecuted for murder no matter the circumstances. That would be an unjust bill. All an abolition bill does is make preborn children equal to born children under law. The murder of a preborn child would be treated the exact same as the murder of any other child.
Responding to Cole, Missouri State University professor Dr. Wes Scroggins wrote a letter to the editor arguing for immediate and equal justice for preborn humans and against Cole's incrementalism. "The pro-life movement simply allows abortion with government regulation. Mr. Cole argues that pro-life legislation allowing the killing of the preborn saves lives. I argue this abortion supporting pro-life legislation has ended the lives of many more babies than it has saved" Scroggins wrote. "State Rep. Moon's logic and position is correct on this issue. If preborn babies are innocent persons created in the image of God, the only Biblical, Constitutional, and moral position that can be taken is the total abolition of abortion. Anything else is an uncompassionate injustice called murder…
"State Rep. Moon has done nothing more with the filing of HB 2285 than uphold his oath of office to uphold the Missouri Constitution. Again, the Missouri Constitution, by the will of the people of Missouri, grants personhood at conception. State Rep. Moon has upheld his oath of office to honor the Constitution and seek justice for all persons, including preborn persons. Isn't this exactly what we want in our elected officials? Don't we want elected officials who behave according to their talk and do what they swear to do?"
Cole spent much of the rest of the campaign going after Moon on abortion, something which worked against Cole according to Moon. Moon said that as someone who had worked to abolish, and not just regulate abortion, it was absurd for Cole – a former leader in John Kasich's presidential campaign – to pretend to be the anti-abortion stalwart in the race. "My opponent attempted to purport himself as me during the campaign. I guess the old saying, 'Imitation is the sincerest form of flattery,' is true in the case of this campaign," Moon said.
With Moon in the Senate, there will be a bill to abolish abortion in Missouri in 2021. The State will likely have a Republican governor, Republican Attorney General, Republican Lt. Governor, and supermajorities in both the State Senate and House. There's no reason that murdering preborn children would still be legal in Missouri this time next year unless, as Dr. Scroggins put it, Missouri's pro-life elected official continue refusing to legislate according to what they say they believe and what they swear to uphold.