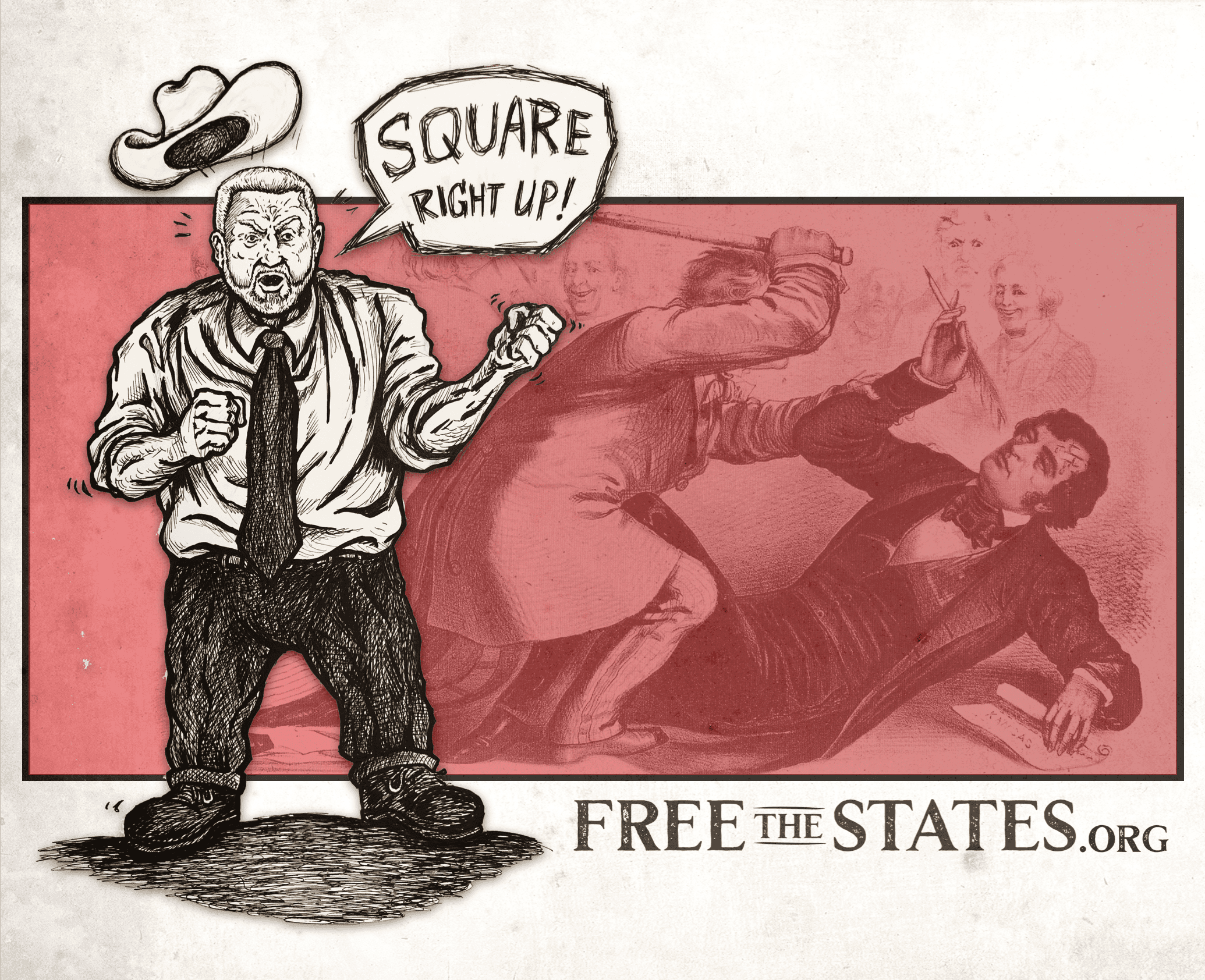 It's become common among anti-abolition politicians to allege that abolitionists are violent or that we are a security threat at the capitol. Two recent examples of this are State Senators Greg McCortney and Larry Boggs. On the morning of the vote on whether to bring SB13 out of committee, McCortney said on Twitter that he is embarrassed for Christians because of the increased security that's needed due to SB13 supporters at the capitol.
"The @OHPtraffic is here in numbers and there have been multiple security briefings because the Christians are coming back to #OKLeg today. That statement is embarrassing," McCortney tweeted. He dishonestly says this despite the fact that there has never once been a security issue at the capitol caused by abolitionists.
Larry Boggs has been claiming in recent days that the SB13 supporters at a Haskell County GOP meeting on July 14th were a "violent mob," a "radical mob", a "hostile shouting mob," and a group of "thugs." The truth about what happened on July 14th, as described in this video, bears absolutely no semblance to Boggs' claims.
We are explicitly a non-violent movement. No abolitionist has ever been violent towards an anti-abolitionist. As far as I'm aware, no abolitionist has ever even threatened violence against an anti-abolitionist. Those making the accusation should produce the evidence if it ever has happened, and if it has, we would rebuke those who did it.
But you know who has threatened violence? Greg McCortney and Larry Boggs. In recent weeks, both have threatened violence against abolitionists.
While flyering McCortney's hometown of Ada, OK, Sam Riley spoke to McCortney outside his house. It was a mostly civil discussion until the topic came to State Senator Joseph Silk. McCortney said "if Joseph Silk walked up here now I'd beat the crap out of him."
As for Boggs, he claims he was simply standing up for himself against a violent mob at the July 14th event, but the reality is that everyone was calm but him. Abolitionist Daniel Navejas calmly and soberly told Boggs that incremental bills are perpetuating the slaughter and that Boggs needs to repent for not voting to bring SB13 out of committee. Boggs absolutely blew a gasket, shouting "Screw you!" and "If you don't like it, step outside and you square right up!"
Their threats bring to mind the violence of another famous anti-abolitionist, Preston Brooks, who beat slavery abolitionist Senator Charles Sumner with a cane inside Sumner's office in 1856 following a speech Sumner gave on the Senate floor savaging slave owners and anti-abolition Senators for the sin of chattel slavery. In a speech that was "as harsh as truth," he used "wicked," "evil," or "vile" to describe slavery and those opposing the abolition of slavery 19 times. Among others, Senator Stephen Douglas was a recipient of Sumner's flame throwing.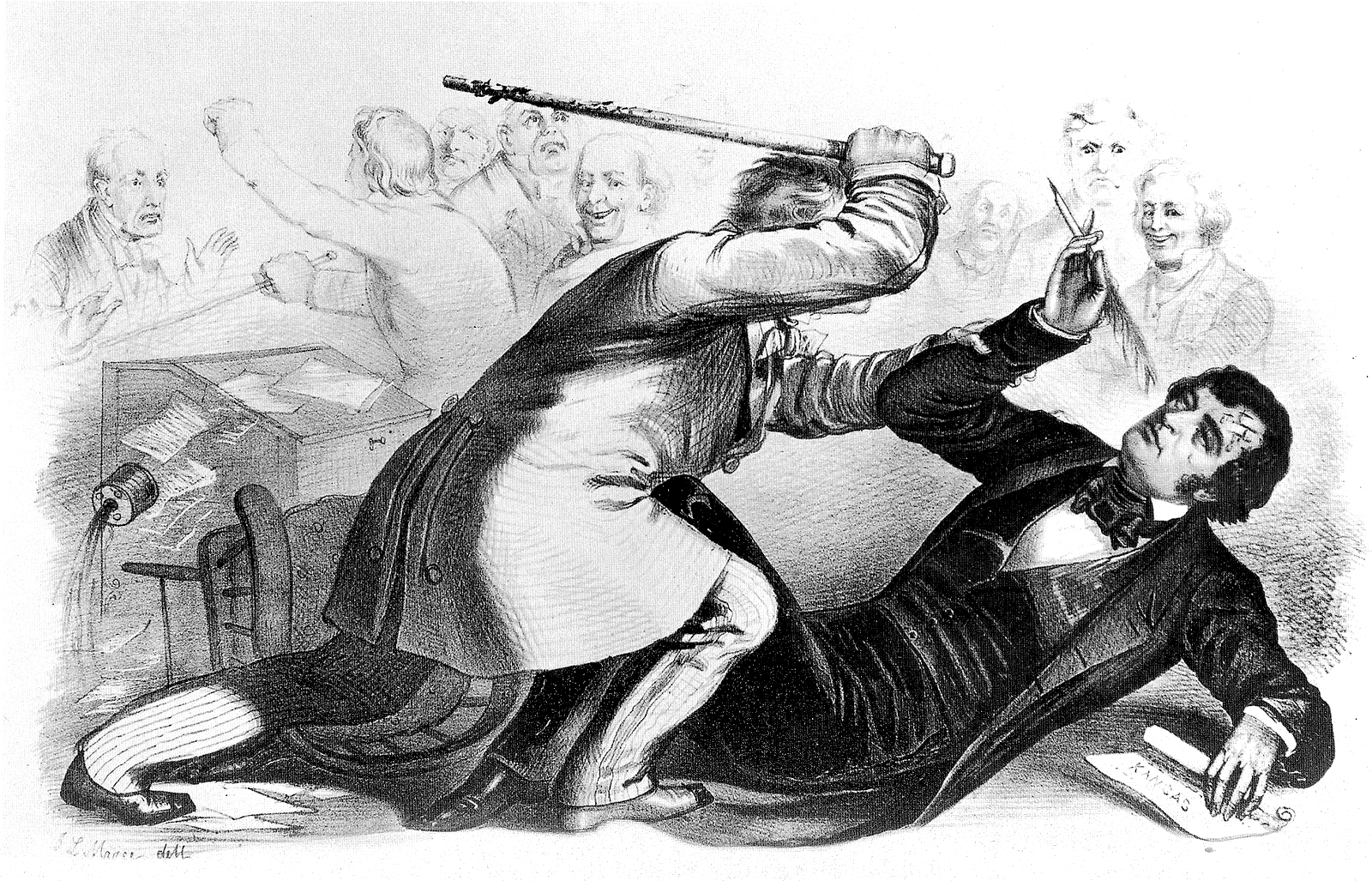 "How little that senator [Stephen Douglas] knows himself, or the strength of the [abolitionist] cause which he persecutes!" Sumner said. "He is but a mortal man against him is an immortal principle. With finite power he wrestles with the infinite, and he must fall. Against him are stronger battalions than any marshalled by mortal arm—the inborn, ineradicable, invincible sentiments of the human heart; against him is nature in all her subtle forces; against him is God. Let him try to subdue these."
The message of abolitionism is offensive. It calls those in the way of the abolition of a great evil to repent and that draws their rage. The blame for this rage cannot be assigned to those exposing the evil deeds, but must fall upon those opposing or delaying justice who lash out in pride when called to repent.
Given their behavior, it would appear that increased security at the capitol is needed, especially when abolitionists are there, to make sure Boggs, McCortney, and their cronies don't attack abolitionists.
---
Three things to do!
Big tech is cracking down on our ability to reach you! Our social media reach has been greatly decreased in recent months. To make sure you are not missing important content and news about abolition bills from Free the States, sign up for email updates!
Be an activist! Convert people in your community to abolitionism. The best brief resource in the Abolitionist Movement for turning pro-lifers into abolitionists is the Are You An Abolitionist pamphlet. The best quadfold for outreach to pro-aborts and evangelism is the Abortion is Murder And Everybody Knows it quadfold. You can pick up copies from the Free the States store, along with t-shirts, drop cards, stickers, and activism signs!
Everything we produce is possible because of the support of our donors. Help fund the fight to abolish abortion! Help us add staff and expand our programs by becoming a monthly supporter of Free the States!