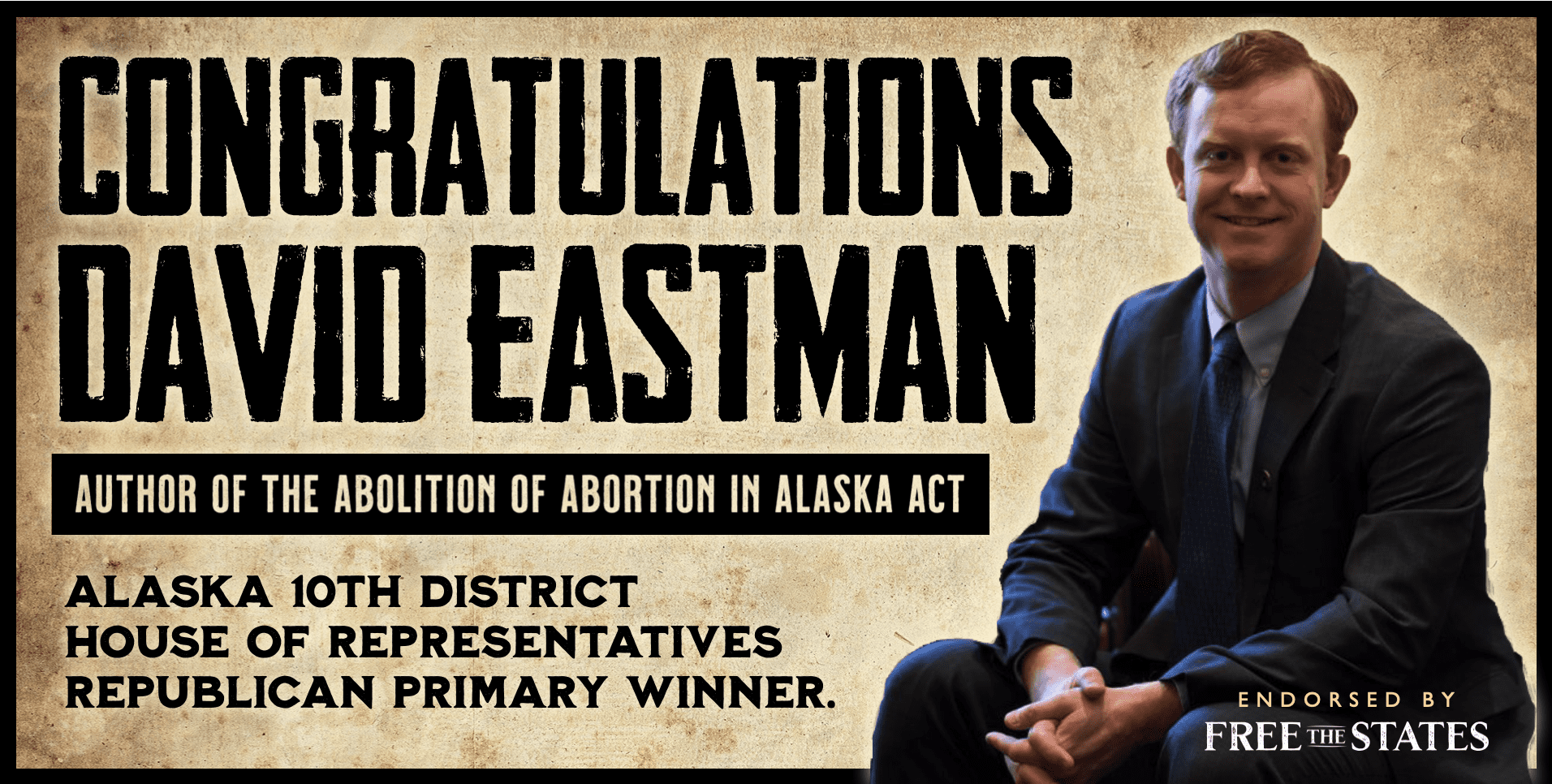 Alaska State Rep. David Eastman, the primary sponsor of the Alaska Abolition of Abortion Act, has won the Republican primary for the Alaska State House's 10th district. He defeated challenger Jesse Sumner 52.24 percent to 47.76 percent. The district is about 75 percent Republican, making it very likely that he will defeat his general election opponent, Democrat Monica Stein Olsen, on November 3 and return to the Alaska State House.
Eastman was endorsed by Alaska Right to Life which, despite the name, is not affiliated with National Right to Life. Alaska Right to Life is an organization which only supports abolition bills. Sumner was endorsed by the Alaska Family Council, an incrementalist organization that only supports incremental pro-life bills and does not support the Alaska Abolition of Abortion Act.
There were two big similarities between this race and the OK SD7 race between abolitionist Warren Hamilton and incrementalist Larry Boggs. First, Sumner was supported by establishment PACs with huge budgets. One of the same PACs that funds the campaigns of pro-abortion Republican US Senator Lisa Murkowski spent tens of thousands against Eastman. Still, Eastman, the abolitionist, came out on top.
Second, the vote was largely a referendum on abolitionism vs. incrementalism. The ideological feud of Eastman and Alaska Right to Life against Sumner and the Alaska Family Council took center stage in the race. The debate took place on social media and in conservative publications like Alaska Watchman and Restoring Liberty. In the former, Alaska Right to Life director Pat Martin wrote an article criticizing Alaska Family Council and its director Jim Minnery.
Our efforts must be informed by the fact life begins at conception, and we are called to protect every innocent human life without exception.

And we must never forget that deviating from God's command to protect every innocent human life isn't just a "different strategy," but a perversion of justice.

And that's what separates Alaska Right to Life from Jim Minnery's Alaska Family Action. He calls the difference a matter of "strategy." We call it what the Bible calls it: a perversion of justice.
In Restoring Liberty, Matt Johnson wrote that pro-life incrementalists like Minnery are being "played like a fiddle" by the Republican establishment.
Last night I saw an ad sponsored by Alaska Family Action that vilified State House Candidate Christopher Kurka… They have done the same to Representative David Eastman…

Alaska Family Action wants to pursue an incremental strategy of nibbling away at the edges of Roe v. Wade and the abortion industry. The Republican Establishment, of course, loves this idea. It gives them cover. They can continue to pay lip-service at election time, and they don't really have to vote on legislation that requires much courage or risk on their part.

Organizations like Alaska Family Action are happily given access, because they're giving the Republican Establishment exactly what they want. They want political power. Period. That's all.

So, the Republican Establishment is happy [to] throw pro-lifers a bone every now and then, like once every 20 years or so, like they did with SB 49, which was subsequently overturned by the courts. The only 'victory' in recent memory achieved by the incremental strategy proved hollow. It was pyrrhic victory.

The truth is: (1) the Republican power brokers, despite the party platform, do NOT want to end abortion (2) Alaska Family Action, perhaps unwittingly, is being played like a fiddle.
Ultimately, it was the abolitionist position that won out in the AK HD10 election. In addition to Eastman, Christopher Kurka, the candidate referred to in Johnson's article, ran for office for the first time and handily defeated his Republican opponent with more than 71 percent of the vote in the AK HD7 race. Kurka is the former director of Alaska Right to Life and a supporter of the Alaska Abolition of Abortion Act. HD7 is about 75 percent Republican as well.
Beyond Eastman and Kurka, Six of the nine House Reps who voted to bring the Alaska Abolition of Abortion Act to the House floor are still standing after the primary, with two not running for reelection and one being defeated in the primary.
With Eastman and Kurka well on their way to the State House, there almost certainly will be an abolition bill in Alaska next year and it will have vocal supporters. The momentum behind abolition is continuing to build in Alaska like it is in Oklahoma, Texas, Indiana, Idaho, Arizona and so many other states.
Sign up for our email list to make sure you don't miss updates about abolitionist candidates, bills, projects, and events!