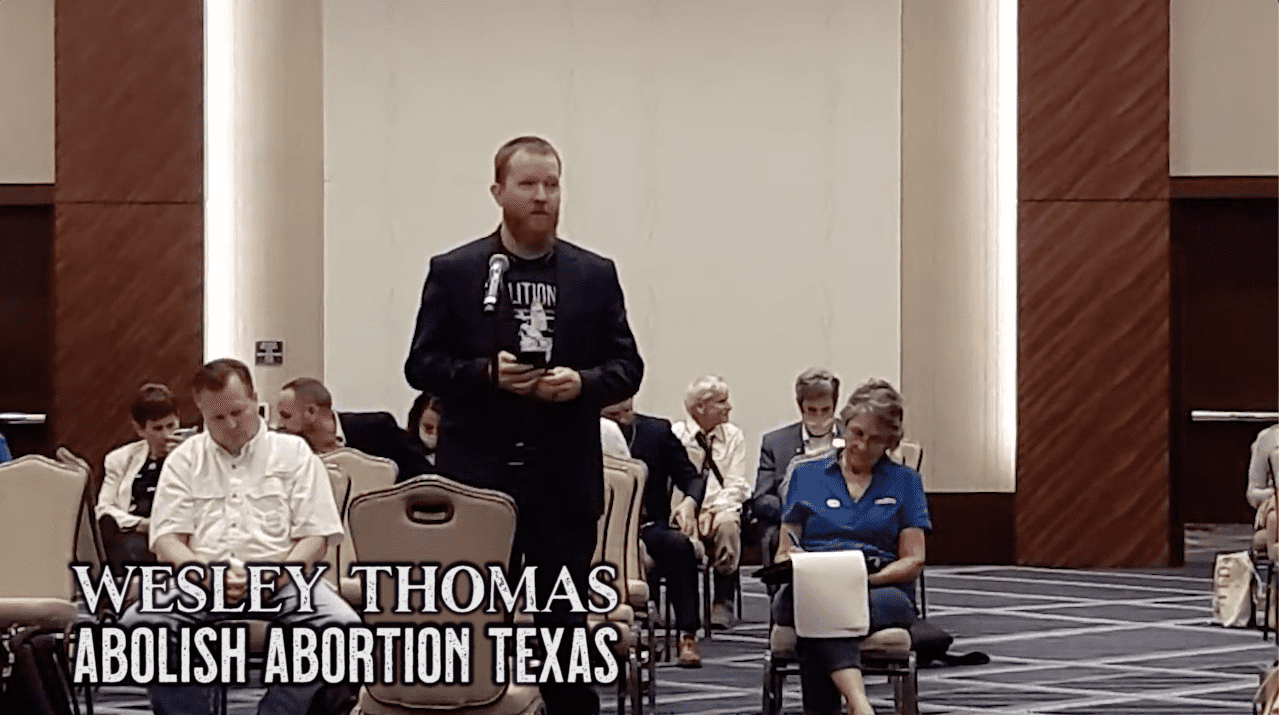 The Republican Party of Texas held their state convention this week to determine platform planks, party rules, and legislative priorities. There were two abortion-related legislative priority submissions being considered. The first was abortion's immediate abolition. The other was the "Texas Abolition Strategy," an incremental, Roe-submissive plan put forward by Texas Right to Life centered around a PRENDA bill, a heartbeat bill, and a partial abolition bill.
Testifiers in favor of immediate abolition outnumbered incrementalist testimonies five-to-one during the committee hearing. We will be highlighting other testimonies in the coming days. Wesley Thomas' testimony in particular is worth calling attention to here because of the exchanges he had with incrementalist members of the committee. One of the Committee Members, Jonathan Gaspard, asked Thomas about the criminalization of abortion and a fantastic interaction ensued.
Johnathan Gaspard: "Is your strategy the immediate criminalization of women in all of your bills?"

Thomas: "What I would say is – number one – that we're not pushing for the criminalization of anyone. We're seeking to make criminal certain acts. Anyone involved with homicide should be culpable…"

Gaspard: "So a 17-year-old girl who's driven to the abortion facility by her mother would be culpable for murder?"

Thomas: "Let me say this. If you have a 17-year-old mother who killed her one-year-old child, all we're saying – here's all we're saying – the law as it exists today in the penal code, how the law treats that one-year-old child, it should treat the preborn child exactly the same way."
This concept is a very important one. While many pro-life organizations and individuals join pro-choicers in calling the criminalization of abortion an "attack on women," the reality is that we are simply demanding the equal protection of the laws be applied to all human beings. That's a Biblical mandate (Proverbs 24:10) and a Constitutional mandate (14th amendment).
Watch Thomas' testimony and the subsequent Q&A below.