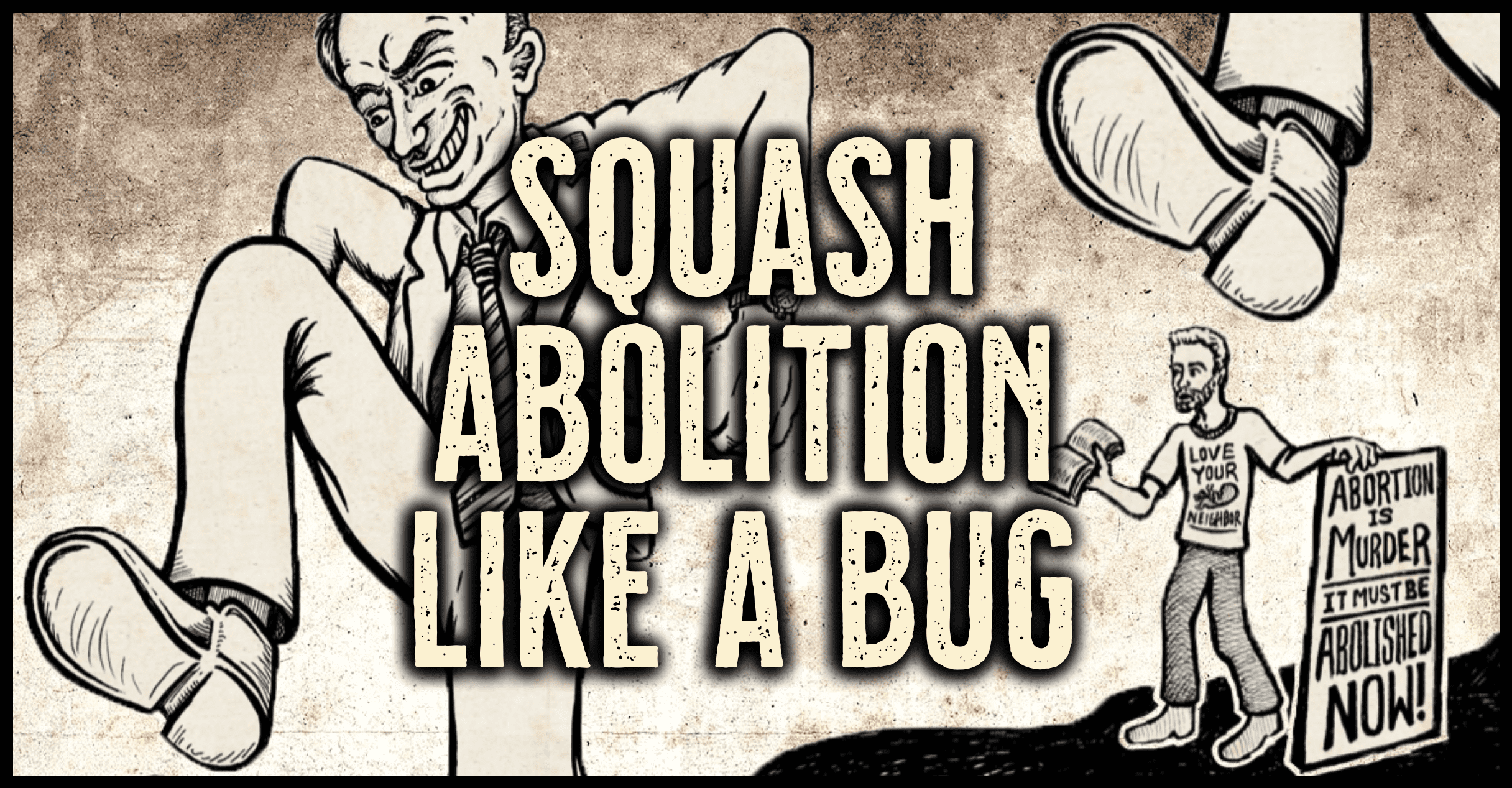 At the Southern Baptist Convention's (SBC) 2019 annual meeting on June 12th, Derin Stidd, pastor of Harmony Church in Frankfort, IN, introduced a motion to encourage the convention to organize its affiliated churches and conventions to support "the immediate abolition of human abortion."
Specifically, Stidd urged the SBC's public policy arm, the Ethics and Religious Liberty Commission (ERLC), to find ways to support bills to immediately abolish abortion. The motion referenced and rebuked the General Baptist Conventions of Texas and Oklahoma which publicly opposed legislation that would've abolished abortion in those states. When SBC President J.D. Grear asked if there was anyone to second Stidd's motion, a significant cheer came from the gathering of Southern Baptists. Below is the video and transcript.
"My name is Derin Stidd. I'm a messenger from Harmony Church in Frankfurt, Indiana. Pastor J.D. [Grear], I was blessed to hear you say today in your talk that the abuse of human beings created in the image of God is a Gospel issue. Every day in the United States of America, 3,000 little human beings created in God's image are dismembered, poisoned, and starved to death in their mother's womb. As a Southern Baptist, I was both grieved and disappointed to see Southern Baptist leaders in Oklahoma and Texas work against bills that would've saved these little human beings. Along those lines, I would like to make a motion that the ERLC of the Southern Baptist Convention do a study on how churches, local associations, and state conventions can work with all entities within their state including legislators, governors, and local associations to promote and admonish and encourage the immediate abolition of human abortion, and reaffirm our commitment to a Biblical view that all people are created in the image of God, and our commitment as Southern Baptists to article 15 which speaks to the protection of the preborn."
The following morning, Grear announced that the Southern Baptist Convention's Executive Committee had denied the motion because "the convention cannot direct an entity to do something. It can only request an entity to do something."
Presumably, the SBC was looking for the word "requesting" to be added to the motion's sixth sentence so that it begins "Along those lines, I would like to make a motion requesting that the ERLC of the Southern Baptist Convention do a study…" The handling of technicalities like this one are largely up to the discretion of the committee. They could have amended the motion to address Stidd's concerns and facilitate a discussion on bills which abolish abortion. Such action is needed when SBC-affiliated conventions and leaders are opposing bills which would abolish abortion.
Former Policy Director of the ERLC (Ethics and Religious Liberty Commission), Matt Hawkins seems to indicate on Twitter the move may have been politically motivated, or at the very least, he hopes that it was. "At #SBC19 an assertion of extreme immediacism (I call it pointless perfectionism) on #prolife lawmaking crept into a floor debate. Southern Baptist messengers astutely squashed the fantasy like the bug it is," Hawkins tweeted.
The reason he calls immediatism 'pointless perfectionism' is because he's operating from a judicial supremacist foundation which treats the Supreme Court like a god who cannot be defied. This premise is neither biblical, nor is it constitutional. Biblical examples of speaking Godly truth to a culture practicing child sacrifice never include starting from an assumption that a compromise on child sacrifice should be struck (or some other evil). Prophetic exhortations are always calls to immediate repentance. Hawkins thinks immediatism is pointless and perfectionist because he is considering the issue from a decidedly atheological, and unbiblical perspective.
In another tweet, Hawkins accused people who support legislation to abolish abortion immediately of being the reason "we haven't made more progress in 40 years."

This sentiment was also expressed by current ERLC Communications Specialist Joe Carter who published an article in the Gospel Coalition arguing that the "immediatists have nothing to show for their efforts." The article was almost certainly a public response to Stidd's motion as it was published the day after the motion was denied.
Hawkins and Carter's claim here is duplicitous hackery at its absolute worst. The reason bills of immediate abolition haven't passed in Oklahoma, Texas, and other red states is because of the opposition they face from Southern Baptist-affiliated conventions, among other pro-life politicians and lobbyists.
Further, Hawkins and Carter also are speaking from complete ignorance regarding the history of anti-abortion immediatism, which has existed for less than a decade. In that time, we've done what the pro-life movement hasn't been able to do in 46 years: introduce bills which abolish abortion. Again, these bills would be passing were it not for the pro-life incrementalists who are killing them in committee.
Sign Up for News and Updates from Free the States:
In addition to a former ERLC Policy Director and current ERLC Communications Specialist opposing abolitionism generally, former SBC President Jack Graham and current SBC President J.D. Grear both publicly opposed the Abolition of Abortion in Texas Act.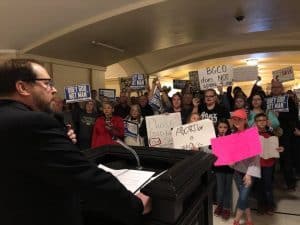 We should note that the views of SBC and ERLC leaders are not representative its affiliated churches and members. This was made abundantly clear in Oklahoma as an entire rally was led by Southern Baptists to rebuke the Baptist General Convention of Oklahoma (BGCO) which opposed the Abolition of Abortion in Oklahoma Act. On top of that, a gathering a Southern Baptist pastors and elders led an hour-long public forum on the matter and authored a petition letter addressed to the BGCO. The enthusiastic cheers seconding Stidd's motion further confirm this. Stidd told Free the States that he was approached by a number of conference attendees who thanked him for introducing the motion.
According to Stidd, SBC rank-and-file are growing weary of being talked down to and lectured by SBC and ERLC leaders, whose paychecks are funded by member contributions to the cooperative program. As Stidd put it in a conversation with Free the States, "It is important for the ERLC, which is supposed to be the prophetic voice of the SBC to the culture, that our standard of right and wrong as it relates to abortion is not built upon what the supreme court might permit, but rather is built upon the unchanging word of God." Stidd is right. Graham, Grear, Hawkins, Carter and the rest of the SBC and ERLC need to be prophetic voices operating Biblically rather than political operatives operating humanistically. That means submitting to God rather than to man-made institutions, in this case, the Supreme Court, which twist the law to legalize child sacrifice.
Too many times, Christians have returned to the steps of SCOTUS pleading for compromise. It's time to proclaim "not a hoof left in Egypt." It's time to stop begging the tyrant for scraps and put them in their rightful place beneath the Constitution and ultimately beneath God by proclaiming the truth that human life begins at conception, that the separation of "person" from "human being" is what the 14th amendment was written to prohibit, and to warn them, "Woe to those make iniquitous decrees."
This is one of the primary purposes the Church exists. A church that fails to make such proclamations, instead submitting to legalized child sacrifice and attempting to fight it with compromise, is a church that has been or soon will be thrown out and trampled underfoot.
I wrote about the Texas and Oklahoma Baptist leaders helping prevent abortion's abolition a few months ago for a prominent conservative publication. High-level SBC people responded by bombarding my editors with emails and phone calls for almost a month and got the article taken down and an apology posted despite nothing in the article being inaccurate. This is what we're up against. The SBC has a lot of political and cultural power it can throw around against those who criticize it.
For this reason, we ask for your help. I no longer have the huge platform from which to spread this information. We're doing it ourselves. If we can put more money into boosting this article on social media, we can get this information out to tens of thousands of Southern Baptists who can raise awareness in their spheres of influence about what their leaders are doing.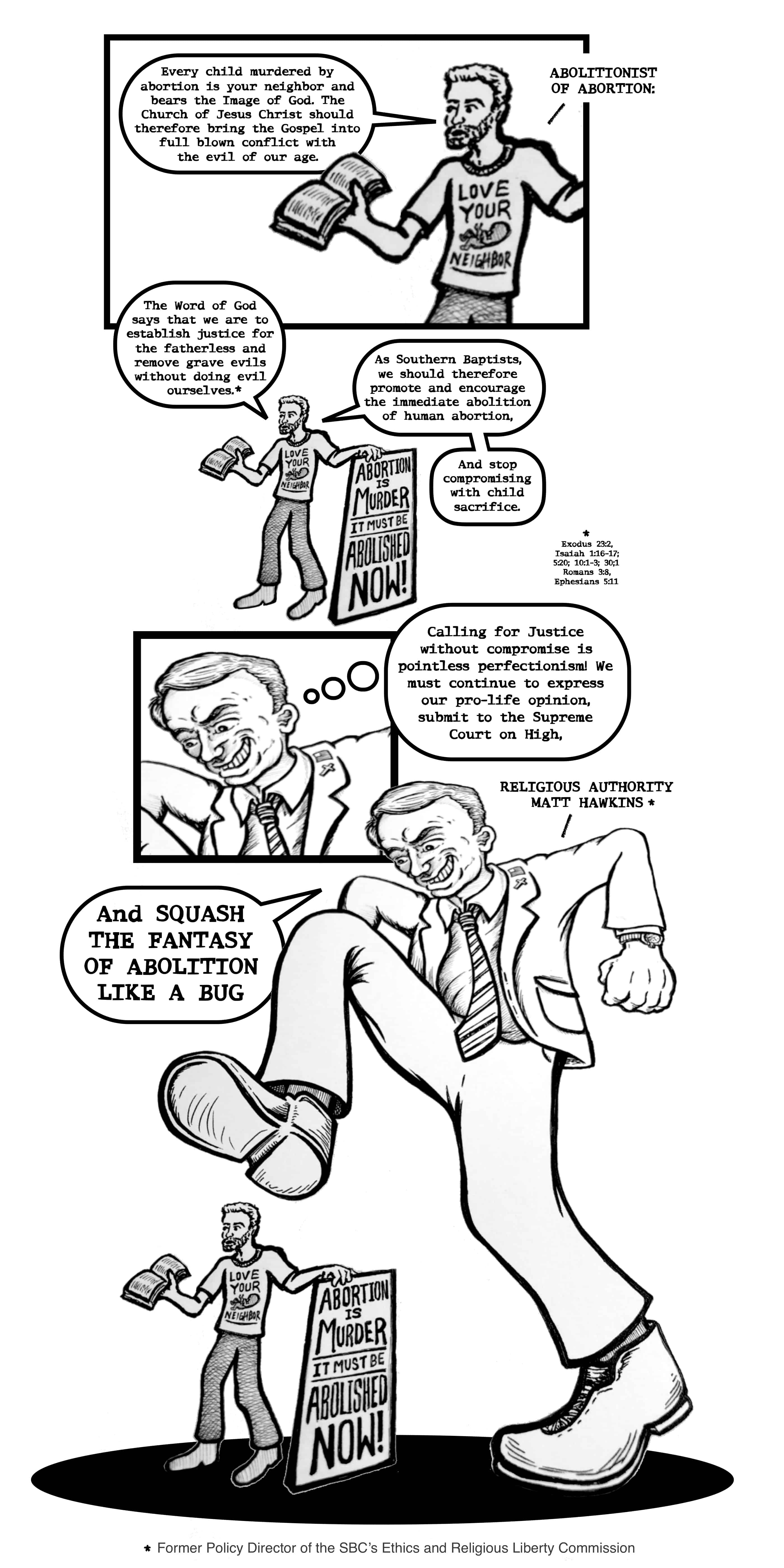 Sign Up for News and Updates from Free the States:
---
---
Three things to do!
Big tech is cracking down on our ability to reach you! Our social media reach has been greatly decreased in recent months. To make sure you are not missing important content and news about abolition bills from Free the States, sign up for email updates!
Be an activist! Convert people in your community to abolitionism. The best brief resource in the Abolitionist Movement for turning pro-lifers into abolitionists is the Are You An Abolitionist pamphlet. The best quadfold for outreach to pro-aborts and evangelism is the Abortion is Murder And Everybody Knows it quadfold. You can pick up copies from the Free the States store, along with t-shirts, drop cards, stickers, and activism signs!
Everything we produce is possible because of the support of our donors. Help fund the fight to abolish abortion! Help us add staff and expand our programs by becoming a monthly supporter of Free the States!