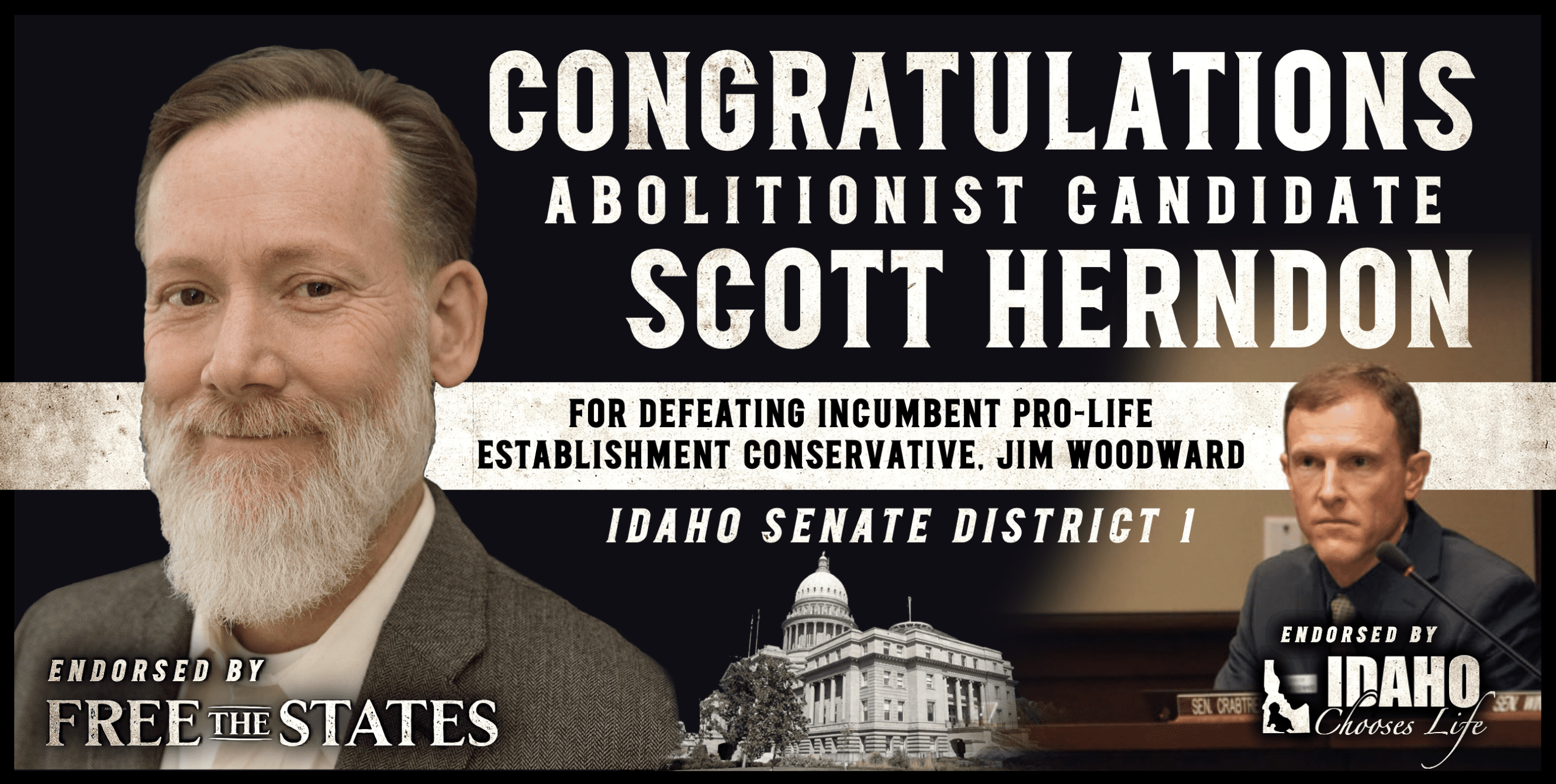 Abolitionist Scott Herndon defeated incumbent Jim Woodward in Tuesday's Republican Primary! As of 4:42 a.m. central time on Wednesday, Herndon had received 55 percent of the vote to Woodward's 45 with 82 percent of precincts reporting. No Democrat or third party candidate filed for SD1, meaning that Herndon is now the Senator-elect.
Herndon has led the abolitionist charge from outside the capitol in recent years, working with abolition bill sponsor Rep. Heather Scott and other legislators while organizing Idaho abolitionists to show up for rallies and committee hearings. He also has taught at abolitionist conferences over the years about the responsibility of States to obey God and uphold the Constitution in defiance of federal tyranny.
While Woodward was a pro-life incrementalist who voted for pro-life legislation and was endorsed by Idaho Chooses Life, Herndon ran as an abolitionist.

Rep. Scott, who has carried the Idaho abolition bill since 2019, did not face a Republican challenger on Tuesday and is likely to easily defeat her Democratic challenger in November's general election. With Senator-elect Herndon and Rep. Scott, Idaho will be the first State with abolitionists in both chambers of the legislature.
Also of note, former State Senator Dan Foreman, who filed a bill to abolish abortion in Idaho in 2017, finished in first place in the Republican primary election in Senate District 6 with 43.86 percent of the vote (as of 4:42 a.m. with 96 percent of precincts reporting). Because he did not receive more than 50 percent, Foreman will enter a runoff election against second place finisher Robert Blair who garnered 33.48 percent.
With Herndon's victory, the Abolitionist Movement has sent one of its best political minds into the Idaho Senate. We look forward to watching and covering his debates and speeches in the Idaho Senate fighting for the abolition bill and expositing the principles of abolitionism.
Get to know Herndon by watching our interview with him on The Liberator Podcast!
---
Three things to do!
Big tech is cracking down on our ability to reach you! Our social media reach has been greatly decreased in recent months. To make sure you are not missing important content and news about abolition bills from Free the States, sign up for email updates!
Be an activist! Convert people in your community to abolitionism. The best brief resource in the Abolitionist Movement for turning pro-lifers into abolitionists is the Are You An Abolitionist pamphlet. The best quadfold for outreach to pro-aborts and evangelism is the Abortion is Murder And Everybody Knows it quadfold. You can pick up copies from the Free the States store, along with t-shirts, drop cards, stickers, and activism signs!
Everything we produce is possible because of the support of our donors. Help fund the fight to abolish abortion! Help us add staff and expand our programs by becoming a monthly supporter of Free the States!