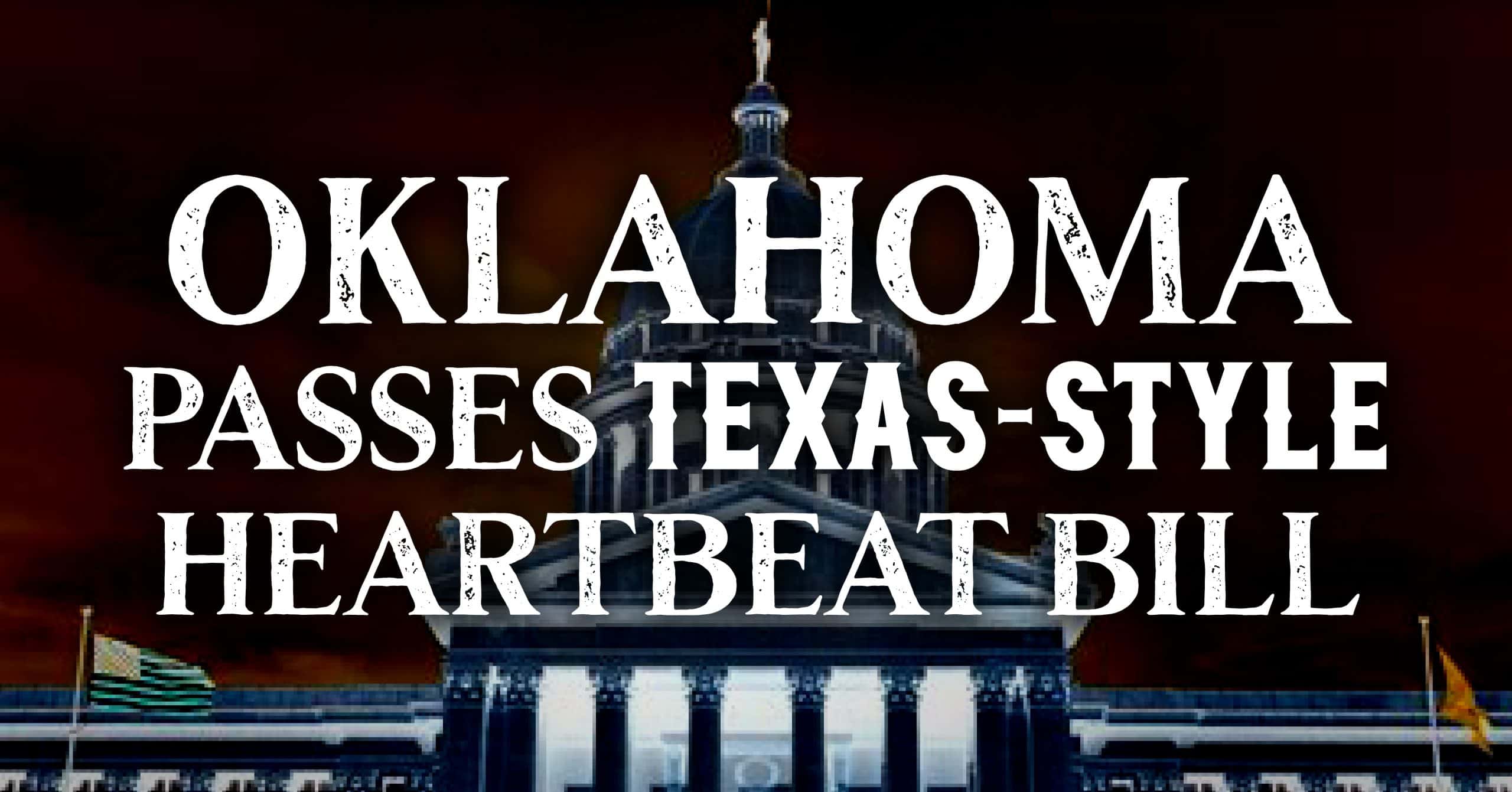 On Thursday, the Oklahoma House passed Senate Bill 1503, sending it to Governor Stitt for approval. The bill is similar to the much-hyped private enforcement heartbeat bill passed in Texas last year which makes it possible for citizens to sue abortionists in civil court for at least $10,000.
Like the Texas version, SB1503 establishes that human life will be protected only if a heartbeat is detected by the abortionist. The bill permits the murder of children up to that point or if the abortionist fails to detect the heartbeat. This is discrimination against children without detectable heartbeats and partiality that God says in His Word that He hates.
SB1503 also exempts the mother from liability: "Nothing in this act shall be construed to… authorize the initiation of a cause of action against or the prosecution of a woman on whom an abortion is performed." In a society where obtaining abortifacient drugs and inducing one's own abortion is becoming easier and easier, laws like this simply expedites the evolution of the abortion industry toward earlier, self-induced abortions. As long as you leave murder as an option on the table for people, they will find a way to do it. This is why we must establish equal protection for preborn children.
The bill also shields both mother and abortionist from criminal prosecution: "the requirements of this act shall be enforced exclusively through a private civil action described in Section 9 of this act. No direct or indirect enforcement of this act may be taken or threatened by the state[.]" Romans 13 teaches that the government is to bear the sword against the evildoer. This sort of bill is an abdication of that duty.
All these problems are common to both the Oklahoma and Texas versions of the bill, but Oklahoma's bill contains an additional problem. The author of SB1503 added language not present in the Texas bill protecting federal agents who order abortions to be carried out in Oklahoma: "Sections 3 and 4 of this act do not apply to an abortion performed at the behest of federal agencies, contractors, or employees that are carrying out duties under federal law, if a prohibition on that abortion would violate the doctrines of preemption or intergovernmental immunity." With a hostile federal administration, this completely unnecessary and evil language could embolden federal agents who continue attempting to force legal abortion on Oklahoma.
It is important to note that the doctrine of preemption (ie. the concept that higher laws trump lower laws) demands of every governing official the immediate abolition of abortion. The highest law is the law of God which stands above all earthly governments. The next highest law in our context is the United States Constitution which requires that "no state shall…deny to any person within its jurisdiction the equal protection of the laws." The supreme court and federal agencies which purport to legalize abortion are in violation of the authorities from which they derive their power. If we abide by the doctrine of preemption, Oklahoma must obey Christ and the Constitution by abolishing abortion in defiance of the lower authority of the supreme court's opinion.
Also on Thursday, the Oklahoma Senate passed House Bill 4327, another Texas-style private enforcement law. However, the Senate amended the bill before passing it, meaning that it will have to go back to the House to be either passed once again by the House or be passed by a conference committee of both chambers before being sent to the Governor.
HB4327 is different from SB1503 in two main ways; one good, one bad. First, HB4327 is not a heartbeat bill. It establishes that an abortionist can be sued for killing any preborn child. Second, HB4327 contains exceptions that allow for the murder of children conceived in rape and incest.
All four pro-life laws passed in Oklahoma thus far in 2022 were passed instead of legislation that would have actually abolished abortion in Oklahoma. Oklahomans should not be impressed by anything passed by our legislators until justice is established for preborn children. Connect with our efforts to get an abolition bill passed by signing up for our email list where you will receive updates about important abolitionist rallies, conferences, projects, and more!
---
Three things to do!
Big tech is cracking down on our ability to reach you! Our social media reach has been greatly decreased in recent months. To make sure you are not missing important content and news about abolition bills from Free the States, sign up for email updates!
Be an activist! Convert people in your community to abolitionism. The best brief resource in the Abolitionist Movement for turning pro-lifers into abolitionists is the Are You An Abolitionist pamphlet. The best quadfold for outreach to pro-aborts and evangelism is the Abortion is Murder And Everybody Knows it quadfold. You can pick up copies from the Free the States store, along with t-shirts, drop cards, stickers, and activism signs!
Everything we produce is possible because of the support of our donors. Help fund the fight to abolish abortion! Help us add staff and expand our programs by becoming a monthly supporter of Free the States!