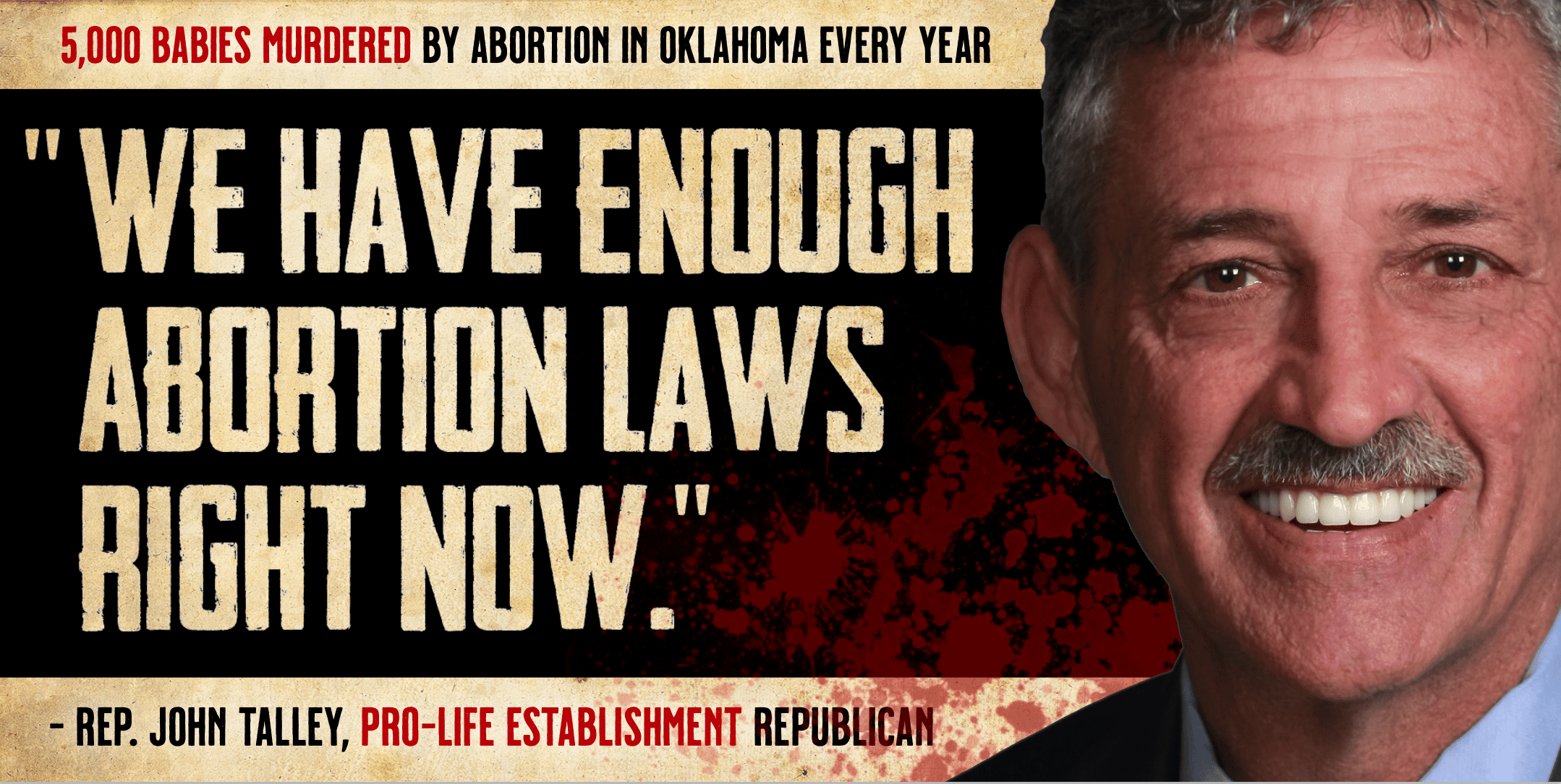 During a June 16 public debate between OK House District 33 candidates Brice Chaffin and incumbent John Talley, the topic of abolishing abortion was raised. Talley's shocking position on the issue: "We have enough abortion laws right now."
An incredulous Chaffin gave Talley a chance to clarify, "'We have enough abortion laws right now' is your position?" Talley confirmed, "Yeah." It is literally legal to tear human beings limb-from-bloody-limb in Oklahoma and Republican incumbent John Talley believes the law is just fine as it is.
Talley also spread false information about the Abolition of Abortion in Oklahoma Act, saying that "if we pass a law like Senate Bill 13, a person in my family would be dead" because "they had a tubal pregnancy and the doctor said 'you're going to die if you don't have surgery within about 30 minutes.'"
The idea that Senate Bill 13 would have killed someone in Talley's family is provably false. The bill contains language protecting doctors in a triage situation who take action to save the life of the mother if her life is in immediate danger and the doctor has exhausted all possible treatments to save the baby's life, "A physician or other health care professional shall be immune from criminal or civil liability for the death of a fetus resulting from an emergency, including but not limited to an ectopic or tubal pregnancy, if the physician or professional exhausts all possible treatments to preserve the life of the fetus."
Talley also explained that "the problem with saying you're going to abolish [abortion]" is that it's going to effect the legality of abortifacient drugs like Plan B which can either prevent conception or cause an abortion after conception has already occurred. Talley apparently wants abortifacient drugs to remain legal as well. Watch the interaction between Chaffin and Talley below.
Rep. John Talley: "We have enough abortion laws right now"

During a debate between OK State House candidates Brice Chaffin for Oklahoma House District 33 and John Talley, an audience member asked them about ending abortion in Oklahoma. It is clear from Talley's answer that he isn't interested in ending abortion in Oklahoma. He is content with 5,000 babies dying every year in our state. The reality is, we don't have laws against abortion. We have laws regulating abortion. Brice Chaffin understands that abortion must be abolished. Does John Talley? See for yourself.

Posted by Free the States on Wednesday, June 17, 2020