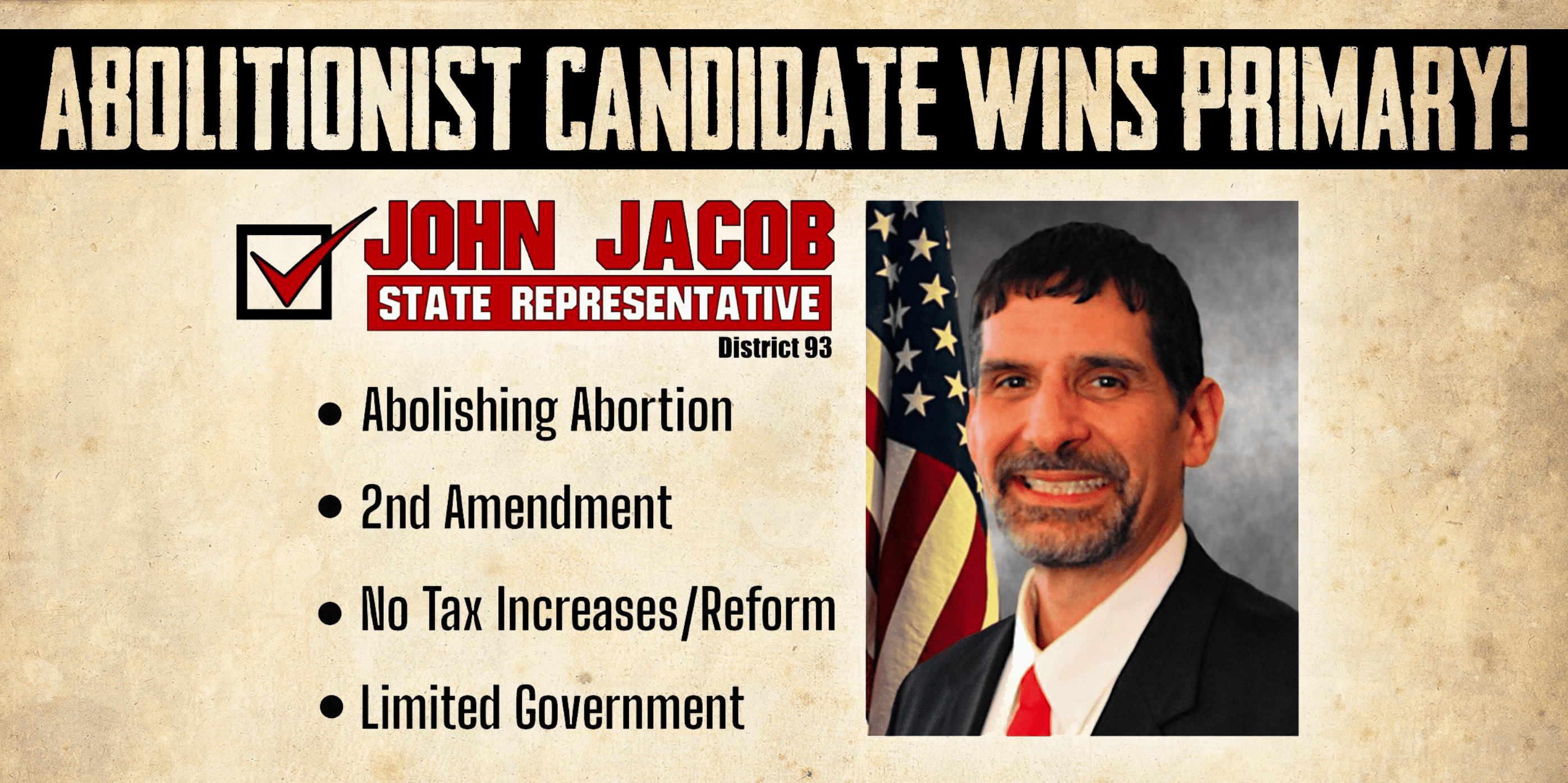 Unfortunately, it has become the thinking of some in the Abolitionist Movement that it is politically savvy for abolitionist candidates to refrain from calling themselves abolitionists and even from using the terms "abolish" or "abolition" at all. They argue that in order to win an election, abolitionists have to use the pro-life language that people recognize rather than paradigm-shifting abolitionist language that people may not recognize or immediately identify with. Hopefully, recent developments in Indiana cause those who hold to this line of thinking to reconsider.
Last week, abolitionist John Jacob defeated pro-life incumbent Dollyne Sherman in the Republican primary race for Indiana State House District 93. There are a number of sitting State Senators and Representatives in various states who have converted to abolitionism, but Jacob's victory marks the first time an abolitionist has successfully unseated a pro-lifer. Jacob was endorsed by Abolish Abortion Indiana and Hoosiers for Life. Sherman was endorsed by Indiana Right to Life.
Jacob ran as an abolitionist unashamed to use the a-word. His header photo on his campaign Facebook page highlighted "Abolishing Abortion" as his primary issue.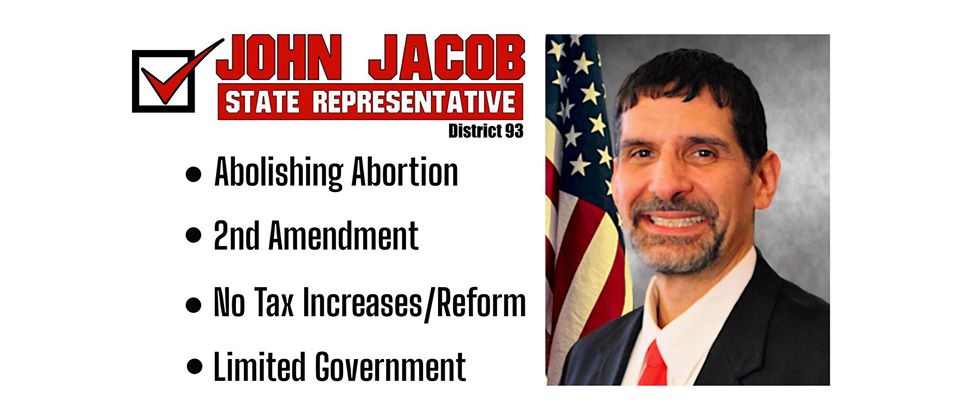 Despite the bill to abolish abortion in Indiana and the bill's author being lightning rods for the fury of the Indiana pro-life establishment, Jacob was unafraid to associate with both on his campaign website:
God is the Author and Creator of all life. God created all human beings in His image. Every human life is a gift from the Creator. It is an irrefutable scientific fact that human life begins at conception.

In addition, Indiana law states that human life begins at conception. If you elect John as Representative, he will fight with every fiber of his being to protect these preborn children, those vulnerable to euthanasia, and assert our authority as a State given the Ninth Amendment, Tenth Amendment and the Declaration of Independence which acknowledges that every human is endowed by their Creator with the inalienable right to life! If elected as State Representative, John will co-author with Representative Curt Nisly's Protection at Conception bill to protect all life from conception to natural death; including the support for and passing of this critical bill.
The Protection at Conception Act is a bill that totally and immediately abolishes abortion and establishes that "any act, law, treaty, order, rule, or regulation of the United States government that fails to protect a person's unalienable right to life is null, void, and unenforceable in Indiana."
Nowhere on Jacob's website or Facebook page does the term "pro-life" appear except for one endorsement post shared by Jacob in which an organization calls him "pro-life." The term does not appear in the Jacob campaign's original content or materials, while the a-word is featured prominently both at the top of his Facebook page and on his abortion-related campaign mailer.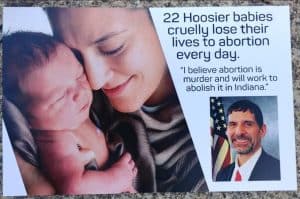 There were three other primary challengers in Indiana with connections to the Abolitionist Movement who were supportive of the Indiana Protection at Conception Act. Two of these three ran explicitly as "pro-life" candidates and did not use the a-word at all. The third included the a-word a few times, but used "pro-life" more often. Jacob was the only winner.
This is not to say that use of the a-word rather than "pro-life" is the main reason John Jacob won and the others didn't. There are, of course, many factors at play in every race. This is also not to blame those who didn't win for the way they ran their campaign. They were following conventional wisdom and were likely advised this way by well-meaning people. But it is to say conclusively that the idea that primary challengers can't unseat pro-life incumbents by running on an explicitly abolitionist platform needs to be put to rest.
Further, running on an abolitionist platform has an educational effect on the culture which is a bright silver lining even in an electoral loss. The best example of this is the 2018 Dan Fisher for Oklahoma Governor campaign. Since moving to Norman last May, the number of people who've told me they learned of abolitionism and came into the Abolitionist Movement through the Fisher campaign has been astounding. Dan Fisher did not win the race, but by running on a loud-and-proud abolitionist platform, he exposed hundreds of thousands of people to the ideology of abolitionism as distinct from pro-lifeism which has born fruit in the form of many converts to the movement. It should also be noted that Fisher massively exceeded expectations, garnering more votes than candidates who spent more than triple the amount of money as the Fisher campaign.
Another argument employed against using the a-word is that its use could draw the ire of the establishment who might run smear campaigns against the abolitionist candidate. This is a possibility, but that possible ire is unavoidable for the abolitionist candidate regardless of the language used unless the candidate completely hides the fact that they want to immediately abolish abortion. In that case, the abolitionist challenger loses one their primary lines of attack on their pro-life opponent – the fact that they're serious about abolishing abortion and their opponent isn't. This is not a beneficial trade for the abolitionist candidate. They should be clear about communicating a correct position on abolishing abortion in contrast with the pro-life opponent's incorrect position on abolishing abortion. If a pro-life opponent runs smear campaigns about how abolitionists are "extremists" or what have you, so be it. Our job is to make the case to the people that immediate abolition is the only sane, rational, and Christian position so that they are unpersuaded by establishment ad-hominem slander.
"Abolish" is a word that communicates boldly and precisely what one intends to do about abortion. It is associated with an ideology that is Biblically unimpeachable and a movement that is growing exponentially. It is nothing to be ashamed of. It is a banner to be held high.
Congratulations to John Jacob on his victory and we thank him for running as an abolitionist!