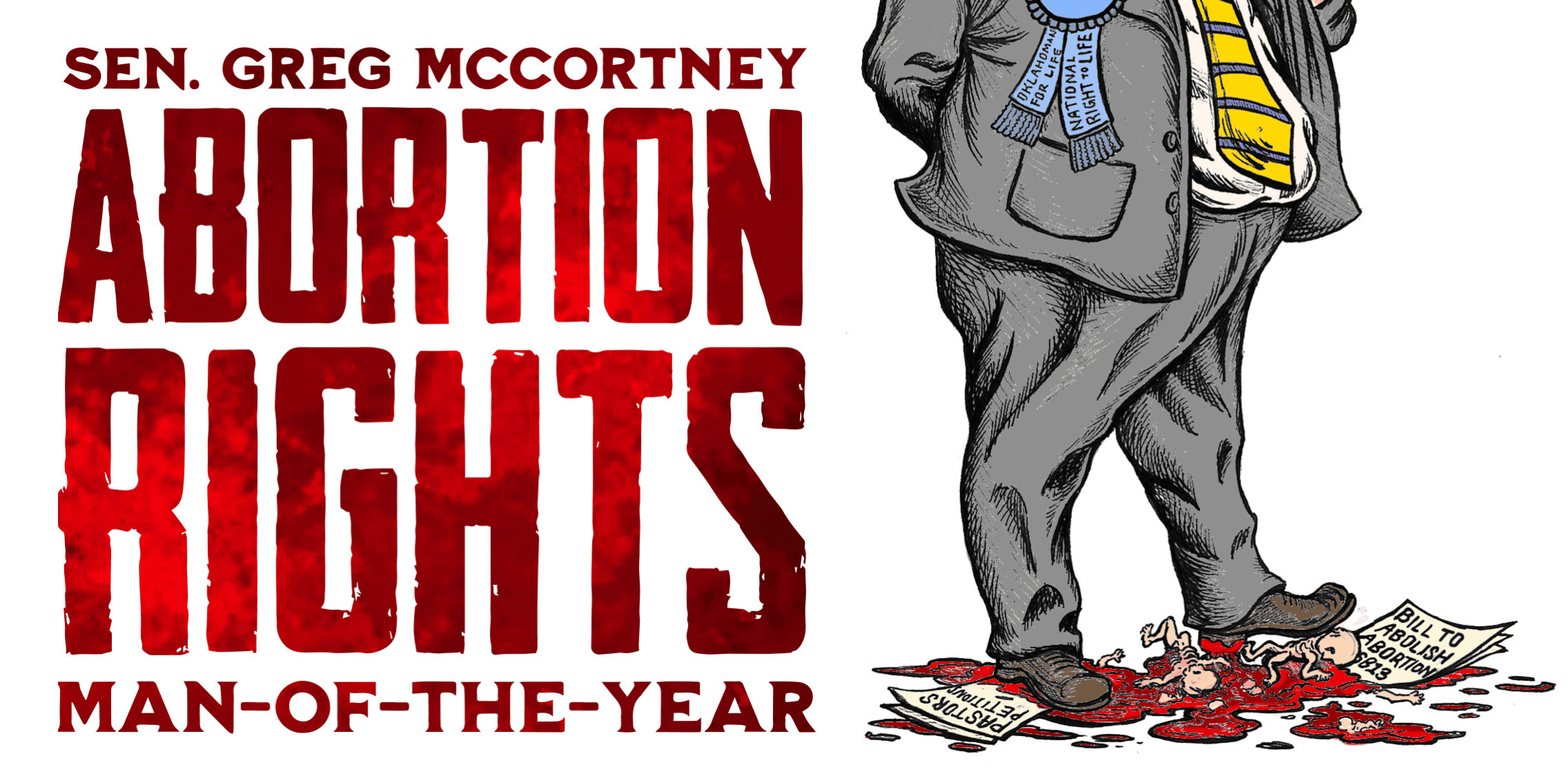 In the wake of Jason Smalley's abrupt resignation from the State Senate, Greg McCortney was announced as the new chair of the Senate Health and Human Services (HHS) committee on January 27. His new position came with sole discretion in deciding whether to hear the Abolition of Abortion in Oklahoma Act (SB13).
To that point, McCortney had not publicly taken a side on the immediate abolition of abortion. That combined with the fact that he is someone who Greg Treat would choose to appoint to that position was worrying, but we gave McCortney the benefit of the doubt.
We asked people to kindly but firmly email McCortney asking for SB13 to be given a hearing. We covered his district with door hangers letting people know that McCortney was in the position to be a hero for preborn children.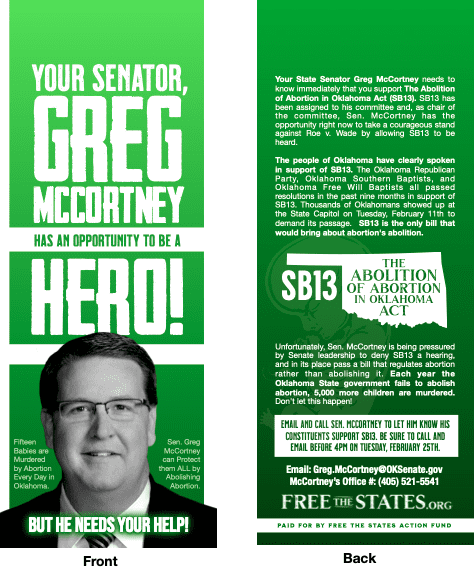 The deadline for passing a bill out of committee was February 27 and there were committee hearings where SB13 could have been heard on February 17 and 24. It was not heard on February 17 and on February 21, McCortney announced that it would not be heard on February 24 either. SB13 had been denied a committee hearing.
McCortney prevented the Abolition of Abortion in Oklahoma Act from even receiving a hearing and thwarted the best chance we had to abolish abortion in Oklahoma in 2020. But it was not the only chance to abolish abortion in 2020.
Senate Rule 7-9 allows for legislation to be withdrawn from committee and placed on General Order where it can then be brought to the Senate floor for a hearing. On March 11, Senator Joseph Silk, primary author of the Abolition of Abortion in Oklahoma Act, motioned to do exactly that. Kim David, who is the Abortion Rights Woman of the Year, made a counter-motion to table Silk's motion and thereby kill SB13 for good. McCortney voted 'Yea' on David's counter-motion. SB13 died.
Further, McCortney intentionally slandered abolitionists the morning of the vote, pretending that we were a security threat at the capitol. This has been a recurring tactic among the pro-life Senators who want to falsely portray abolitionists as crazy and violent in an attempt to discredit the abolition bill and the Abolitionist Movement. McCortney dishonestly tweeted that abolitionists were an embarrassment to Christianity because of how much of a security threat we are, knowing full well that there has never been a single security threat caused by abolitionists: "The @OHPtraffic is here in numbers and there have been multiple security briefings because the Christians are coming back to #OKLeg today. That statement is embarrassing."
A number of Oklahoma abolitionists had on-point responses.
Just gonna leave this here for ya…

Proverbs 17:15
He who justifies the wicked and he who condemns the righteous
are both alike an abomination to the Lord.

Don't mock your brothers and sisters, who've given up their days and dollars to fight for these helpless babies, Greg.

— Chris Gore (@BroChrisGore) March 11, 2020
Ahhhhh…..! The Christians are back with their scary Bible words and peaceful exhortations! Call extra security! You Sir should be embarrassed, but not because Christians are back. You should be embarrassed by your political maneuvering and fear of free speech.

— Jay Jones (@Jay12Jones) March 11, 2020
Are you saying there aren't already Christians there? 🤔

— Jamison Faught (@JamisonFaught) March 11, 2020
Clearly there is no need for extra security considering the peacefulness of the people here at the Capitol. What's embarrassing is that our pro-life senators, who claim to be Christians themselves, are the ones blocking a bill that would end human abortion in our state.

— Kristin Biggs (@KristinKBiggs) March 11, 2020
Why, Senator, would you want to keep the Christians away from the Senate? Does a Christian influence interrupt your political rhetoric and shine light upon the darkened chambers of the people's senate? How shameful indeed!

— Justin Turney (@justinmturney) March 11, 2020
Nothing to fear from any of us besides speaking the truth in love to expose the darkness of Pro-Life legislators allowing abortion to remain legal. Abortion must be abolished. Join these Christians and work for abolition, Senator.

— Brett Baggett (@BrettaBaggett) March 11, 2020
At every turn, McCortney was there to obstruct the Abolition of Abortion in Oklahoma Act. He did more than anyone else to keep the murder of preborn children legal in Oklahoma in 2020.
Further confirming this fact is the endorsement McCortney received from Tony Lauinger of National Right to Life. National Right to Life's state-level affiliates have been the primary opposition to abortion's abolition in Indiana and Idaho, in addition to Oklahoma. In Indiana, Right to Life's anti-abolition tactics included spreading blatantly false information about the Indiana Protection at Conception Act.
Lauinger's candidate survey here in Oklahoma slyly asks candidates to oppose the Abolition of Abortion in Oklahoma Act. National Right to Life is one of the premiere anti-abolition organizations. In states where pro-lifers control the state government and pro-choicers don't have the political power to effectively fight an abolition bill, Right to Life is the organization lobbying against abolishing abortion. Receiving their endorsement is a clear indication of someone who opposes abortion's immediate abolition.
For all of his work to keep abortion legal in Oklahoma, Greg McCortney is the 2020 Oklahoma Abortion Rights Man of the Year.
The good news is that McCortney is currently facing a primary challenge from Carisa Roberson, an abolitionist who has promised to support the Abolition of Abortion in Oklahoma Act.
---
Three things to do!
Big tech is cracking down on our ability to reach you! Our social media reach has been greatly decreased in recent months. To make sure you are not missing important content and news about abolition bills from Free the States, sign up for email updates!
Be an activist! Convert people in your community to abolitionism. The best brief resource in the Abolitionist Movement for turning pro-lifers into abolitionists is the Are You An Abolitionist pamphlet. The best quadfold for outreach to pro-aborts and evangelism is the Abortion is Murder And Everybody Knows it quadfold. You can pick up copies from the Free the States store, along with t-shirts, drop cards, stickers, and activism signs!
Everything we produce is possible because of the support of our donors. Help fund the fight to abolish abortion! Help us add staff and expand our programs by becoming a monthly supporter of Free the States!