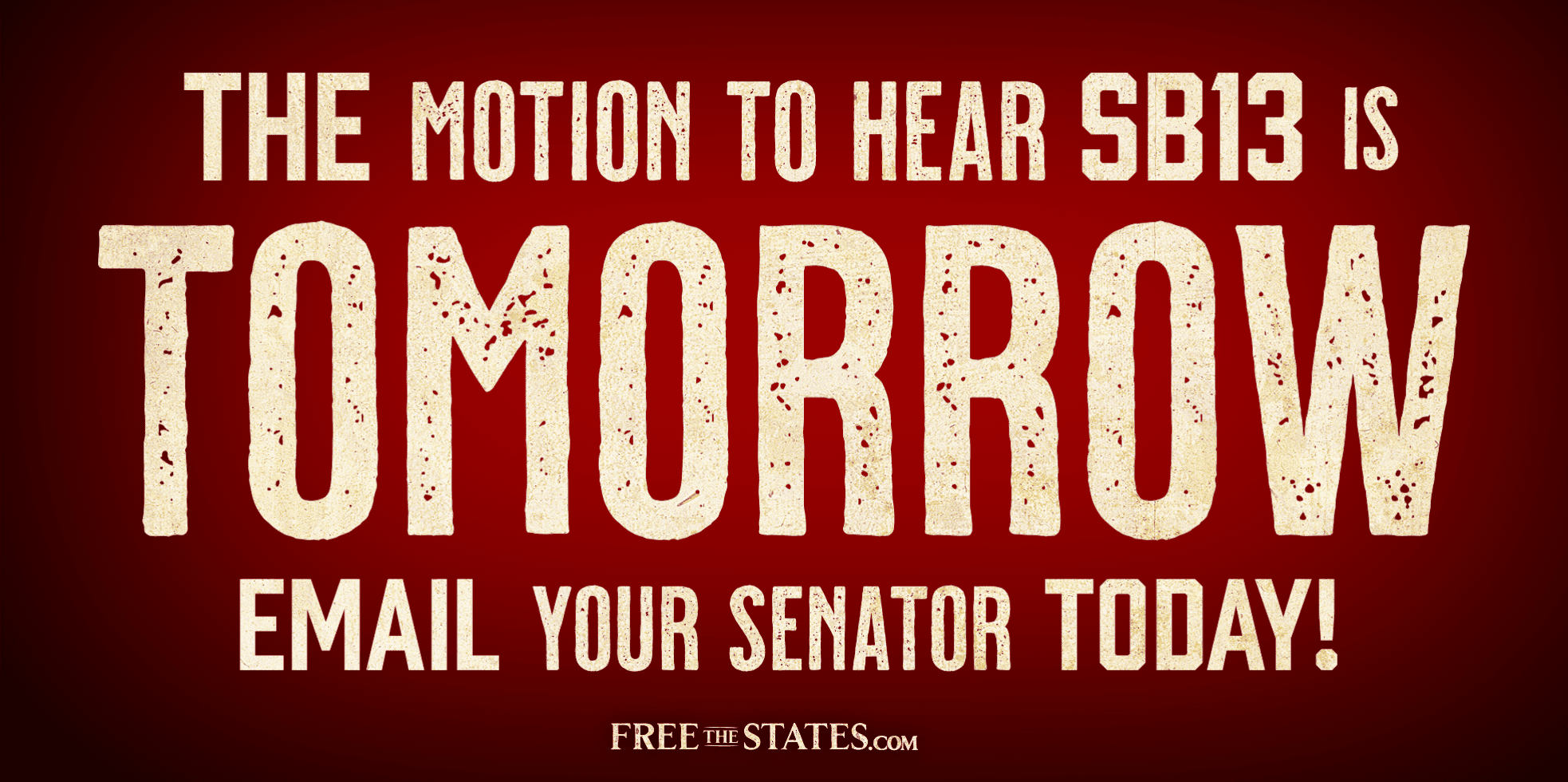 A motion is going to be made in the State Senate on Wednesday to bring SB13 directly to the floor for a hearing. A motion to table this motion will likely be made by an establishment Republican and that motion to table will get a vote immediately. So, on Wednesday, the Senate will vote on whether to hear SB13 or table it for good.
On February 11, three thousand people showed up to the State Capitol for the Abolition Day rally to demand SB13. Thousands of abolitionists from across the state have been constantly emailing and calling their state Senators asking them to support SB13. The Oklahoma Baptists, Oklahoma Free Will Baptists, and Oklahoma Republican Party all passed resolutions demanding SB13. Yet because of Greg McCortney and Greg Treat hardening their hearts, the bill hasn't even been heard. It was tabled in committee and the deadline for bills passing out of committee has passed.
A bill does not have to pass out of committee, however. It can be brought straight to the Senate floor if a motion to do so is filed and a majority of the Senate votes in favor of hearing the bill.
Please email your State Senator to let them know you're watching to see what they do on Wednesday and that a vote to table SB13 is a vote against the abolition of abortion. If you don't know who your State Senator is, find out here. CC the rest of the Senate in the email as well.
Mark.Allen@oksenate.gov,
Adam.Pugh@oksenate.gov,
Allison.Ikley-Freeman@oksenate.gov,
Allison.IkleyFreeman@oksenate.gov,
Bill.Coleman@oksenate.gov,
Brenda.Stanley@oksenate.gov,
Brent.Howard@oksenate.gov,
Carri.Hicks@oksenate.gov,
Casey.Murdock@oksenate.gov,
Chris.Kidd@oksenate.gov,
Chuck.Hall@oksenate.gov,
Darcy.Jech@oksenate.gov,
Darrell.Weaver@oksenate.gov,
Dave.Rader@oksenate.gov,
David.Bullard@oksenate.gov,
Dewayne.Pemberton@oksenate.gov,
Frank.Simpson@oksenate.gov,
Gary.Stanislawski@oksenate.gov,
George.Young@oksenate.gov,
Greg.McCortney@oksenate.gov,
Greg.Treat@oksenate.gov,
J.J.Dossett@oksenate.gov,
James.Leewright@oksenate.gov,
Joe.Newhouse@oksenate.gov,
John.Haste@oksenate.gov,
JohnMichael.Montgomery@oksenate.gov,
Joseph.Silk@oksenate.gov,
Julia.Kirt@oksenate.gov,
Julie.Daniels@oksenate.gov,
Kay.Floyd@oksenate.gov,
Kevin.Matthews@oksenate.gov,
Kim.David@oksenate.gov,
Larry.Boggs@oksenate.gov,
Lonnie.Paxton@oksenate.gov,
Marty.Quinn@oksenate.gov,
Mary.Boren@oksenate.gov,
Michael.Brooks@oksenate.gov,
Micheal.Bergstrom@oksenate.gov,
Nathan.Dahm@oksenate.gov,
Paul.Rosino@oksenate.gov,
Paul.Scott@oksenate.gov,
Rob.Standridge@oksenate.gov,
Roger.Thompson@oksenate.gov,
Roland.Pederson@oksenate.gov,
Ron.Sharp@oksenate.gov,
Stephanie.Bice@oksenate.gov,
Tom.Dugger@oksenate.gov,
Wayne.Shaw@oksenate.gov