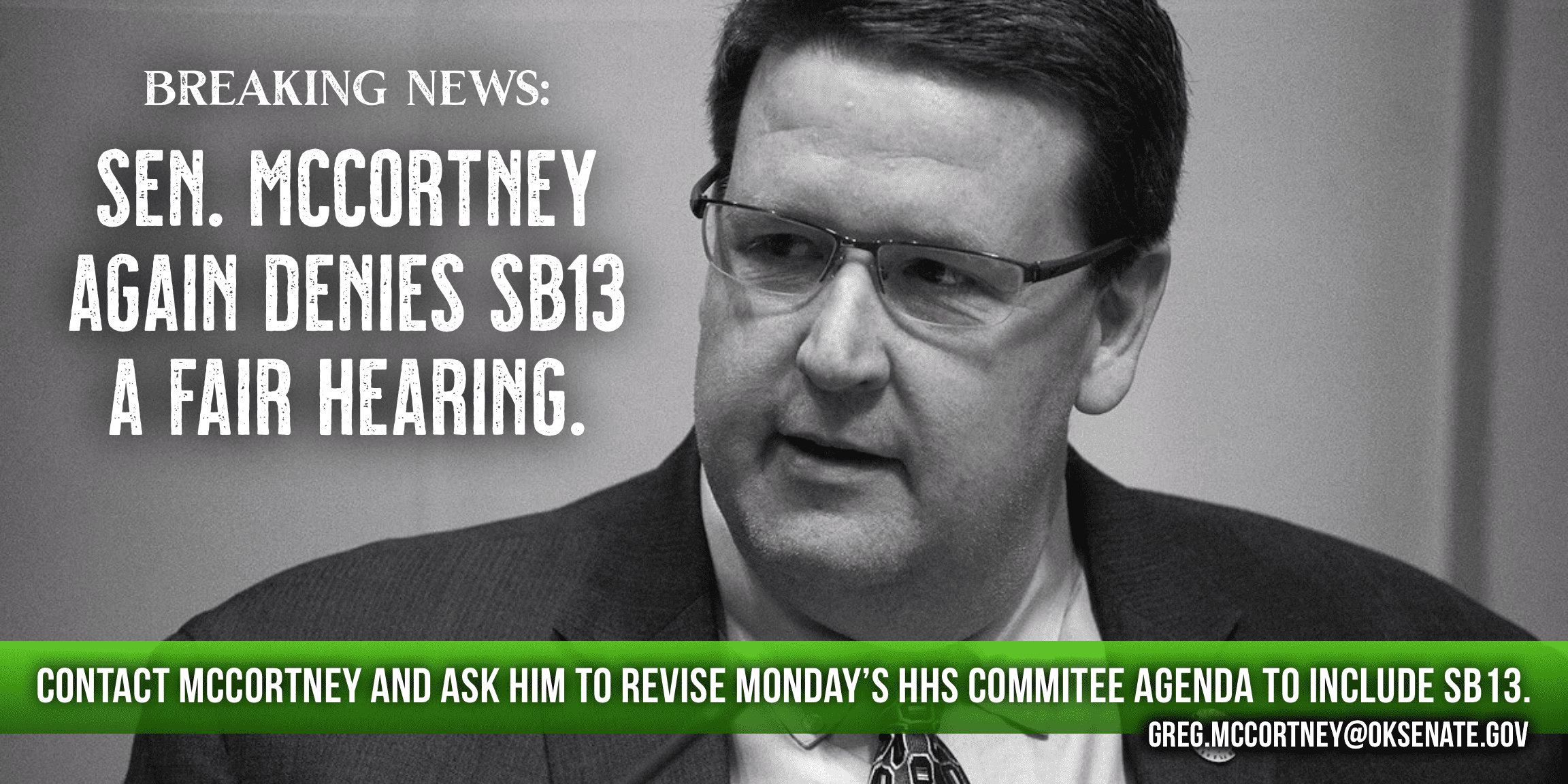 The agenda for Monday's Senate Health and Human Services committee meeting has been published and Senate Bill 13 is not on it. Monday is the final scheduled committee meeting prior to the February 27 deadline for bills to be passed out of committee.
On February 11, thousands showed up at the capitol to demand SB13 receive a hearing. He was delivered a petition of nearly 2,000 Oklahomans demanding SB13 receive a hearing. This morning, he was delivered hundreds of petitions from the people of his district (Ada area) demanding SB13 receive a hearing. The platform of the Oklahoma Republican Party demands SB13 be given a hearing. The Oklahoma Baptists and Free Will Baptists have both passed official resolutions demanding SB13's passage and enforcement. The Constitution of the United States and the State of Oklahoma demand equal protection of the law be provided to all people, something which no bill other than SB13 accomplishes. The Creator of the Universe demands iniquity like child sacrifice be abolished.
Thus far, none of this has mattered to Greg McCortney.
McCortney likely doesn't grasp the seriousness of what he's choosing. If he did, he would choose differently. This is not something that he will be able to weather. There will be political repercussions, but more significantly this will follow him the rest of his life. Abortion will be abolished soon – whether it's this year, or next year, or the year after; and whether it is McCortney or someone who replaces McCortney who makes it happen; abortion will be abolished. The history books will tell that story, and part of that story is the pro-life Republican leaders and committee chairs who delayed abolition and perpetuated the killing for an extra few years. Tragically, this is the role McCortney is currently writing for himself in the story – a story his grandchildren and great grandchildren will read.
That doesn't have to be the case. There is still time for Greg McCortney to do right. He can make changes to the agenda up until 24 hours prior to the meeting. He can call a special hearing on Tuesday, Wednesday, or Thursday of next week to hear SB13 prior to the deadline.
But time is running out. He needs to act quickly. So please call and email him now, pleading with him to take seriously the admonitions he's receiving and give SB13 a hearing.
(405) 521-5541__________________________
---
Three things to do!
Big tech is cracking down on our ability to reach you! Our social media reach has been greatly decreased in recent months. To make sure you are not missing important content and news about abolition bills from Free the States, sign up for email updates!
Be an activist! Convert people in your community to abolitionism. The best brief resource in the Abolitionist Movement for turning pro-lifers into abolitionists is the Are You An Abolitionist pamphlet. The best quadfold for outreach to pro-aborts and evangelism is the Abortion is Murder And Everybody Knows it quadfold. You can pick up copies from the Free the States store, along with t-shirts, drop cards, stickers, and activism signs!
Everything we produce is possible because of the support of our donors. Help fund the fight to abolish abortion! Help us add staff and expand our programs by becoming a monthly supporter of Free the States!